Stockton University Atlantic City Campus Inches Closer to Opening in New Jersey
Posted on: January 6, 2016, 03:08h.
Last updated on: January 6, 2016, 03:08h.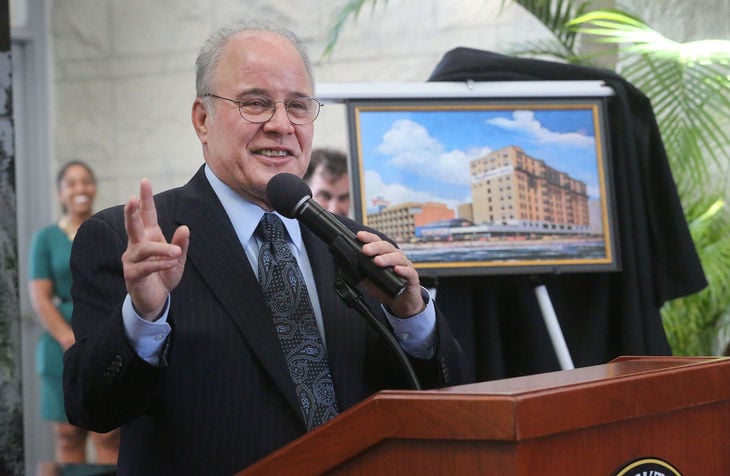 Stockton University in New Jersey is home to nearly 9,000 students and currently resides about 15 miles northwest of Atlantic City's famed Boardwalk.
A higher education public institution, Stockton successfully petitioned to become a university and change its name from the Stockton College of New Jersey in 2015, and it already has big ideas planned for the New Year.
On Tuesday, the Casino Reinvestment Development Authority (CRDA) primarily approved $17 million to be used by the university to develop a new campus on the former grounds of the Atlantic City High School located at Atlantic and Albany Avenues near the now-defunct Atlantic Club Casino.
"Stockton intends to be part of Atlantic City's renaissance," Stockton President Harvey Kesselman told the Associated Press. "We believe it is in the best interests of our students to expand educational options and opportunities in the region."
Mayor Don Guardian (R) supports bringing the state university to the Boardwalk.
'We've been talking about moving Atlantic City away from being gaming centric … three great examples, continuing education, corporate offices, and brand new housing that we haven't had for more than 20 years," said Guardian, the city's first Republican mayor since 1990.
No Showboating for Stockton
A final CRDA vote for approving the $17 million distribution will be held on January 19th, but the prospects for Stockton obtaining beachfront property with more than 9,000 square feet of retail space on the Boardwalk is much more promising than its earlier attempt.
The university purchased the bankrupt Showboat Casino 13 months ago for $18 million, with ideas of renovating the property into a residential campus for students. That goal was quickly squashed, however, due to legal restrictions stemming from a longstanding pact between casinos on how the venues can be utilized.
After an intended sale to Revel owner Glenn Straub sizzled, Stockton now plans to throw the Showboat anchor to Philadelphia developer Tower Investments for an untold figure.
The school estimates its newly found Atlantic City campus will cost $125 million in totality. The Atlantic County Improvement Authority will allegedly finance the debt through tax-exempt bonds.
Stockton to the Rescue
This isn't the first time Stockton has looked to invest in struggling assets located in the Atlantic City metro area.
In 2010, the then-college purchased the historic Seaview Resort for $20 million. The iconic property opened in 1914 and originally played host to legendary golfer Sam Snead's first major title.
Stockton utilizes the resort as the hub for its Hospitality and Tourism Management program in the School of Business. Students live and work on the grounds under the direction of Dolce Hotels and Resorts, a hospitality management company.
Atlantic City Monopoly Game On Its Last Legs?
2016 could be a make-or-break year for Atlantic City. Lawmakers in Trenton are likely to continue deliberating whether to end the city's decades-long monopoly on casino gambling and allow other venues to be built in the northern counties of New Jersey.

Gaming revenue has dropped considerably since Atlantic City won $5.2 billion in 2006. Four casinos closed in 2014 as revenues plummeted south of $3 billion.

However, the city has experienced a marginal rebound in 2015 and is expected to top the $2.7 billion it received in 2014 for the coming year.