Stardust Free-Play Online Site Recaptures Casino's Colorful History
Posted on: September 18, 2013, 05:30h.
Last updated on: October 26, 2021, 06:04h.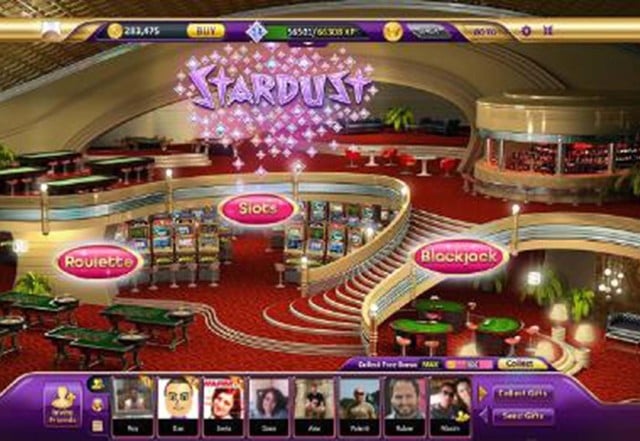 Nostalgia is everywhere when it comes to casino games; seems players love to revisit old favorite TV shows and movies, so why not an actual historic (and since imploded) casino as well? That's the thinking behind Bwin.party's new free-to-play social gaming site featuring the notorious Stardust Casino in Las Vegas, available via Facebook for players in the UK, Australia and Canada. American players will be getting their own version of the site in a few months.
"Our aim was to recapture the romance and adventure of vintage Las Vegas, and what better way to do that than to re-create online the legendary Stardust Casino?" WIN CEO Barak Rabinowitz said in an issued statement about the site. WIN is the social gaming arm of the Bwin.party/Boyd Gaming Group alliance.
Historic Mob Casino
Nothing is more romanticized than crime over time, and the Stardust saw plenty of that in its heyday back in the 1970s and 80s, when it was reportedly a popular Mob hangout. The casino was imploded back in 2007, and its land site is now awaiting Resorts World Las Vegas, an Asian-themed mega-resort casino complex, being built by industry giant Genting Group, who are HQ'd in Malaysia. Resorts World took over the bones of Echelon, the casino originally slated to go in on the Stardust site, after the latter lost its financial footing when the recession hit Las Vegas hard back in 2008.
But back to Stardust, the social media free-play site online.
Using High-Def, 3-D technology, the site attempts to recreate the Stardust lobby back in its glory days, and offers social media players free games like roulette, slots, and blackjack. You can even polish up your gambling skills by moving from a designated "novice" to a "high roller" by earning points while playing.
"The Stardust represents everything that was great about the early days of Las Vegas, and we are proud to work with Boyd Gaming to help bring this legendary brand back to life," Rabinowitz said.
Boyd Gaming is happy with the virtual version of the defunct property, saying that WIN did a great job of recreating the Stardust aura online.
"This game is truly a worthy successor to the legendary Stardust name," said Boyd Gaming executive vice-president Bob Boughner.
Getting Ready for Real-Money Site
No doubt the social media, free-play concept is a warm-up to an eventual real-money site for Nevada. Bwin.party is currently awaiting an interactive gaming license in the Silver State, and the partnership with Boyd – which still operates several old-school properties in town like the Orleans, Gold Coast, Sun Coast and Sam's Town  casinos – makes sense on several levels, gaming industry analysts agree.
"The (Stardust) brand likely still resonates with casino customers," said one such analyst, Union Gaming Group managing director Bill Lerner said. "While we don't expect the free application to materially impact Boyd's profits and losses, we think it is a good move to build an online gaming brand ahead of potential state or federal regulation of online gaming.
When it went up on the Las Vegas Strip in 1958, the Stardust was a Mob-run property and Nevada's largest casino at the time.  For those who have seen the classic Las Vegas movie "Casino," this was where real-life characters Frank "Lefty" Rosenthal and brutal hit man (and eventual Iowa cornfield hit victim himself) Tony Spilotro spent much of their time.
Similar Guides On This Topic