"Sports Consultant to the Stars" Adam Meyer Arrested Over $25 Million Extortion Con
Posted on: December 13, 2014, 09:00h.
Last updated on: December 12, 2014, 06:54h.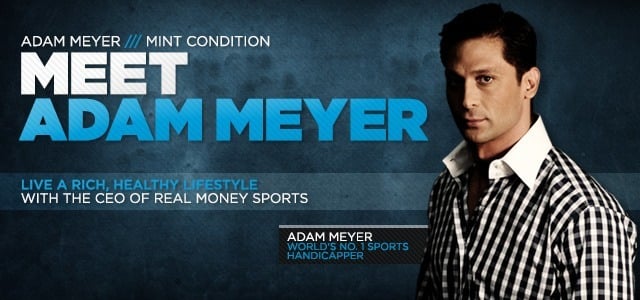 Adam Meyer, a US sports betting-tipster and self-proclaimed "sports consultant to the stars," was arrested this week on charges of wire fraud, extortion, racketeering and brandishing a firearm, after it is alleged he conned one of his clients out of $25 million.
Meyer, who is the CEO of betting consultancy site Real Money Sports, which reads like a get-rich-quick scheme and charges clients up to $250,000 for his sports betting advice, claims to have a 60 percent edge over the bookies and to employ more than 130 sports experts.
According to the indictment, the client in question, who is known only as "Victim A," began buying tips from Meyer back in 2007.
Meyer initially referred Victim A to certain bookmakers to whom, he claimed, falsely, he had no connection. In 2008 Victim A was told by Meyer to wire $1.2 million to accounts he controlled himself.
When Victim A later decided to cut back on gambling, Meyer concocted a story that Meyer's life was at risk because he owed money to a bookie gangster called "Kent Wong," who in fact was an alter ego.
Firearm Brandished
Meyer explained to Victim A that "Wong" believed Meyer and Victim A were business partners and that Victim A was being held equally responsible for the debt. Meyer would even call Victim A to demand money while pretending to be Kent Wong.
The victim was intimidated into sending millions of dollars to various bank accounts controlled by Meyer.
When Victim A said he could no longer send any money, Meyer flew with an associate from his Florida home to meet him. "During the meeting," claims the indictment, "Meyer's associate brandished a firearm and demanded Victim A send Meyer more money to pay off a purported gambling debt.
In response to that threat, Victim A agreed to provide $9.8 million to Meyer."
According to his AdamWins.com website: "Adam is box office money, and the heavy hitters know it. His client list reads like the front page of Variety."
Previous Racketeering and Domestic Abuse Charges
However, what his celebrity client base presumably did not know is that Meyer was sentenced to three months in a federal prison in 1996 after he was charged, according to court records in Louisiana, with extortion, racketeering and threats.
He has also faced domestic abuse charges and been investigated by the Nevada Gaming Control Board over unpaid markers.
Meyer was arrested at his Fort Lauderdale-area home early Tuesday but was taken to hospital complaining of chest pains before being released into custody of federal agents.
Meyer's attorney Brian H Bieber said that prosecutors will ask that Meyer be held without bail, although he said he thinks a monetary bond is appropriate. According to Beiber, "the facts as stated in the indictment are not completely accurate."
Meyer reportedly won over $1 million on the Green Bay Packers at Super Bowl XLV. In one of his many television appearances he says he is proud to be able to have an effect on people's financial lives, although according to the indictment the effect he does have on people's financial lives is not altogether positive.
If found guilty he faces a minimum seven years in prison.