Smile, You're on Candid Surveillance Cameras on the Las Vegas Strip
Posted on: June 5, 2013, 05:30h.
Last updated on: June 5, 2013, 04:50h.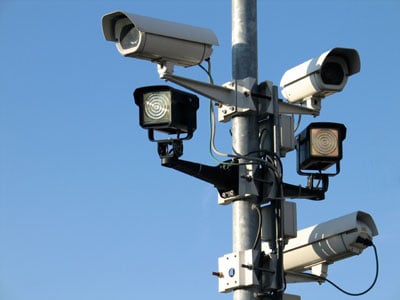 Looking forward to your next visit to Sin City? The bright neon lights, the exciting casinos, the crazy parties? Oh, and don't forget the 37 surveillance cameras that will be watching you through it all, up and down a four-mile stretch of the world-famous Las Vegas Strip. That's right; a new $350,000 grant from the U.S. Department of Homeland Security has allowed the new cams to go up on poles starting at the South Strip at Russell, and set up all the way down to Sahara Avenue, where the eponymous hotel once stood, now soon to become the SLS.
To Counter Crime and Terrorism
The new cameras come to Las Vegas to enhance its security overall, according to Lt. Jim Seebok of the Southern Nevada Counter Terrorism Center. The cameras' eyes will begin recording your every move beginning late June of this year.  Seebok says no one is trying to hide them.
"These cameras are overt," Lt. Seebok emphasizes. "They are going to be where people can see them. They are only capturing footage of people in the public domain." So all you people who are doing bad things in private places: relax, enjoy!
While it might seem like the move is in reaction to the recent terror events in Boston, it's actually been a year in the making. After all, terror aside, Vegas practically invented the fine art of eye-in-the-sky surveillance. And although the ubiquitous black semi-globes dot the ceilings of Las Vegas' casinos like so many stars in the sky, very few patrons seem to be aware they are there. And after all, traffic cameras have become such a common sight, would anyone even know the difference? We're guessing not.
Joint Collaboration
The new camera project was a joint collaboration between Metro police and casino industry representatives, both of whom, let's face it, have a vested interest in keeping crime down in a city that is often the last hurrah for bad guys on the run from the law. One last weekend of crazy gambling and wanton drinking and sex seems to draw them all to Las Vegas, and the FBI still has a strong presence in the town that Bugsy Siegel brought to life.
Although Boston wasn't the impetus for the cameras, their setup in the wake of those events at the marathon are not lost on law enforcement.  Without surveillance footage, there's a good chance those bomb makers could still be at large, reaping even more destruction across America.
"That was just a great example of how important having video evidence can be," Seebok said. "That really broke the case wide open."
Of course, a surveillance project like this wouldn't be complete without the American Civil Liberties Union (ACLU), the annoying gnat on anything productive that's ever happened in the United States, rearing its ugly head.  But even they realize it's not going to freak too many people out. "The public's gotten used to it," said Tod Story, the ACLU's executive director. "It seems like we're being surveilled at every turn."
In Vegas, for probably the past 50-plus years: yes.