Rep. Frank Pallone Requests Daily Fantasy Operators Reveal Participating NFL Players
Posted on: October 26, 2015, 05:33h.
Last updated on: October 26, 2015, 05:33h.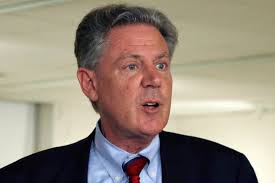 United States Representative Frank Pallone (D-New Jersey) is petitioning daily fantasy sports (DFS) market leaders DraftKings and FanDuel to disclose players in the National Football League that have active accounts and are participating in contests on the websites.
It's the latest development in the DFS saga of the last month, a timespan that's probably felt like an eternity for executives at the industry's two largest platforms.
Pallone sent letters to both companies on behalf of the Energy and Commerce Committee asking for the names of players, coaches, referees, staff member, owners, and even training personnel that have participated in DFS over the last year.
He also seeks the total monies paid by said group, and their net winnings or losses.
"The deep involvement of professional sports with daily fantasy sports raises questions about whether these practices are truly distinguishable from prohibited sports betting and other forms of gambling," Pallone wrote.
National Fantasy League
Pallone is directly going after the NFL because unlike the NBA, MLB and NHL, the governing body of football hasn't publicly condemned its players and associates from partaking in daily fantasy games.
"The NFL is the only major US sports league that has not barred its athletes," Pallone expanded.
The NFL does however stipulate that players and personnel cannot accept prizes exceeding $250 in any football fantasy contest.
In addition to seeking out the names of those related to the NFL playing DFS, Pallone also wants information on how DraftKings and FanDuel goes about notifying other leagues including the NCAA when an athlete or colleague tries to enter a contest they directly participate.
Pallone wishes to make the process of how participants are tracked public knowledge.
"Do each of these leagues provide your company with a list of league and team personnel from which to cross-check your system?" Pallone asks. "Explain in detail the process by which your company provides the NFL with information regarding prizes won by NFL and team personnel so that the NFL can determine whether they have accepted prizes over $250."
Self-Governance
Pallone presumably knows the answers to many of the questions he's posing. In all likelihood, the unregulated nature of daily fantasy has led to rather minimal oversights.
Additionally, one could argue that it isn't necessarily the job of DraftKings and FanDuel to mandate rules dictated by outside agencies like the NFL and impose a $250 reward limit.
The cold hard truth is that the NFL probably doesn't much care if a player wins a few hundred dollars while playing daily fantasy contests.
The league is a shareholder of FanDuel, and several team owners including the Patriots' Robert Kraft and Cowboys tycoon Jerry Jones have stakes in DraftKings.
"From my perspective, anything that follows the rules, that causes and creates more interest and more fan participation, I'm really for," Jones told ESPN this week. "I don't think DraftKings or FanDuel in any way compromise our players on the football field because it's all fantasy."
A multibillion-dollar industry can rarely be called "fantasy," but so goes the ongoing puzzling climate of daily fantasy sports.