Penn National Gaming Shops for a Satellite Casino Locale, Finds it at York, Pennsylvania Mall
Posted on: September 7, 2018, 09:05h.
Last updated on: September 7, 2018, 09:07h.
Penn National Gaming says it will soon present plans to put a satellite casino inside a mall in York, Pennsylvania. In January, the casino operator that specializes in regional gambling properties secured the first satellite  auction with a winning bid of $50.1 million.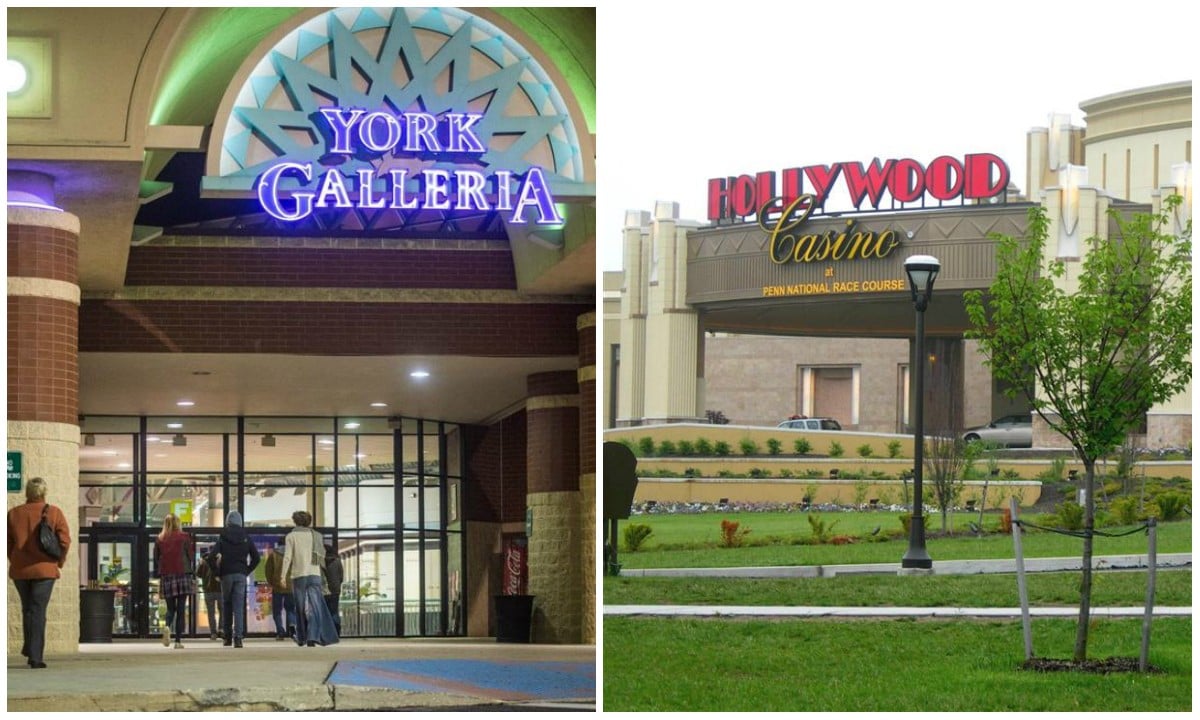 Governor Tom Wolf (D) signed a massive gambling expansion package in the fall of 2017, and part of that bill includes the authorization of up to 10 satellite casinos, each permitted to house up to 750 slot machines and 30 table games.
Penn National selected a 15-mile radius in York County, which is roughly 40 miles north of Baltimore, and 25 miles south of the Harrisburg capital.
The York Galleria Mall, like so many other malls across the country, has fallen on tough times due to online retailers. The shopping center recently lost two major anchor tenants, The Bon-Ton and Sears.
Local governments could file resolutions to prohibit a casino from being placed in their communities, but Springettsbury Township opted to stay in the pool.
Buying In
Penn National received a two-month extension from the Pennsylvania Gaming Control Board (PGCB) in July to file plans for the York County casino. The Galleria Mall has long been on the company's radar, but a property in nearby Hellam that's home to a historical house that was once part of the Underground Railroad in the 1800s was also being considered.
Penn National says it's betting on the mall.
Our hope is to locate our proposed 'Hollywood Casino York' on the first floor of the former Sears store, which closed in August 2018," Penn Senior VP of Public Affairs Eric Schippers told the York Daily Record. He added that the York venue will "generate new revenues in the Commonwealth while protecting our existing market share in Central Pennsylvania."
Penn National is expected to present the PGCB with formal York Galleria Mall plans on September 12.
Schippers said in January that the company felt the need to bid $50.1 million for the first license in order to protect its patron base surrounding its Hollywood Casino in Grantville, which is about 15 miles east of Harrisburg.
"It was an investment we felt like we had to make to protect a major market area for our casino," Schippers detailed. "That cannibalization would have been, in our view, very significant."
Satellites and Suits
When Pennsylvania's General Assembly passed the gambling expansion package, which also authorizes online gambling, sports betting, daily fantasy sports, slots machines at truck stops, and airport gaming lounges, many of the state's licensed operators were in opposition.
The satellites specifically generated the most backlash, and Penn National went so far as to sue the state on grounds that the provision saying the mini-casinos cannot be built within 25 miles of a present casino unfairly hurt its Hollywood venue. However, the gaming company withdrew the lawsuit in July.
Along with its York County casino, Penn National won the fifth and final satellite auction to date when it submitted a $10.5 million offer. The company secured a region that includes Reading, the state's fifth-largest city in terms of population.