Parking at MGM Properties in Las Vegas Raised Again
Posted on: April 5, 2017, 03:00h.
Last updated on: April 5, 2017, 11:57h.
MGM Properties is going to strip more money away from tourists when they visit their resorts on the famed Las Vegas Boulevard. Some will surge as much as 39 percent.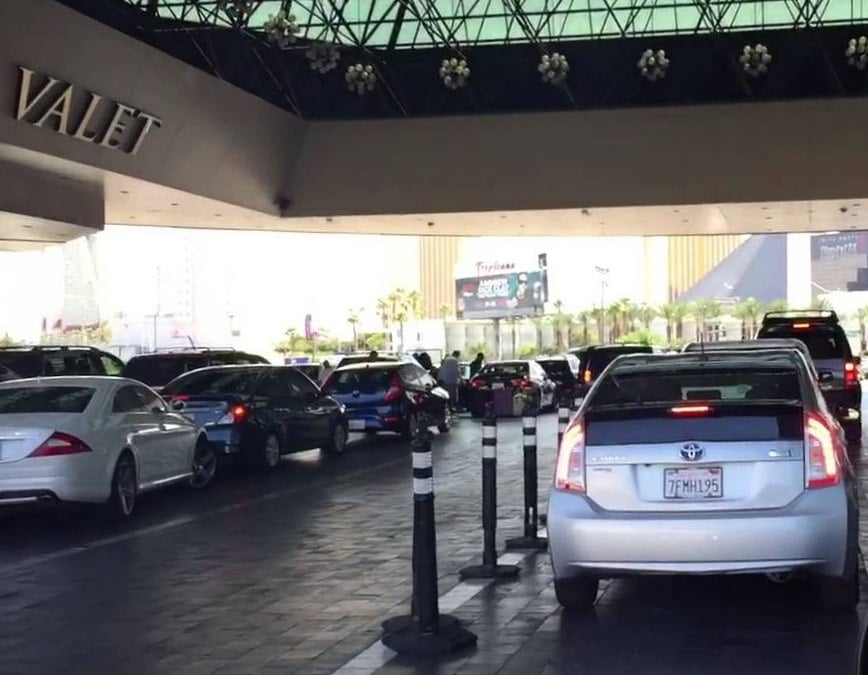 The company announced Tuesday that the 12 properties would increase valet and self-parking rates beginning April 12. The news came less than a year from when the company instituted the controversial decision to charge for parking.
"We are adjusting the parking rates for a variety of business-related reasons," MGM spokeswoman Yvette Monet said in a statement. "These adjustments are based on market analyses we have conducted since we implemented the program."
Rate Structure
The largest jump was Vdara Resort, which offers only valet service. The rates went from $13 to $20 for the first four hours, and from $18 to $25 between four and 24 hours.
The arrangement for self-parking at the other resorts went higher, except for Circus Circus, where it is still free. The company changed its prices from one to four hours to more money after the second hour. Excalibur, Luxor, and Monte Carlo will now ask for $8 instead of $5 after 120 minutes.
After that the price is $10 for the next two hours and $12 after. Mandalay Bay, MGM, New York New York, Mirage, and Delano will charge $7, $10 after two hours and $12 daily. The Aria and Bellagio ask $7 for hours one to two, $12 for hours three to four and $15 daily.
Valeting a car also got more expensive. Fees went up $2 at Excalibur, Luxor, Circus Circus and Monte Carlo from $8-$10 for the first four hours and from $13 to $15 after that. Mandalay Bay, MGM, New York New York, Mirage, and Delano rose from $13 to $15 for the first four hours and from $18 to $20 daily. Aria and Bellagio had the biggest hike, from $13 to $20 for hours one to four and from $18 to $25 after.
The only people who won't incur a fee are certain levels of the loyalty card program and those who have an MLife credit card.
Free Amenity Disappears
MGM began the pay for parking mandate on June 6, 2016 but gave locals until the end of the year before they had to pay. Officials have said the fees are to offset costs of a new parking structure for the newly constructed T-Mobile Arena, home of the NHL's Golden Knights team, as well as improvements to other lots.
Caesars Properties began to charge guests shortly after their rival did, but had kept self-parking gratis. That changed last week when they announced only Nevada residents could park their cars free.
This comes on the heels of both revealing that they would be socking guests more for resort fees. MGM's amenity rose between $30.61 and $44.22 per night depending on the property, while Caesars new price goes from $34.01 to $39.68 nightly.
Similar Guides On This Topic