Packer Crown Asian Expansion Thwarted in Sri Lanka
Posted on: May 4, 2014, 10:00h.
Last updated on: April 30, 2014, 10:17h.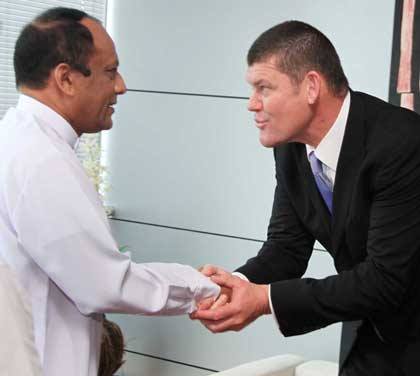 James Packer's designs on the Asian market took a knock this week, as the Sri Lankan government rebuffed his plans to build a casino in the country. The chairman of Aussie casino chain Crown Ltd. already has a presence in Macau, through his joint venture with Melco International Development, and has been eyeing further expansion in the Philippines, Japan, South Korea and Vietnam. His Sri Lankan development had been expected to get the go ahead, with Crown's executive VP of strategy and development Todd Nisbet recently claiming it was a matter of "not if but when".
However, it seems the Sri Lankan government has caved into pressure from community and Buddhist groups in refusing to grant licenses to Crown, along with two other prospective operators. Sri Lanka's government had hoped to grow the country's tourist industry by 100 percent within two years to more than $2 million, as part of its process of rebuilding following the end of the war with the Tamil Tigers, but it seems it was not prepared to suffer months of protests. Much of the opposition to the casinos has been due to fears that they would bring with them an increase in crime and prostitution.
Fear of Crime
Director of Hong Kong-based NGO – the Asian Human Rights Commission – Basil Fernando said that Sri Lanka is at the top of the list of countries with a breakdown of the rule of law and the public has had enough.
"There is a fear of a greater increase of crimes, for example, crimes related to black [market] money and also crimes related to illegal security forces and others, which has remained a problem in Sri Lanka," Fernando said. "The main concern comes out of a very sharp feeling that in the recent decades there has been a considerable breakdown of the rule of law in the country and that instead of trying to solve that problem, the introduction of these hotel complexes will be only a pretext to bring more crime into the country."
Spreading Irons Across the World
Senior research analyst with Fat Prophets Brian Han said that the developments are not necessarily a huge setback for Mr Packer's ambitions.
"[In] Macau, he's building another property over there, so that will be the principal focus," he said. "There's also talk of him entering Tokyo – that will be a major project if that gets the go-ahead because that will be a $5 billion property. On top of that … he's looking at Sydney, which he will get into in a few years time – and then there is of course the US market. What he's trying to do is spread his irons right across the world, so that he has a real attractive offering to premium high rollers to visit all these cities.
"At the same time [he wants to] have a concentrated effort in the Asian region, whereby not only premium, but also growing demand is just insatiable, and there's just not enough supply to meet the demand. Even if it all goes to nothing at least he has learnt something from the market as to how the regulatory process works. At a minimum he knows who his competitors are."
It's a huge U-turn on behalf of the Sri Lankan government, which had given approval for three resorts, without the casino licenses, and significant 10-year tax breaks had been granted to the developers.