Atlantic City's Ocean Resort Casino Tells Hurricane Florence Evacuees They Can Stay for Free
Posted on: September 13, 2018, 08:20h.
Last updated on: September 13, 2018, 12:32h.
Update: Ocean Resort tweeted Thursday afternoon that the hotel is sold out of complimentary rooms through Saturday. The casino says hurricane evacuees will be offered free accommodations Sunday through Thursday (9/16-9/20). 
Ocean Resort Casino in Atlantic City is offering up what's available of its 1,399 guestrooms free of charge to those displaced by Hurricane Florence, which is wreaking havoc on the Carolinas.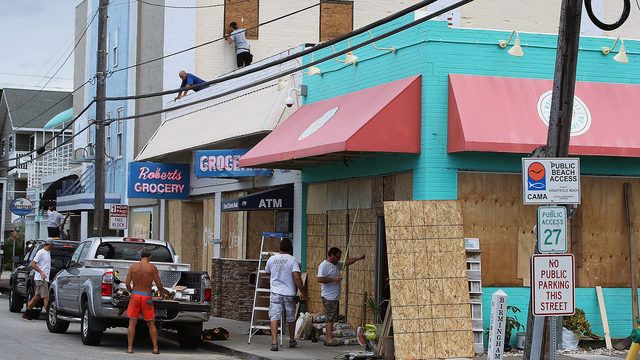 The reimagined Revel opened in June along with Boardwalk neighbor Hard Rock to return Atlantic City to a nine-casino market. New Jersey's newest gambling venue is wasting no time in showing the region it's interested in being a steadfast community partner.
We completely understand the concern for families and the community during times like this, so we want to do our part by providing somewhere safe, warm and dry to those impacted," Ocean Resort owner Bruce Deifik said in a statement. "All efforts will be made to accommodate based on availability."
Mandatory coastal evacuations have been ordered in both North and South Carolina. Though the hurricane was downgraded to a Category 2 event late last night, the National Hurricane Center says Florence is still an "extremely dangerous major hurricane."
It was only six years ago that Hurricane Sandy devastated New Jersey and Atlantic City, causing some $70 billion in damage and killing 233 people.
Not Worth the Gamble
As of this morning, Hurricane Florence was about 170 miles southeast of Wilmington, North Carolina, and 220 miles east of Myrtle Beach. The path of the storm has shifted slightly south and west. A Category 2 storm is defined as sustained winds of 96 to 110 MPH, and is described as "extremely dangerous" and likely to "cause extensive damage."
"The waves and the wind this storm may bring is nothing like you've ever seen. Even if you've ridden out storms before, this one is different. Don't bet your life on riding out a monster," North Carolina Roy Cooper (D) told coastal residents.
More than 10 million people in the Carolinas, Virginia, and Georgia are under storm watches or warnings. Weather experts and state officials are warning people in the storm's predicted direct path to evacuate immediately.
Problematic Situation
The millions of evacuees continue to travel north, the vast majority up Interstate 95 which has turned the south lanes into northbound traffic. The busy highway is jam-packed, as people try to reach safer ground.
Atlantic City isn't exactly close to Florence's predicted Wilmington and Myrtle Beach entry zone: in fact, it's more than 630 miles north. Deifik says the free lodging offer isn't only for those in the direct path, but anyone in the surrounding region that feels unsafe and wants to get out.
"They have to show proof that they live in an area that is threatened with a direct hit or an area in danger," Deifik said. "Ninety-five percent of people I'm sure will be honest about it. There's always going to be some scammers, but if it takes letting a few of them slip by in order to help the majority of people, then so be it."
Harrah's Cherokee and Harrah's Cherokee Valley, two casino resorts in western North Carolina owned by the Cherokee Indians and operated by Caesars, might be a more sensible safe haven for regional residents. But those properties haven't commented on whether they're offering special discounts to hurricane evacuees.