NFL Suspends Myles Garrett Indefinitely Following Steelers-Browns Brawl
Posted on: November 15, 2019, 11:01h.
Last updated on: November 15, 2019, 11:32h.
Cleveland Browns defensive end Myles Garrett has been suspended indefinitely by the NFL for ripping the helmet off Steelers quarterback Mason Rudolph and striking him with it at the end of Thursday night's game.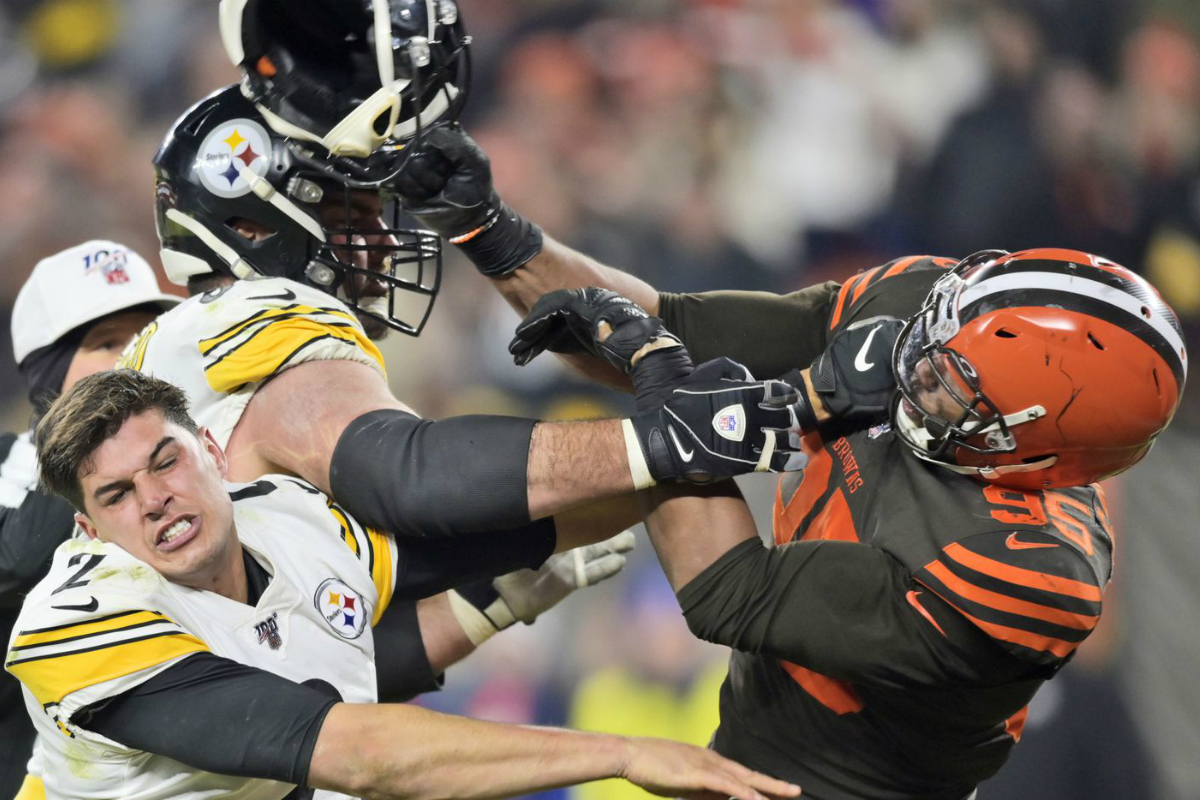 Garrett, the No. 1 pick in the 2017 NFL Draft and the most important weapon on the Cleveland defense, used the Steelers' QB helmet as a weapon in what was perhaps the ugliest moment in the league's 100-year history.
Garrett is done for the rest of the regular and postseason, and potentially longer. Browns defensive tackle Larry Ogunjobi was suspended one game for pushing Mason to the ground following Garrett's attack, and Steelers center Maurkice Pouncey was suspended three games for punching and kicking Garrett.
Online sportsbook Bovada had the odds of Garrett being suspended more than 5.5 games at -300. A $100 bet netted $33.33.
We are extremely disappointed in what transpired last evening at the end of our game," a statement from Browns owners Jimmy and Dee Haslam read. "There is no place for that in football and that is not reflective of the core values we strive for as an organization."
They added, "We sincerely apologize to Mason Rudolph and the Pittsburgh Steelers. Myles Garrett has been a good teammate and member of our organization and community for the last three years, but his actions last night were completely unacceptable."
Along with the suspensions, the NFL fined both the Browns and Steelers $250,000 each. No one was severely injured in the melee. Garrett apologized after the game, calling his actions "foolish."
Looking Ahead
The brawl overshadows what was otherwise a good night for the Browns. Cleveland was a three-point favorite over their rivals, and was in control of the game from the start.
QB Baker Mayfield was 17-32 on 193 yards and two touchdowns. Cleveland's win snapped Pittsburgh's four-game winning streak.
The two teams won't have to wait long to see each other again. Cleveland travels to Pittsburgh in a little more than two weeks to square off on December 1. Garrett and Pouncey won't be on the field.
Cleveland's win on Thursday Night Football keeps their playoff hopes alive. Prior to kickoff last night, their postseason odds were at +650 (implied odds of 13.33 percent). Now 4-6, the Browns stand a bit shorter at +600.
The Steelers were at -130 to reach the postseason before last night's loss. Now 5-5, Pittsburgh is slightly longer at -110.
The 7-2 Baltimore Ravens are heavy favorites to win the AFC North at -1000. On that line, a $100 bet wins just $10. Pittsburgh is +900 to win the division, and Cleveland +1900. The winless Bengals are eliminated.
Browns Black Eye
Cleveland entered the 2019-20 NFL regular season with much hype. The team landed superstar wide receiver Odell Beckham Jr. in the off-season, and were as short as 14/1 for the Super Bowl.
They currently stand at 65/1. However, the Browns have a relatively easy remaining schedule.
They play at home against Miami, at Pittsburgh, vs. Cincinnati, at Arizona, vs. Baltimore, and then at Cincinnati. Cleveland should be favored in all but the Ravens game.
The collective record of their remaining opponents is 17-29.
Similar Guides On This Topic