Neymar Jr. Fined Six Figures for Alleged Multimillion Dollar Tax Evasion by Brazilian Court
Posted on: January 28, 2016, 01:35h.
Last updated on: January 28, 2016, 01:35h.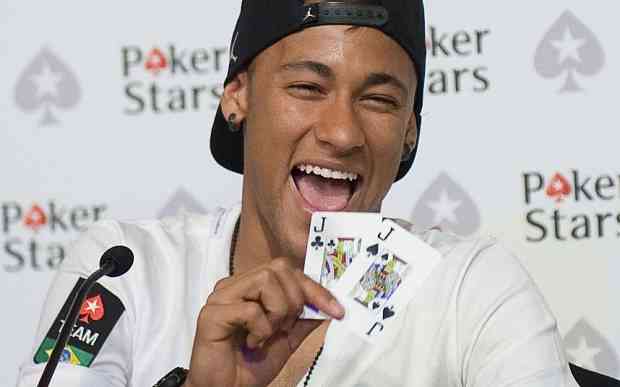 Neymar Jr.'s latest round of having his picture splashed all over the media may not be exactly the kind of publicity that PokerStars was looking for from the global superstar when it hired him as a brand ambassador last year.
That's because the dynamic and insanely popular Barcelona and Brazil soccer star has now been fined by a Brazilian court for tax evasion.
The court says that Neymar Jr., along with his father Neymar Sr., must pay a $110,000 fine, imposed for allegedly avoiding taxes in 2007-08.
The judgment comes as part of a wider investigation into the finances of the father and son Neymars, whom the São Paulo federal court claims dodged almost $16 million in taxes between 2011 and 2013, just prior to the player's high-profile transfer from Brazilian club Santos to Barcelona.
In September, a São Paulo judge froze assets belonging to Brazilian companies jointly owned by Neymar and his father, worth some $47.6 million. Judge Carlos Muta said he froze triple the amount allegedly owed as a preventative measure to ensure that the assets were not sold before the investigation was complete.
Santos-Barcelona Contract Controversy
Neymar's transfer from Santos to Barcelona has also been beset by allegations of financial misappropriations. Barcelona had claimed it had signed the forward for €57.1 million ($62.4 million), but that figure later was revealed to be €86.2 million ($94.2 million), with €40 million ($43.8 million) going to the Neymar family.  
Last May, a judge in Spain demanded that Barcelona president Josep Bartomeu and his predecessor, Sandro Rosell, stand trial on charges of tax fraud in relation to the signing.
Thus, things haven't always run smoothly for the PokerStars ambassador, who along with Cristiano Ronaldo and Ronaldo (Nazario de Lima), make up the trio of elite soccer players pimping the PokerStars brand to their multiple millions of social media followers.     
PokerStars marketing that featured the young Neymar also hit a major snag last year when the UK Gambling Commission deemed that "Junior" was underage and shouldn't be promoting a gambling product.
UK gambling law stipulates that no one that even looks under the age of 25 may appear prominently in gambling marketing, which meant that PokerStars had to replace the 23-year-old global superstar's face with that of their other, and over-40, kingpin ambassador, Daniel Negreanu.
Neymar Spin and Go's
Still, at least he didn't bite someone, like his Barca teammate Luis Suarez contrived to do on the global stage just weeks after signing as the brand ambassador for 888poker.
Having said that, 888 got some great publicity in practically every newspaper in the world after it quickly became the first sponsor to fire Suarez for his toothy atrocity.   
Meanwhile, PokerStars is finding interesting new ways to market Neymar, such as naming Spin and Go's after him. The "Neymar Jr. Edition" Spin and Go has debuted in the Italian market.
Until February 7th, players will be able to enter special €0.20, €2 and €25 tournaments that have a top prize of €500,000 ($547,775), the highest Spin and Go jackpot on the PokerStars Italian client.