New York Yankees Send Slugger Aaron Judge to Injured List
Posted on: June 6, 2023, 11:06h.
Last updated on: June 7, 2023, 11:17h.
New York Yankees right fielder Aaron Judge sustained a big toe injury, which will land him on the 10-day injured list, after he made a highlight-reel catch against the Los Angeles Dodgers.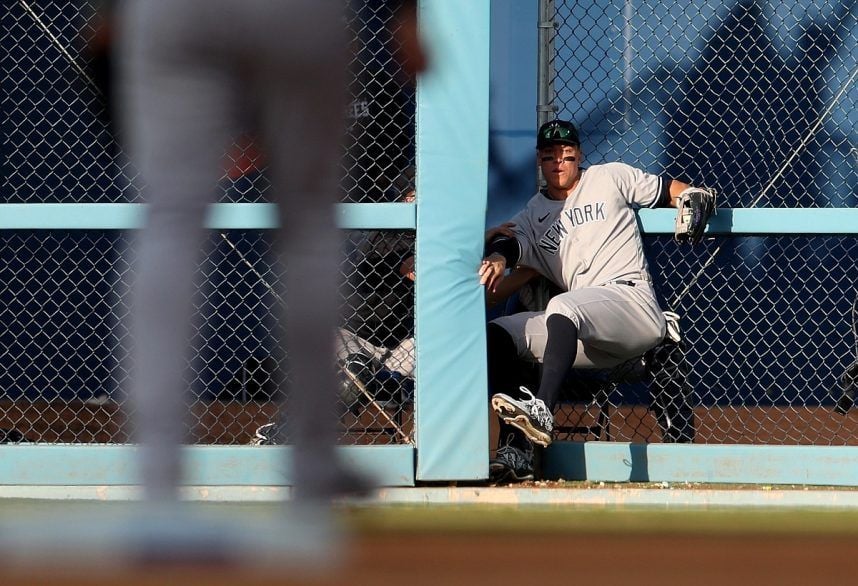 Judge sat out the last two games with a swollen toe and the team was worried that it was broken. An MRI revealed that Judge bruised his right toe and strained a ligament. The Yankees will officially place Judge on the IL on Wednesday.
The Yankees have been decimated with injuries this season, including to their starting rotation. They recently sent lefty starter Nestor Cortes to the IL with shoulder inflammation. The Yankees also had multiple starting position players spend time on the IL this season, including Giancarlo Stanton, Harrison Bader, Josh Donaldson, and even Judge.
Despite all of the injuries to key players, the Yankees have a 36-26 record. Only three MLB teams have more wins than the Yankees this season, and all three are in the American League, with two of them in the Yankees' division.
The Yankees are +950 odds to win the 2023 World Series, and +500 odds to win the AL pennant.
Judge Stubs Toe During Wall Crash
The unusual incident occurred during a 6-3 victory against the Dodgers on Saturday. Judge crashed into the right field wall after robbing Dodgers outfielder J.D. Martinez of an extra base hit and potential RBI with a breathtaking over-the-shoulder catch.
"He's from another planet," said teammate Oswaldo Cabrera.
Judge was running so hard and so fast that the bullpen fence swung open after his collision. Judge clipped the concrete bottom of the wall with his right foot, which is the source of his big toe injury.
Manager Aaron Boone sprinted to the outfield to check up on his outfielder.
"When I got halfway out there, he was kind of pushing us back, like, 'I'm fine, I'm fine,'" said Boone. "Then I ran out and said, 'I just wanted to tell you what a great catch it was.'"
For Judge to just blow through the fence, it kind of took a little bit of the kinetic energy out of just slamming up against the wall," said pitcher Gerrit Cole. "It's still very concerning when such a great player has to go so hard into the wall. He's got a lot of guts."
Judge hit a home run before the collision. He leads the American League with 19 home runs. New York Mets first baseman Pete Alonso leads the majors with 21 home runs, and he's the only player who hit more dingers than Judge this season.
Boone will have to rely on Jake Bauers (.227 batting average, 5 HR, 11 RBI), Willie Calhoun (.234 avg., 3 HR, 12 RBI), and Oswaldo Cabrera (.199 avg., 4 HR, 17 RBI) to fill in for Judge during his absence. The Yankees indicated there's no specific timetable for Judge's return.
Judge Another Trip to the IL
Judge leads the league with a 1.078 OPS and .674 slugging percentage. He's slashing .291/.404/.674 with 19 home runs and 40 RBI this season.
At the end of April, Judge suffered a hip injury while sliding into a base during a steal attempt against the Minnesota Twins. He spent a short stint on the IL before returning to the team in early May. But the Yankees were 4-6 without Judge during that stretch.
Judge has been on a hot streak since he recovered from the hip injury. In those 23 games, he posted a .325 batting average with 13 home runs and 26 RBI.
Judge won the MVP last season after he set a franchise record and American League single-season record with 62 home runs. He earned a significant pay raise when he signed a nine-year contract worth $360 million in the off-season. The San Diego Padres tried to woo Judge with a $400 million contract offer. But he turned them down to remain in the Bronx.
After a sensational rookie season in 2017, Judge missed 50 games in 2018 and 60 games in 2019. In the first full season after the pandemic, Judge appeared in 148 games in 2021. During his MVP campaign in 2022, Judge appeared in a career-high 157 games.
Judge has already missed 13 games in 2023, or 20% of the season.
Two-way star Shohei Ohtani from the Los Angeles Angels is the betting favorite to win the 2023 American League MVP at -160 odds. Judge is +1000 odds to win the AL MVP in back-to-back seasons.