New York Yankees Have the Most Superstitious Fans in Baseball
Posted on: July 23, 2023, 09:17h.
Last updated on: July 24, 2023, 01:49h.
The New York Yankees have won more championships than any other team in MLB, with 27 World Series victories. It might be a surprise that the Yankees have the most superstitious fans in baseball. Some of the most iconic members of the Yankees also harbored their own odd rituals and superstitions.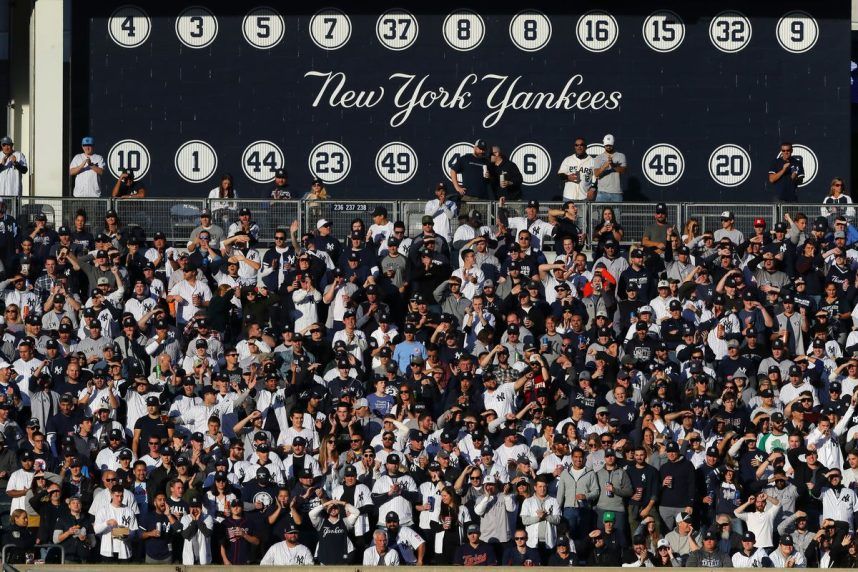 Fans have an unusual connection to their teams, and some of them are so twisted that they think they can alter the outcome of a game by following a specific ritual, or repeating a behavior.
According to a recent survey conducted by Casino.org, the Yankees have the most superstitious fans in baseball. The fervent fan base is also the fourth-most superstitious in major pro sports.
The Dallas Cowboys and Los Angeles Lakers are tied for the top rank with the most superstitious fans, according to the survey. Those rabid fans are followed by the Green Bay Packers at #2 and the Pittsburgh Steelers at #3. The Yankees are currently #4 on the list, and the Bronx Bombers are just ahead of the Chicago Bears at #5.
Don't Jinx the Pitcher
Many baseball players have their own superstitions and routines. For the last century, a teammate does not want to be the one who jinxes a no-hitter — and in rare instances a perfect game — by mentioning that a starting pitcher has yet to yield a hit. That's why teammates will avoid a pitcher in the dugout in between innings during his no-hit bid.
Announcers will also shy away from uttering the words "no-hitter" during their broadcast to avoid invoking the ire of the fan base. Fans will also avoid verbalizing the act. Even though it's absurd to think they actually control the outcome of the game, no one wants to feel like they jinxed their team and spoiled a no-hit bid.
This recently occurred when Yankees starting pitcher Domingo German tossed the 24th perfect game in MLB history. Superstitious teammates didn't want to go near German in an attempt to avoid the jinx during his night of perfection against the Oakland A's.
German told reporters that had been thinking about a perfect game during the entire game, but his teammates — especially his catcher Kyle Higashioka — did not broach the subject.
By the fourth inning, I thought Domingo could pull off a no-no," admitted Higashioka. "Of course, I was not even going to bring it up. By the eighth inning, it gets a little stressful, but you have to stay focused."
German not only threw a no-hitter, but he also he retired all 27 batters for a perfect game.
Sweat, Chicken, and Golden Thongs
Different members of the Yankees had their own rituals, routines, and superstitions over the years.
Orlando 'El Duque' Hernandez always avoided stepping on the foul lines when he pitched for the Yankees in the late 1990s. That's a superstition that many players share, but El Duque was extremely vigilant about not stepping on the chalk on along the first or third base line.
During home games at Yankee Stadium after he finished his warm-up in the bullpen, pitcher Roger Clemens would always rub sweat from his forehead on Babe Ruth's plaque in Monument Park. Clemens considered the sweat rub his good luck charm.
When five-time batting champion Wade Boggs joined the Yankees, he continued his pregame ritual with a special meal, and it didn't matter if it was a day game or a night game.
"In 1983, we ate chicken every day and I wound up winning a batting title in '83," explained Boggs.
Slugger Jason Giambi once wore a gold thong to snap a hitting slump in 1996. He shared his slump-busting technique with two teammates: Derek Jeter and Johnny Damon.
I was 0 for 32 and I hit a homer on the first pitch," said Jeter. "That's the only time I've worn them."
Jeter also liked to rub the head of bench coach Don Zimmer for good luck. Before the Yankees would take the field, Zimmer would remove his cap and Jeter rubbed his head.
Personal Superstitions
Here is a quick disclaimer: I grew up in the Bronx and consider myself a die-hard Yankees fan. I tend to avoid superstitions because once you give in to one, then you become enslaved to it. However, when I left New York City, I developed some rituals in October to make me feel a little closer to home.
After I moved to Los Angeles, my routine during the playoffs involved New York-based foods. I ordered a pizza from Mulberry Street, owned by a NYC transplant, to put me in a New York mood.
If the Yankees win a playoff game, I will tend to repeat the same outfit until they lose. If the Yankees lose a playoff game, I will often retire the ensemble that I wore while watching the game. Some of my favorite hats were retired in this fashion.
The last time I banished an item occurred in the 2019 ALCS against the Houston Astros. Relief pitcher Aroldis Chapman gave up a walk-off home run to Jose Altuve from the Houston Astros. The Yankees were eliminated from the postseason in a brutal loss.
I had been wearing a branded hooded jersey that members of the Yankees wore during batting practice that season. I have not worn the hoodie since that heartbreaking night in 2019. It's now buried on the bottom of a drawer because seeing the hoodie would conjure up an awful memory.
Superstitious Fans: Lucky Glasses, Muting Announcers
Fans have their own silly superstitions, like wearing a favorite hat or jersey. Other superstitions involve food, drinks, seating assignments, and muting announcers. I asked my friends and family to share any of their unusual superstitions while rooting for the Bronx Bombers.
During the 1996 World Series, I was in law school in Miami and there were about six of us hardcore Yankee fans," explained long-time fan Jerry Engel, an attorney based in Miami. "We met up each night, same house, same seats, drank same drinks."
"In college, we used to drink rally beers when the Yanks were down, and we were waiting for starting pitching to get removed," said Derek McGuire, an insurance underwriter and devout fan from the Bronx.
"We used specific and lucky glasses for beers during the playoffs," said Will Lambert, a Yankees fan and environmental engineer from Denver. "We also toasted every Yankee home run."
"Anytime the Yanks are ahead later in the game, and the announcers are about to say anything that assumes that they'll win, I will mute the broadcast," admitted Jay Sheer, a musician from Manhattan and long-time fan. "Don't like counting chickens before they hatch."
Despite all the superstitions, the Yankees have not won an AL pennant since 2009, which is also the last time they won a World Series.
The slumping Yankees are +2200 odds to win the 2023 World Series, and +1300 odds to win the AL pennant in October. Fans need to provide the Yankees with a spiritual boost by wearing their lucky hats and jerseys, because the Yankees are -170 odds to miss the playoffs this year, according to a prop bet from DraftKings.