New Macau Gaming Director to Better Use Technology in Regulating Casinos
Posted on: June 11, 2020, 12:17h.
Last updated on: June 11, 2020, 12:55h.
The Macau Gaming Inspection and Coordination Bureau (DICJ) has a new director, and he plans to overhaul how technology is used in monitoring casino operations.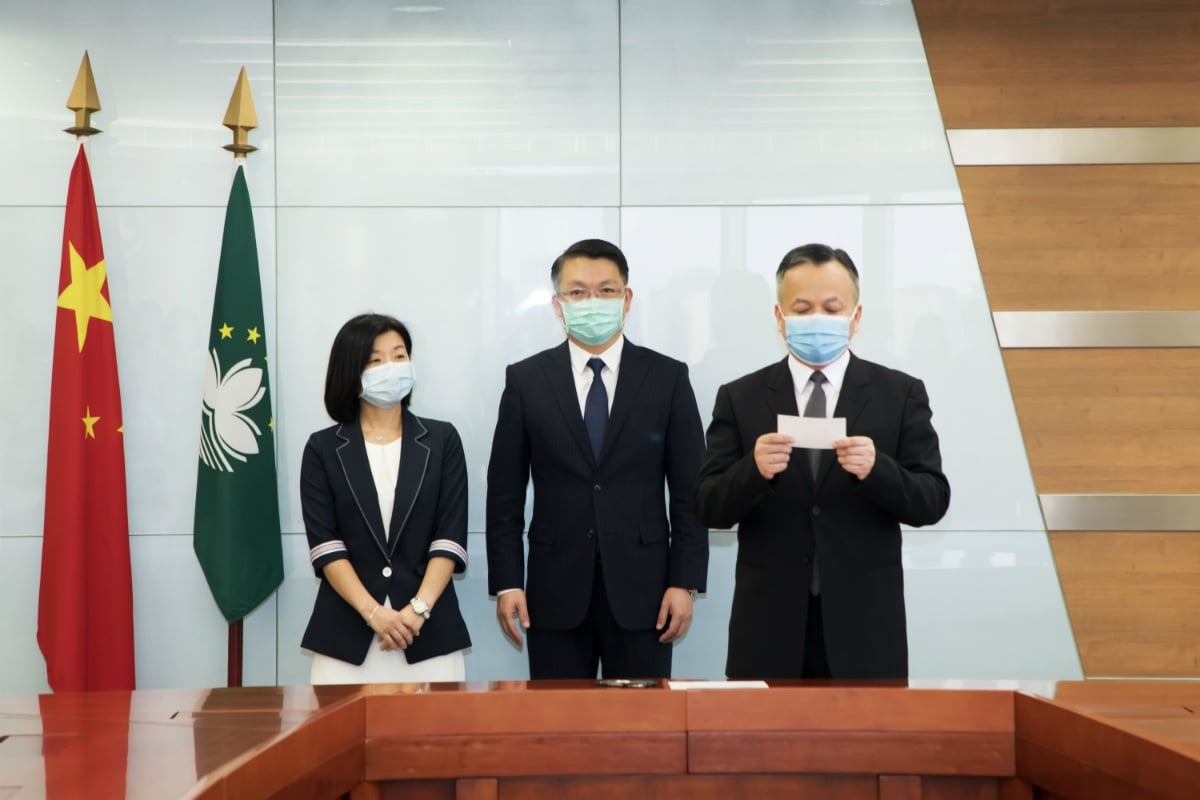 Adriano Ho was sworn in this week to as Paulo Martins Chan's successor. Chan requested to be replaced in order to return to the Public Prosecutions Office.    
During his inauguration ceremony, Ho said he would "serve the public with integrity," and plans to implement new technologies to regulate the world's richest gambling hub.
Ho, who comes to the DICJ from serving as a key advisor to Macau Security Secretary Wong Sio Chak, is well-versed in surveillance and how technology can improve oversight of businesses and industries.
Prior to working with the security secretary, Ho headed the Macau division of the China National Central Bureau of INTERPOL from 2004 to 2010. He also oversaw Macau's Judiciary Police Criminal Investigation Department from 2010 through 2012. In the two years prior to joining the security secretary in 2014, Ho led the Judiciary Police's Gaming-Related and Economic Crimes Investigation Department.
Critical Tenure
Ho is expected to lead the DICJ through what will be Macau's most critical years since gaming was liberalized in the handover of the enclave from Portugal back to China in 1999.
One of two Special Administrative Regions (SARs) in China, Macau's economy is based on its gaming industry. Casino taxes account for approximately 90 percent of the local government's revenue.
In June of 2022, all six gaming concessions will expire. Lawmakers and officials are currently reviewing all aspects of the gaming industry, and a public consultation is slated for later this year.
Macau Economy and Finance Secretary Lei Wai Nong says the "authority of making decisions about the gaming law are in the hands of the chief executive and the five secretaries." Ho and the DICJ is tasked with enforcing such laws.
Ho holds a bachelor's degree in law from the Macau University of Science and Technology. He's fluent in Macau's two official languages: Portuguese and Chinese.
Security Ramp Up
The odds are strong that the six casino operators – Las Vegas Sands, MGM Resorts, Wynn Resorts, Galaxy Entertainment, Melco Resorts, and SJM Holdings – will be issued new licenses in the fresh public tender. But their operational rights are expected to come with new regulations.
With Ho's appointment to the DICJ, it became evident part of those new governing conditions will likely be increased security measures geared towards preventing illicit activities, including money laundering, loan sharking, and infiltrating criminal syndicates.
The DICJ's website presently states in its outlook that Macau "will enter into another new era," and that its mission is "to promote healthy and sustainable growth in the gaming industry."
"The Macau government will follow the policy of moderate supervision, monitoring, and control … to lift up the quality and standard of the gaming industry, and show serious concern for the various social problems caused by the gaming liberalization," the DICJ explains. "The aim is to turn Macau into a destination for regional tourism, leisure gaming, and conventions and exhibitions."