Nevada Voters Courted by Hillary Clinton and Bernie Sanders, Democratic Caucus Will Be Key
Posted on: February 15, 2016, 02:31h.
Last updated on: February 15, 2016, 02:32h.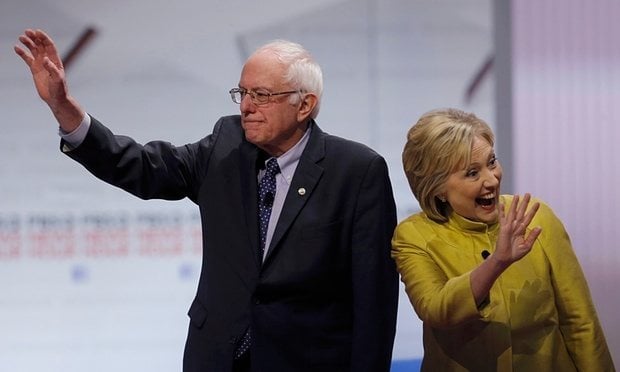 Nevada voters are the center of attention for both Hillary Clinton and Bernie Sanders' campaigns right now, as the two Democratic presidential nominees try to persuade as many last-minute voters to vote for them before this week's February 23rd caucus.
After Clinton's narrow victory in Iowa, followed by a hefty defeat in New Hampshire, the Silver State had long been thought to be her roadblock to stop any Bernie Sanders momentum. She once held a nearly 50-point lead over her challengers, but Sanders' grassroots movement has severely tightened the race, with many analysts now believing Nevada is up for grabs.
Clinton and Sanders each spent the weekend making stops around the state. Sanders campaigned in Reno on Saturday, then Las Vegas on Sunday, while his opponent met with voters in several locations around the gaming mecca throughout the weekend.
The two Democrats concluded the weekend on Sunday at the Victory Missionary Baptist Church in Las Vegas, a congregation largely made up of African-Americans.
"If we can win here in Nevada, we send a profound message to the entire country, and that message is that the people of this country will no longer accept establishment politics," Sanders said during his brief remarks.  
Clinton responded to Sanders with a line as vague as Bernie's plan of how he will fund his utopian vision.
"I am not a single issue candidate," Clinton said. "Because if we were going to achieve everything about banks and money and politics, would that end racism?"
Say what now?
Nevada Key State in Runoff
When Sanders officially announced his decision to run for the presidency in May, the so-called "Clinton machine" was already going to work in Nevada. Volunteers were making hundreds of daily calls, going door-to-door, and obtaining endorsements from key state and local leaders.
The Vermont senator didn't have much of a chance, at least according to political pundits.
Fast-forward nine months, and Clinton just canceled an event in Florida this week to stay the course in Nevada and shake every hand, ascend each stage, and grasp every microphone she can before Nevadans head to caucus on Saturday.
Nevada has a long history of being a swing state in the general presidential election, and its constituents have a nearly perfect record of voting for the eventual winner. Since 1912, Nevada has correctly picked the next president, except for in 1976, when Nevada went to Gerald Ford over Jimmy Carter.
A win in Nevada for Clinton would be expected, while a win for Sanders pull off what would perhaps be the biggest political upset in modern history.
Neck-in-Neck to the Finish
Nevada is home to the gambling epicenter of the United States, so maybe it's appropriate that there is little statistical evidence to run on in determining which candidate will win on Saturday.
The reality is that betting on Clinton or Sanders is equivalent to betting on red or black. The most recent poll from TargetPoint, the first political data on the race since late December, has Clinton and Sanders tied 45-45.
Scalia Death Further Stirs the Pot
Adding to the intensity of it all, Supreme Court Justice Antonin Scalia passed away on Saturday in Texas of apparent natural causes at the age of 79. Appointed to the bench by President Reagan in 1986, the consistently conservative judge's death leaves a vacancy on the highest court that is already causing more political divide between Republicans and Democrats.
A host of names have already been tossed around, including current Nevada Governor Brian Sandoval (R). Though Sandoval's GOP label might make him seem unlikely for an Obama endorsement, his pro-choice and pro-immigration views could make the first Silver State governor of Hispanic heritage a welcomed compromise to both conservative and liberal congressional leaders.