Nevada Senate Passes Sports Betting Bill for Businesses
Posted on: April 18, 2015, 10:09h.
Last updated on: April 19, 2015, 02:07h.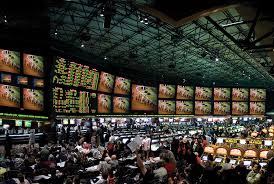 The Nevada Senate has passed a bill that will allow larger groups and businesses to potentially place bets at sportsbooks and race books in the state, though the bill will still need to pass the state Assembly before it can become law.
The bill, known as SB443, passed by a razor-thin 11-10 vote, with Senate Democrats standing in opposition to the bill.
Under current Nevada law, only individuals and partnerships are allowed to place legal bets on sports or horse racing.
However, this bill would expand the groups that would be allowed to place such bets.
The idea is to make it easier for investors to pool their resources into making bets, potentially even creating backing agreements where investors could put money into a skilled bettor and then share in their winnings.
A Market for Investing in Skilled Bettors
The bill was first discussed last month, when hearings on the measure were held by the Nevada Senate Judiciary Committee.
"We believe that there is a market demand for skilled bettors to utilize the various forms of Nevada's entities, have individuals invest in the entity and then share in the success of the wagering activity," said Quinton Singleton, CG Technology vice president and deputy general counsel.
That sort of arrangement would be illegal under current law.
Right now, it is illegal for an individual to place a bet for another person and then receive compensation for doing so.
Under the original terms of the bill, there were registration fees and requirements for detailed personal information on each person in one of these sports betting business entities to be submitted to the Nevada Gaming Control Board.
However, proponents are hoping that the final version of the bill will instead ask these entities to disclose that information to licensed sports books, and then each bookmaker would decide whether they wanted to take bets from the business. 
A similar bill was sponsored in 2013, but didn't pass into law that year.
The track of that bill raises questions over whether SB443 will be successful: that year, a similar bill was overwhelmingly passed in the State Senate, but stalled in the Nevada Assembly.
Backing Common in Other Forms of Gambling
If the bill were to pass, Nevada's sports betting scene could begin to resemble a much more regulated version of the world of tournament poker, where "backing" of players is commonplace.
This is particularly true in high roller events: few poker players are willing to risk $100,000 or more in order to enter a tournament even if they think they are profitable in the event, but investors may be willing to pool their money to put up much of that buy-in, knowing that they'll profit in the long run by backing winning players.
Proponents of the bill say that similar things could be seen in sports betting if it were legal for groups to form businesses to back talented sports bettors in Nevada.
According to gambling attorney Bruce Leslie, such groups could operate like mutual funds, with investors pouring money in but a "fund manager" choosing what to bet on.
Legal Sports Betting in America
Nevada is one of only four states in the USA allowed to offer legal sports betting under the 1992 Professional and Amateur Sports Protection Act. Delaware is currently the only other state to offer a limited form of sports betting (the state lottery allows for parley betting on NFL games), while Oregon and Montana currently do not offer any sports bets despite being exempted from the law.