Nevada Gov. Extends Stay-At-Home Order, Study Finds Majority of Americans Not Ready to Reopen
Posted on: April 30, 2020, 10:57h.
Last updated on: April 30, 2020, 11:30h.
Nevada Governor Steve Sisolak (D) announced yesterday that the state's stay-at-home order is being extended through at least May 15.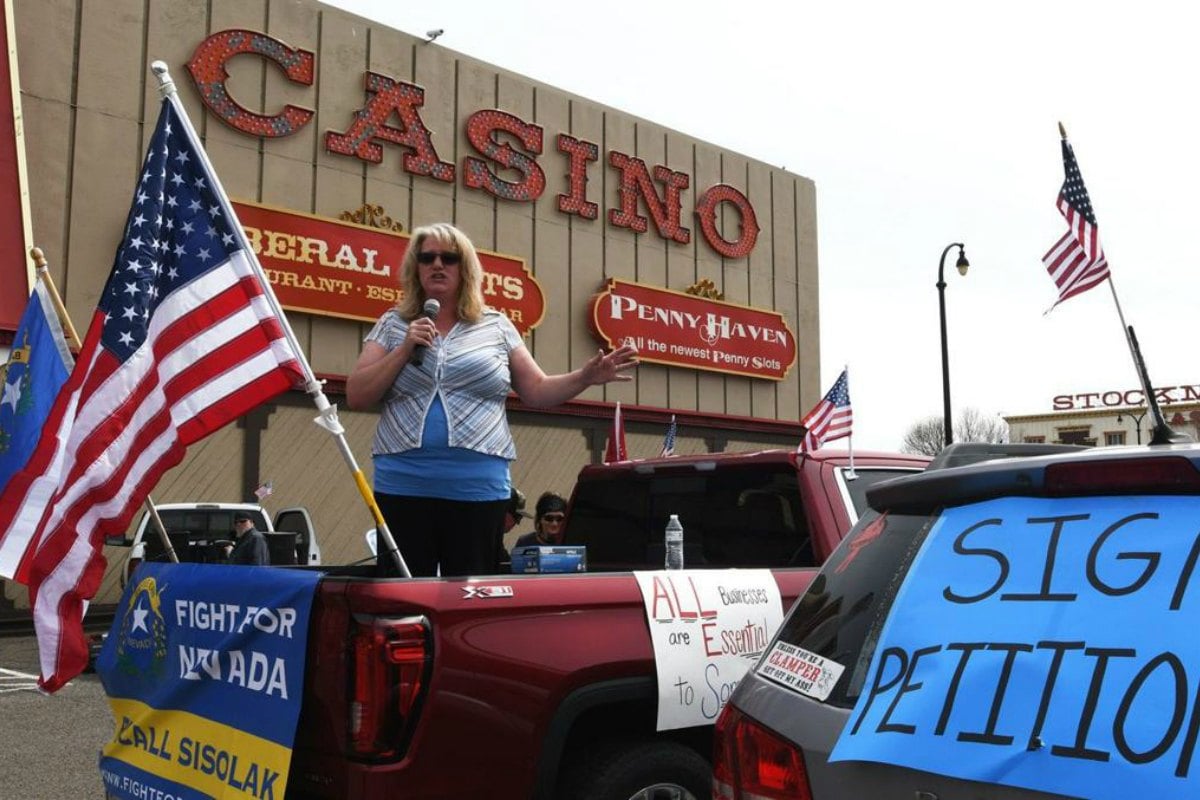 The first-term governor says Nevada is not yet ready to enter the Phase 1 stage as outlined by the federal government. However, Sisolak is easing some restrictions to allow nonessential businesses to generate revenue.
They include allowing retail businesses to operate under curbside pickup models similar to what restaurants are currently doing. Drive-in services for places of worship will be permitted, and outdoor activities such as golf, tennis, and pickleball, will be allowed so long as players do so in ways that prevents the spread of COVID-19.
"Nevadans have done an incredible job at staying home for our state, and as we work diligently to meet the reopening criteria, I wanted to begin some initial incremental changes that will make our full transition into Phase 1 smoother and positively impact our communities and small businesses," said Sisolak.
The governor continued, "Our ability to enter the next phase and any subsequent phase of reopening will be determined by the continued commitment of Nevadans to follow aggressive social distancing guidance and requirements."
Sisolak will unveil his "Nevada United: Roadmap to Recovery" plan later today.
Businesses Want Firm Timeline
Numerous business leaders in Nevada are growing increasingly impatient with Sisolak. Randi Thompson, Nevada chapter president of the National Federation of Independent Business, told the Las Vegas Review-Journal  that the governor's originally scheduled April 30 expiration of the stay-at-home order should have been upheld.
The governor doesn't understand the supply chain," Thompson opined. "We've been preparing to open May 1 and now you can't. If you're a restaurant, you have all this inventory of food. What are you going to do with it? We just want transparency."
Bryan Wachter, senior VP of government and public affairs for the Retail Association of Nevada (RAN), said Sisolak should make his intentions public as soon as he decides them, instead of waiting to the deadline.
The Strip's largest casino operators have developed best practices to allow their resorts to open. Las Vegas Sands unveiled an 800-point safety plan, while Wynn Resorts issued a laundry list of recommendations as to how casinos can soon reopen.
Billionaire Phil Ruffin, owner of Treasure Island and Circus Circus, says Sisolak should allow casino resorts to open with one-third of their rooms available for occupancy.
Ruffin, close pals with President Donald Trump, added, "In July, the weather will be 115 degrees here. So, if there's any substance to the fact that sun kills the virus, we'll have a hell of a lot of sun."
Americans Remain Concerned
While executives are itching to get back to some sense of normalcy, many Americans are not.
A report from Piplsay research reveals that 64 percent of Americans think "President Trump should not reopen the economy in May." The study polled 20,287 US adults. Twenty-one percent answered, "The worst seems to be over. Economic activities should start."
Sixty-five percent of Gen Xers and Millennials said it's too early to reopen economies.
In Nevada, a survey conducted by RAN found that 38 percent of Nevadans now rate Sisolak's handling of the coronavirus as "poor or very poor." That's more than doubled from an earlier survey conducted in mid-March.