Nevada Gaming Policy Committee Says Yes to eSports, No to Daily Fantasy Sports
Posted on: November 17, 2016, 03:00h.
Last updated on: November 17, 2016, 03:40h.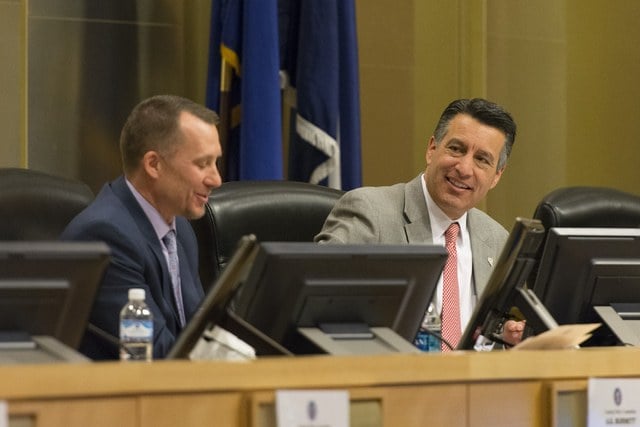 The Nevada Gaming Policy Committee, led by Governor Brian Sandoval (R), is urging the state's Gaming Control Board (GCB) to develop regulations to oversee the emerging eSports betting industry.
A form of competition primarily using electronic devices and games, eSports has gone from small video game tournaments to an annual market valuation of nearly half a billion dollars in the United States alone. Revenues are only expected to increase over the next decade.
On Wednesday, the Nevada Gaming Policy Committee held a discussion titled, "How Nevada can become the eSports capitol of the world." Four experts in the field presented eSports insights and discussed possible ways to regulate the fast-growing market.
At the conclusion of the meeting, the Policy Committee said it would direct the GCB to cultivate protocols to ensure the safety of eSports betting and find ways to prevent match-fixing and corruption.
However, in regards to daily fantasy sports (DFS), the panel said no changes should be made to the state's current law. DFS is not illegal in Nevada, a common misconception, as operators simply need to apply for and receive a gaming license.
But DraftKings and FanDuel are unwilling to do so since applying for a gambling license could impact how their contests are perceived, which they argue are skill-based endeavors.
Skin in the Game
Most eSports observers believe some sort of regulation is needed. A string of controversies have recently blanketed the innovative gaming market.
In-game currencies and weapons known as "skins" are the prized possessions in many popular eSports games. Since skins are obtained through gameplay and come with varying degrees of rarity and value, online markets have popped up to buy and sell the weapons.
Skins are also wagered in online gaming tournaments. Users on sites can put up their own weapons and then battle another player for his or her wagered skins.
The exchanges and betting features have attracted the eyes of numerous state gaming agencies. Last month, the Washington State Gambling Commission demanded that Valve, makers of "Counter-Strike," suspend the transferring of in-game weapons through its Stream platform.
The Fix Is In
Formed in 1961, the Nevada Gaming Policy Committee is tasked with examining issues relating to the gaming and casino industries. The panel meets at the convenience of the governor's schedule.
New regulations initiated by the Nevada GCB require the approval of the five-person Nevada Gaming Commission before being implemented. Though there's many panels involved in Nevada's first-class gaming regulatory process, it's a well-oiled operation that has the potential to swiftly pass new oversights.
Should the GCB find ways to effectively monitor eSports, betting on marquee video game tournaments like "League of Legends," "Counter-Strike: Global Offensive," and "Call of Duty" could be offered in Nevada casinos as early as the first-half of 2017.
Sportradar, a sports analytics company whose investors include Mark Cuban and Michael Jordan, is getting in on the eSports game. Through its subsidiary Betradar, the company is teaming up with DOJO Madness in order to become the first network to offer live in-game odds on eSports competitions.
"We were always clear that eSports live betting provided a great opportunity to invigorate the market," Betradar Head of eSports James Watson said. "With the closing of skins betting sites the timing now seems right to bring our live solutions to market."