NagaWorld Casino Strike Leader Sentenced to Two Years in Cambodian Jail
Posted on: May 25, 2023, 03:14h.
Last updated on: May 25, 2023, 11:33h.
Following global outcry about a lack of support for humanitarian rights, Cambodia's government promised to do better. However, it doesn't appear to be willing to back that statement up with actions. A Cambodian court just sentenced Chhim Sithar, a labor union leader who helped lead strikes against the NagaWorld casino, to two years in prison.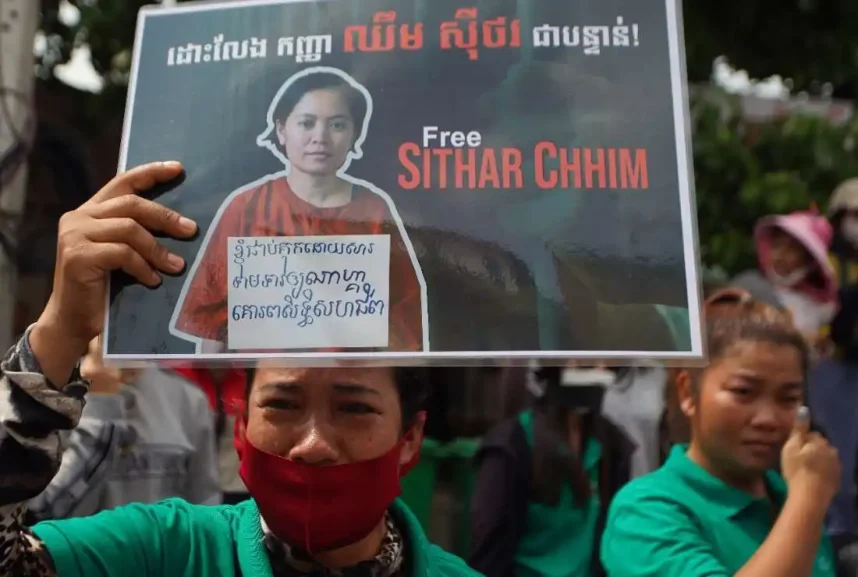 Sithar, a recipient of the US State Department's Human Rights Defender Award, has repeatedly been a target of Cambodia's government. She has been highly active in a peaceful fight to force NagaCorp, NagaWorld's owner, to rehire certain unionized employees it fired during COVID-19.
The union boss has been arrested several times, according to human rights groups, and denied basic human rights in the process. Her most recent arrest was last November, with the Cambodian government repeatedly drumming up charges in an attempt to send a message.
That message is that, despite being part of the ASEAN (Association of Southeast Asian Nations) Human Rights Declaration in 2012 that allows peaceful assembly, Cambodia won't allow peaceful assembly.
Double Standards
Sithar has been an active supporter of workers' rights for years. As the president of the Labor Rights Supported Union of Khmer Employees of NagaWorld, she was at the forefront of attempts to convince NagaWorld to bring back hundreds of employees in 2021. When the company's executives rejected the request, a strike began at the end of that year.
That eventually led to Sithar's arrest by Cambodian forces for inciting violence, even though the demonstrations, as various media outlets showed, were peaceful. She spent time in jail on different occasions, but her determination never waned.
Last year, when she returned from a human rights conference in Australia, police arrested her after she landed. They charged her for violating the terms of her parole, which they said prohibited her from traveling abroad. Neither Sithar nor her lawyers had ever received a copy of the parole terms and the government refused to present them after the latest arrest.
That arrest was viewed by most people as another attempt by the Cambodian government to quell any activity that puts it in a bad light. It has long been asserted, although not proven, that NagaCorp might hold influence over the government to control what takes place at NagaWorld.
The convictions of Chhim Sithar and the others is a blatant attack on unions and workers fighting for their fundamental rights," said Montse Ferrer, Amnesty International's interim deputy regional director for research. "This verdict is a reminder that the Cambodian government would rather side with corporations than protect the rights of its people."
On Thursday, according to the Associated Press, Judge Soeung Chakriya of the Phnom Penh Municipal Court sentenced Sithar to two years in prison. The official charge is "incitement to commit a felony."
Lighter Sentences for Conspirators
Along with Sithar, who plans on appealing the sentence, eight others also appeared in court on similar charges. Their punishments are nowhere near the same as what Sithar received.
Yes, I know that the court will convict and sentence me, and of course, I will appeal," Sithar told the Associated Press.
Five of the others received conditional prison terms of 18 months. They won't be locked up, as long as they answer to the will of Cambodian courts or authorities "whenever summoned." The other three individuals were given one-year suspended sentences.
A year and a half after the strikes outside NagaWorld began, they continue today. On weekends, fired employees still gather – peacefully – to campaign for better rights.
The Kingdom of Cambodia has received significant blowback over this issue, as well as claims of negligence in preventing human trafficking, drug smuggling, and other crimes. It reached the point that it even had to bring in Qorvis, a Washington, D.C.-based PR and crisis communications firm, to protect its image.