Denver Nuggets Center Nikola Jokic Makes Strong Case for MVP Three-Peat
Posted on: January 16, 2023, 12:28h.
Last updated on: January 16, 2023, 01:23h.
All-Star center Nikola Jokic from the Denver Nuggets is the new outright betting favorite to win the NBA MVP at +170 odds after a strong run in January.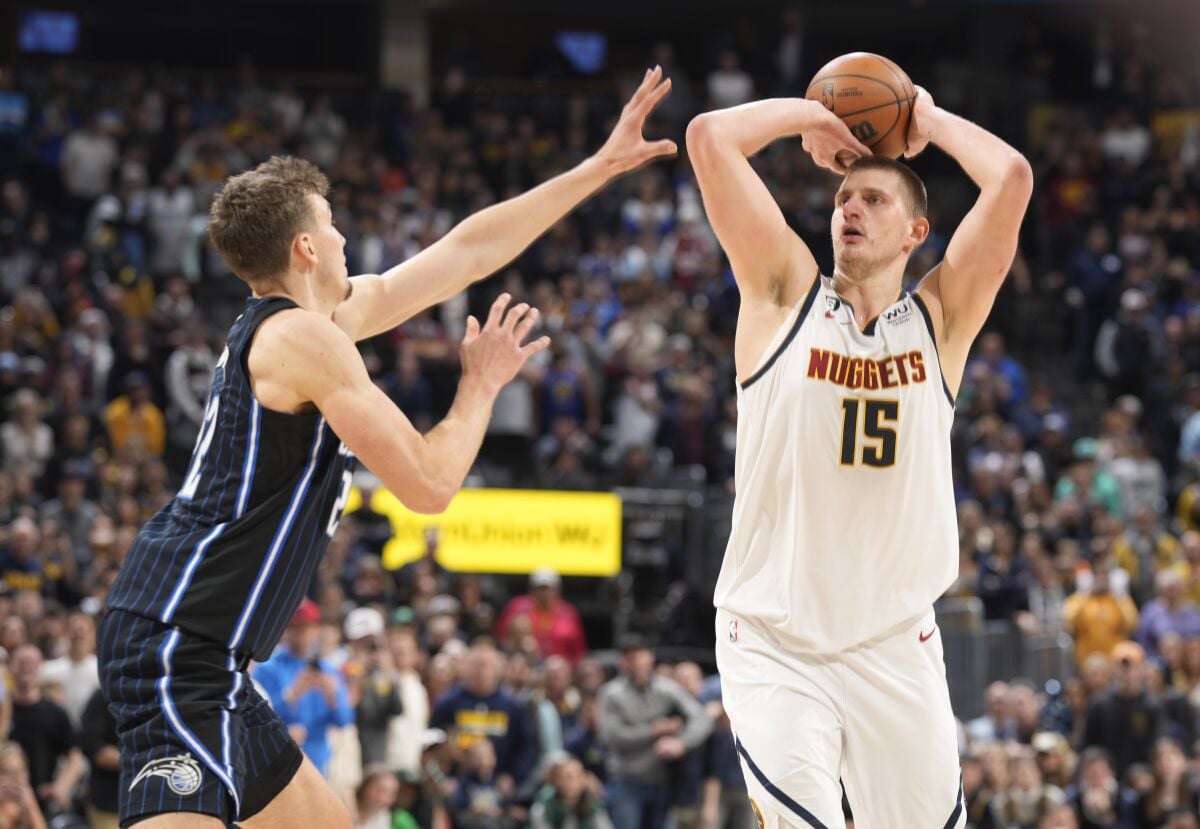 Jokic led the Nuggets to a 30-13 record as the top team in the Western Conference. The Nuggets won six consecutive games thanks to late-game heroics by Jokic. He drained a game-winning 3-pointer at the buzzer to defeat the Orlando Magic Sunday night to keep their winning streak alive.
Jokic won the MVP in back-to-back seasons, but wasn't one of the top four favorites to win the MVP entering this season. In October, Luka Dončić from the Dallas Mavericks was the consensus favorite to win the MVP at +425 odds, followed by Giannis "Greek Freak" Antetokounmpo (+600) from the Milwaukee Bucks, Joel Embiid (+650) from the Philadelphia 76ers, and Kevin Durant (+800) from the Brooklyn Nets.
| | |
| --- | --- |
| Players | NBA MVP Odds |
| Nikola Jokic | +170 |
| Luka Dončić | +250 |
| Jayson Tatum | +500 |
| Giannis Antetokounmpo | +500 |
| Joel Embiid | +1400 |
| Kevin Durant | +1700 |
| Ja Morant | +2200 |
The Boston Celtics jumped out to a sizzling start led by star forward Jayson Tatum. Tatum emerged as a slight favorite at +280 odds during November when the high-octane Celtics obliterated every team in their path.
Dončić unleashed a sensational scoring blitz in December that coincided with a winning streak for the Mavs. It looked like Dončić was running away with the MVP race at +275 odds. But Jokic has been outstanding in recent weeks.
Jokic Almost Averaging a Triple-Double
Jokic averages 24.7 points, 10.9 rebounds, 9.8 assists, and 1.4 steals per game. He's just shy of averaging a triple-double this season. He recorded a triple-double in three out of his last four games.
It's not uncommon for a star to win consecutive MVP awards, but it's a ridiculous feat to pull off three-straight MVPs. Only three players in NBA history won the MVP in three consecutive seasons, including Bill Russell (196-63), Wilt Chamberlain (1966-68), and Larry Bird (1984-86).
Several players came close to winning three in a row since Bird pulled off a three-peat in the mid-1980s. However, the likes of Magic Johnson, Michael Jordan, Tim Duncan, Steve Nash, LeBron James, Steph Curry, and Antetokounmpo all fell short of the mark, and could only win back-to-back MVP awards.
Jokic doesn't have history on his side, which is why he was only +900 odds to three-peat as MVP at the start of the season.
At the end of November, Jokic found himself eighth overall on the NBA awards board at DraftKings at +2000 odds to win the MVP. Of course, the Joker was just warming up.
Mid-way through January, Jokic saw his MVP odds improve to +170 with Dončić right behind him at +250.
Jokic appeared in eight games in January, and the Nuggets are 7-1. He's shooting 53.3% from 3-point range, and 64% from the floor in January. He's actually averaging a triple-double in January with 20.9 points, 11.3 rebounds, and 11.3 assists per game.
Ja Morant: MVP Bid Rising
If you're looking for a value bet on MVP, then keep an eye on Ja Morant from the Memphis Grizzlies at +2200 odds. Morant has been steadily making his way up the NBA awards board. He was only +3000 last week, but he saw a noticeable bump during DraftKings' latest update.
The Grizzlies won nine games in a row and moved into the #2 seed in the Western Conference playoff standings with a 29-13 record.
Morant now averages 27.4 points, 7.9 assists, and 5.8 rebounds per game. He recently unleashed a posterizing dunk against the Indiana Pacers that fans are still talking about. It quickly became the favorite to win "dunk of the year."
I ain't seen nothing like that one," said Bane. "That's probably going to go down as dunk of the year."
It's easily among the top three greatest dunks of Morant's young career. But Morant thinks it's his best ever.
"Yeah, easy because of the difficulty," explained Morant. "It's what everybody has been waiting for. I finally made it."