Is Michael Phelps Faster Than a Great White Shark? Oddsmakers Say No
Posted on: July 20, 2017, 06:00h.
Last updated on: July 20, 2017, 02:01h.
Michael Phelps finds himself in the most unusual position. Not only is he the underdog in a swimming event, but his opponent is one of the deadliest creates in the ocean: a great white shark.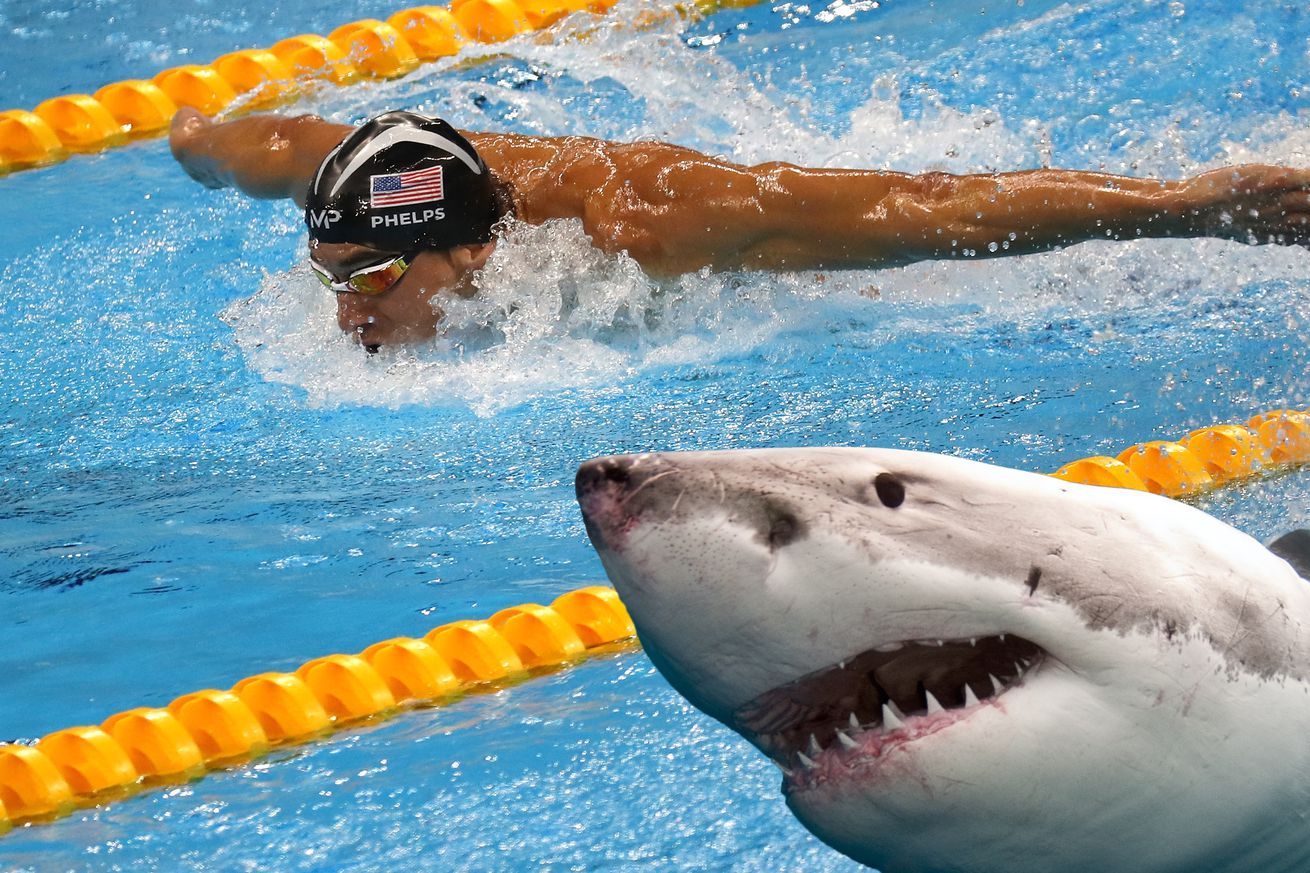 Phelps, the most decorated Olympic athlete of all time, recently raced a great white to see if he could outpace the massive beast. The stunt was taped for Discovery's Shark Week, which kicks off this weekend.
The race will be revealed on July 23 at 8 pm ET in an episode titled Phelps vs. Shark: The Battle for Ocean Supremacy. The 23-time Olympic gold medal winner wore a rubber fin to increase his speed, and make the race a bit more fair.
Online sportsbooks still think he has little to no chance against the shark. Bovada currently has Phelps as the heavy underdog at +325, to the great white shark at -550.
A $100 bet on Phelps returns $325 should he win, while the same wager on the shark returns just $18.21.
"I've raced the fastest swimmers on the planet, except for one," Phelps says in the Discovery teaser. "I've prepared for hours in the open water. Am I faster than a shark? Watch with me to find out."
Producers timed Phelps and the shark separately to see who could swim 100 meters faster.
Viewers Take the Bait
Discovery has seemingly done it again in creating massive hype leading up to its annual Shark Week.
The weeklong programming began in 1988 with the goal of correcting misinformation regarding sharks. Over the years, however, it's emerged into a more entertainment-oriented production, with fictional and sensationalized programming becoming more frequent.
While the network has pledged to rid fake and dramatized docu-reality shows, Discovery is continuing with its gimmicks to garner the most viewers possible.
Ratings dropped in 2016 for Shark Week due to Discovery moving the event up from its usual late July/early August timeframe to June. That decision was to avoid competing with the Rio Olympics. This year, Discovery has the Summer Games' biggest star on its side.
Lochte Cleared
A human racing a shark seems like a fable only Olympian Ryan Lochte could make up, but alas, this race is actually happening. As for Lochte, he also has some news to report.
A Brazilian court cleared Lochte this week of criminal charges stemming from his false robbery report at the 2016 Olympics. The 12-time Olympic medalist was facing up to 18 months in prison, should he have been found guilty and agreed to return to the country.
On the morning of August 14, 2016, Lochte claimed criminals posing as police officer robbed him and three other US swimmers at gunpoint. It was later revealed that the four men were heavily intoxicated and they had vandalized a gas station bathroom.
Lochte was suspended by USA Swimming for 10 months.