MGM Resorts Ups Connecticut Ante with PR Blitz for Bridgeport Casino
Posted on: September 23, 2017, 04:30h.
Last updated on: September 24, 2017, 09:40h.
The MGM Bridgeport, a proposed casino in southwestern Connecticut, is beginning to look less like "a stunt" and more like casino hardball, as MGM Resorts has unleashed a marketing blitz to win local hearts and minds for their unlikely casino project.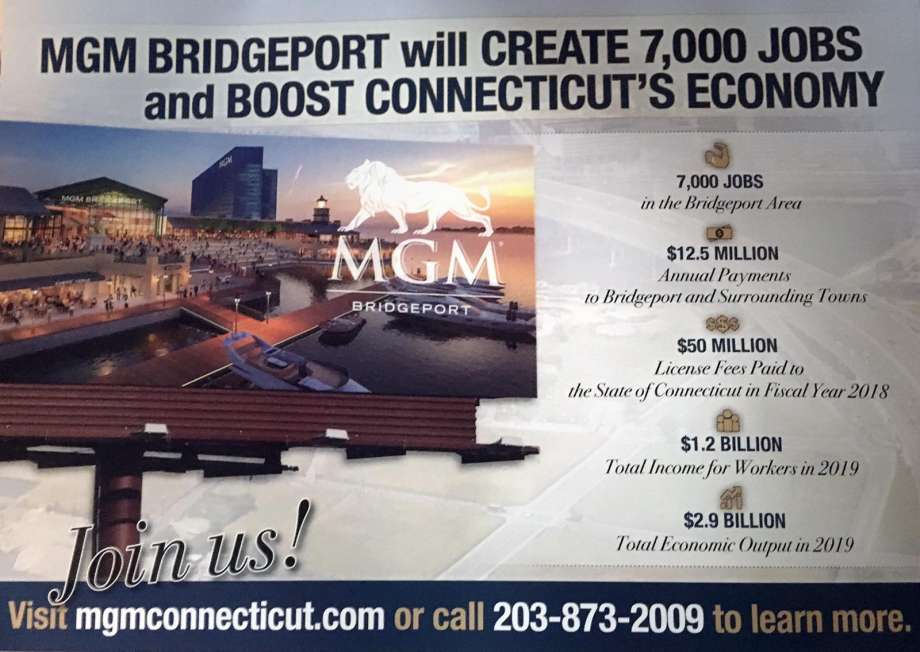 According to the Connecticut Post, the casino giant instigated a PR bombardment that involves mail, phone calls, and ads on social media, with a message that "Hartford needs to hear from you."
This appeal to residents comes just days after a surprise announcement at a press conference on Monday that the company had designs on building a $675 million casino in Bridgeport, an effort the city's mayor supports.
Connecticut Gov. Dannel Malloy called the proposal "impossible" without consent from the state's tribal operators, the Mashantucket Pequots and the Mohegans, who are engaged in a bitter feud with MGM, over what the tribes see as efforts to steal their casino customers.
Under current law, there's no authorization for gaming in Bridgeport.
'BS on glossy paper'
The tribes have dismissed the proposal as a "stunt" designed to sow confusion and sabotage their efforts to build a casino in East Windsor, close to the border with Massachusetts, where the $950 million MGM Springfield is under construction and set to open in September 2018.
Officials with the casino tribes say if the project were somehow to go forward, it would violate their compact with the state, resulting in hundreds of millions in lost revenue share payments. The Mashantucket and Mohegans currently send 25 percent of all slot revenues to Hartford coffers, an amount totalling nearly $250 million a year.
The Post asked tribal spokesman Andrew Doba if they planned a marketing counterattack, and they declined to allow the Las Vegas-based casino giant to frame the issue that way. "If you're asking me if we plan to put a bunch of BS on glossy paper and send them to residents like MGM did in East Windsor," Doba said, "the answer is no."
Millions Promised
But MGM's proposal is beginning to look less like a stunt, and more like an aggressive effort to appeal to the people of Bridgeport to let them plant their flag in the state. MGM knows there can be no casino expansion without legislation and public referenda.
"Hartford needs to hear from you," urges one video, disseminated via social media. Mailers showed slick renderings of a seaside resort and community space, while championing creation of 7,000 jobs.
At the press conference, MGM officials said the project would generate $50 million annually in fees for the state, including $8 million for Bridgeport, and $4.5 million to surrounding communities.
"This project can help to turn the economic tide of this state," Murren said. "We just need the political commitment to make it happen."
Bridgeport Mayor Joe Ganim is on board, standing by Murren's side at the presentation announcing MGM's investment proposal.
"Right now for Connecticut, it's about jobs, and it's money to balance the state budget," he said. "Let's look at it as an opportunity, let's make it happen."