MGM CEO Jim Murren Addresses Georgia Legalized Gambling Benefits
Posted on: October 4, 2016, 02:30h.
Last updated on: October 4, 2016, 02:36h.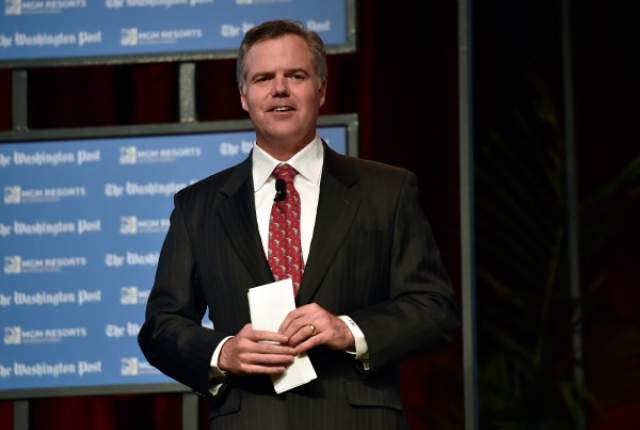 MGM CEO Jim Murren is one of the most powerful casino executives in the world, and the Las Vegas power player took his weight to Georgia this week to hype the benefits of legalized gambling.
Appearing before the Rotary Club of Atlanta on October 3, Murren told local business leaders that casino-style gambling provides substantial boosts to regional economies. And most in attendance agreed that the prosperity of tomorrow begins with the education of today.
During his address, Murren opined that casino revenues would help increase the lottery-funded Helping Outstanding Pupils Educationally (HOPE) Scholarship. The Georgia Lottery is one the richest in the US, with the state keeping $948 million in proceeds on $3.52 billion in gross revenue in 2014.
But more is for the taking, at least according to Murren. Not everyone agrees it's in the best interest of Georgia.
"I think one of the most egregious things I hear in all of this is that it's all for the children," Georgia Baptist Mission Board representative Mike Griffin told the Atlanta Journal-Constitution newspaper. Griffin explained that he believes casinos are struggling in Atlantic City and Nevada, and are simply looking to take advantage of "new frontiers and places where people are not nearly as educated about the detriments."
Instead of moving to authorize land-based gambling, some local authorities have gone after illegal gambling rings. For instance, in Macon County, Georgia, over $1 million has been received stemming from settlements with criminal gambling enterprises.
Georgia on Murren's Mind
Georgia is one of just five states that does not allow commercial, tribal, pari-mutuel, or racetrack betting. Hawaii, South Carolina, Tennessee, and Utah are the other anti-gambling jurisdictions.
With 10.2 million residents, Georgia is the most populated of those states, and that's one reason why Murren's MGM Resorts has its eyes focused on the Peach State.
"This a tremendously appealing market," Murren told the Rotary Club. "We only go into markets where we believe we can provide a destination addition. We're interested in the type of resorts that provide a nexus between entertainment, hospitality, and gaming."
Murren's company vision is evident in its newest property, the MGM National Harbor. The $1.4 billion resort 10 miles southeast of Washington, DC, is catering not only to the gambler, but the out-of-town guest and businessperson.
Atlanta Hawks
Should state lawmakers legalize land-based gambling and Georgians approve a constitutional amendment, Murren says his company is ready to invest at least $1 billion in developing a downtown Atlanta resort.
For MGM, that would seem to be almost a no-brainer.
Though gambling-rich Florida neighbors Georgia to the south, the state's highest concentration of citizens resides in the northern parts. And Georgia's borders there are adjoined by South Carolina and Tennessee, two aforementioned anti-gambling states.
North Carolina also shares part of Georgia's northern boundary, and its Harrah's Cherokee Casino Resort is just 150 miles from Atlanta. MGM wants to keep Georgia gamblers, and their money, home.
Murren says $600 million is leaving Georgia each year to be gambled at casinos in other states.