Massachusetts Officer 'Justified' in Shooting Armed Suspect Outside of MGM Springfield — Video
Posted on: April 16, 2023, 08:12h.
Last updated on: April 17, 2023, 05:36h.
The Massachusetts police officer who fatally shot a suspect during an exchange of gunfire outside of the MGM Springfield casino was justified in using deadly force, a local prosecutor announced last week.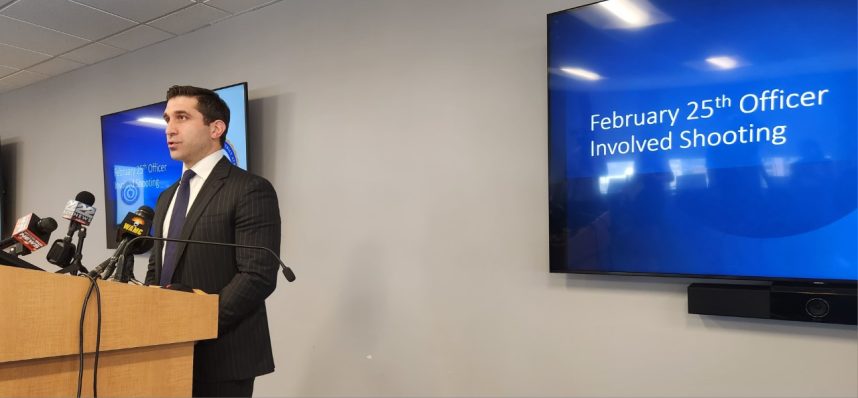 On Friday, Hampden District Attorney Anthony Gulluni revealed that the state trooper only fired his gun after William Tisdol, 48, of Hartford, Conn., fired at him first during the February 25 confrontation in Springfield, Mass.
"He had a duty to protect himself, he had a duty to protect his partner, and he had a duty to protect the public from Mr. Tisdol," Gulluni told reporters. "Criminal charges are not warranted, and this investigation is closed."
The shooting occurred after officers located Tisdol walking on Main Street about a block from the casino. Officers tried to stop him shortly after an incident on the MGM property.
He fled as the officers approached. Police then chased him and ordered him to remove a hand from a jacket pocket, where they believed he was hiding a gun. Shortly after, one of the officers tackled Tisdol. He broke free, stood up, and fled.
Tidsol Shot by Single Bullet
Seconds later, one of the officers warned he would discharge a Taser at Tisdol. That led Tisdol to pull out his firearm and repeatedly shoot at the officers. One of the troopers returned gunfire. Tisdol was wounded and made his way to some bushes, where he fell down onto the ground.
The officers, with guns drawn, spotted him and repeatedly ordered, "Let me see your hands."
The trooper fired 17 shots at the suspect. Tisdol was wounded by a single bullet in the chest and died shortly at the nearby Baystate Medical Center.
The officers immediately called for an ambulance and began administering first aid to Tisdol.
Tisdol's loaded 9 mm pistol was found on a sidewalk near the shooting site.
The district attorney's office released video of the shooting and an earlier incident Friday. It includes graphic scenes. The prosecutor's review was standard practice, given the incident involved an officer-involved shooting.
Argument at Gaming Table
About a half hour before the shooting, Tisdol was in the MGM casino playing a table game. He got into an argument with another player — who had asked him to sit out a hand.
MGM security guards were forced to separate Tisdol and the second player during their confrontation. Tisdol left the building after seeing police officers planning to question him. The second player told guards that Tisdol threatened to shoot him and claimed to have a firearm.
No officers were injured during the shooting. The two officers involved in the shooting are assigned to the Massachusetts Gaming Enforcement Unit. The unit includes Massachusetts State Police and Springfield police officers.
Tisdol's Background
Police later discovered an active warrant for Tisdol's arrest on New York weapons charges. Tisdol previously spent about 12 years in prison for drug charges, his family told WAMC, a local radio station.
Tisdol's mother, Gloria Carter Vaught, has said Tisdol was a father and music producer. Earlier this month, she had many questions about the shooting.
I have a right to know what exactly happened to him," Vaught was quoted by New England Public Media. "I want to see all footage from the casino, from the town of Springfield, from the body cams and from dash cams. I have a right to. He's my son."
Tisdol also was described as an advocate for police transparency after his own son was shot by police officers five years ago, the man's widow, Dondi Morrell, told the media in February.
Last week, Gulluni met with community leaders and Tisdol's relatives to explain their findings before he briefed the media.