Macau VIP Gambling to Slow in Second Half of 2018, Bernstein Analysts Predict
Posted on: January 12, 2018, 06:00h.
Last updated on: January 12, 2018, 02:53h.
Macau VIP gaming revenue will begin to cool off in the latter half of 2018. That's according to analysts at Sanford C. Bernstein, who wrote this week that political and economic factors surrounding the Special Administrative Region will partially suppress the market.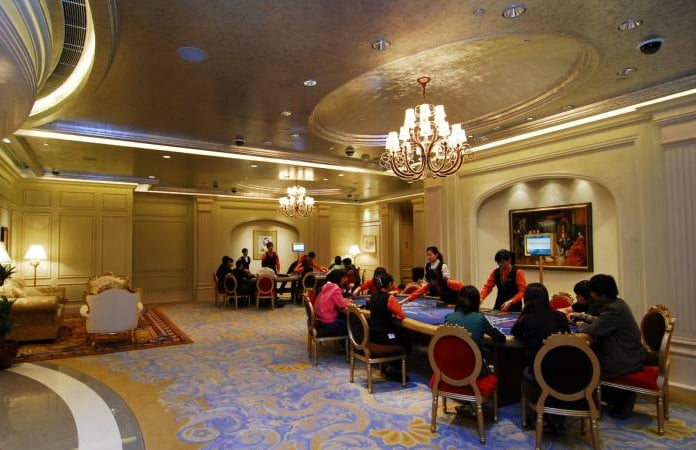 Fresh off a prosperous 2017 where gross gaming revenue soared 19 percent to $33.13 billion, and VIP earnings increased upwards of 25 percent, Bernstein believes the rapid gains will slow over the next 12 months. Brokerage analysts Vitaly Umansky, Zhen Gong, and Cathy Huang say the VIP model will face structural headwinds due to credit tightening, an increase in regulatory laws, and the Chinese government continuing to focus on capital outflows from the mainland.
"While growth will decelerate from 2017, 2018 will still show respectable growth, driven by mass, and long-term secular growth drivers are still in place," the Bernstein trio stated. VIP play, according to Bernstein, will increase eight percent in 2018.
Because of the predicted VIP slowing, Bernstein is forecasting full-year 2018 gross gaming revenue to increase 10 percent on 2017. That would equate to a total take of around $36.44 billion.
Bernstein Not Alone
Credit Suisse, a multinational financial services firm in Zurich, said this week that Macau VIP gaming began to slow last month. Analysts there said Suncity, one of the largest junket operators, reported a year-over-year volume growth deceleration from 30 percent in October and November to 15 percent in December.
The Bernstein and Credit Suisse reports signal that not everyone is convinced that People's Republic President Xi Jinping's clampdown on junket operators is fully behind Macau. Xi included VIP touring companies under his anti-graft campaign, which pushed gross gaming revenues from $45 billion in 2013, to less than $28 billion in 2016.
The strict supervision of junkets caused numerous companies to fold. But after what was thought to be an easing of the federal government's embargo on the industry, VIPs returned, and 2017 marked Macau's first annual gain since the crackdown began four years ago.
In addition to continued scrutiny from China on junket companies, another concern is what sort of new regulations the Macau government will implement in the years to come. In December, Macau Chief Executive Fernando Chui said every regulatory aspect will be reviewed ahead of the upcoming casino license renewal period, which begins in 2020 with SJM Holdings and MGM China. Sands, Wynn, Melco, and Galaxy Entertainment will see their permits terminate in 2022.
Optimism Remains
Despite a forecasted Macau VIP growth drop compared to the blistering pace experienced in 2017, gaming is expected to post its second consecutive annual gain this year.
That's largely due to casino operators relying less on the high roller, and more on the mass market. Thanks to an assortment of amenities, including family friendly attractions, Macau resorts are bringing new patrons to their gaming floors.
That's why analysts overwhelmingly remain confident in Macau's future. Morgan Stanley gaming experts said late last month that Macau casino revenue could hit $53 billion by 2022.
Latest Casino Stocks:
Retrieving stocks data...
Retrieving stocks data...
Retrieving stocks data...
Retrieving stocks data...
Retrieving stocks data...