Live! Casino Philadelphia Celebrates Second Anniversary, Donates $750K to Park
Posted on: February 8, 2023, 09:28h.
Last updated on: February 9, 2023, 12:16h.
Live! Casino & Hotel Philadelphia celebrated its second anniversary this week. It officially opened on Feb. 4, 2021.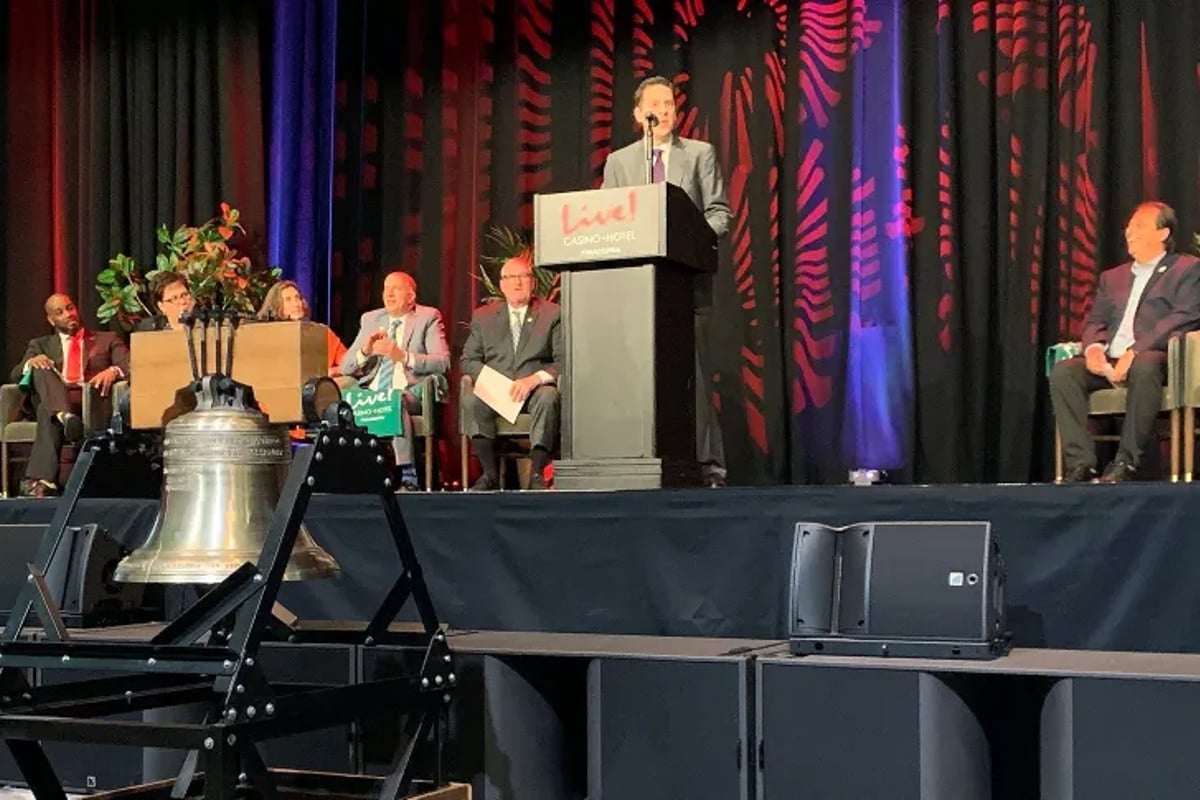 Developed and opened by The Cordish Companies at a cost of $700 million, the integrated resort in the city's Stadium District was billed as an economic stimulator and neighborhood rehabilitator. The property is staying true to its word.
Live! Philadelphia's 510,000-square-foot complex with more than 2,000 slot machines, 140 live dealer table games, 29-table poker room, and FanDuel Sportsbook has been a resounding success, Cordish officials said.
The casino has an on-site hotel with 208 guestrooms, a variety of dining and entertainment options, an event center with 15,000 square feet of customizable space, and a multilevel parking structure attached to the resort.
According to the Pennsylvania Gaming Control Board, Live! Casino Philadelphia generated a brick-and-mortar gross gaming revenue of about $228.3 million in 2022. That includes income from the casino's slots, tables, and sportsbook. Live!'s online casino platform won another $33.1 million.
While Cordish continues to operate the Philadelphia casino, the Baltimore-based gaming and hospitality firm sold the resort in March 2022. The buyer was Gaming & Leisure Properties, Inc., the real estate investment trust owned by Penn Entertainment.
Community Engagement
Cordish's casino license with the state included a $15 million community benefit. The company pledged to invest that amount over the first 10 years of its existence in South Philly.
Cordish reps, during the two-year anniversary event this week, announced the latest community donation — a $750K contribution toward overhauling the Murphy Recreation Center. The roughly 5-acre park features a playground, an outdoor pool, a basketball court, and two baseball fields. The park also has an indoor gymnasium.
While the park sounds good on paper, the facility is in desperate need of repair and renovation. The complex is undergoing a rebuild led by the city with support from community partners like Live! Casino.
"Murphy Rec Center is a critical hub for the community," said Cordish Principal John Cordish. "We hope this contribution will impact the residents for generations to come."
City officials say kids in South Philly often have to travel to the suburbs to play their "home" games for football, baseball, and soccer because their fields in the city are unplayable.
"We have a field crisis," said Philadelphia Parks and Recreation Commissioner Kathryn Ott Lovell. "We know that young people … have to travel to the suburbs, otherwise they risk forfeiting their games because our fields are unplayable. This gift will change that for the young people in South Philadelphia."
With Cordish's $750K investment into the Murphy Rec Center, the casino has now given $2.3 million to local initiatives through its first two years in business.
Super Bowl Party
Live! Casino has much to celebrate in Philly. Along with its anniversary, the casino will welcome thousands of guests this weekend for Super Bowl LVII. The city's beloved Eagles are trying for their second Vince Lombardi Trophy in five years.
The casino said it's turning the entire property into a "Big Game Watch Party" this Sunday.
My Live! Rewards members can visit any promotional kiosk to pick who they think will win the big game. If their team wins, they'll receive a share of $5,700 in free slot play. Super Bowl LVII is the 57th Super Bowl in history, hence the $5,700 free slot money prize pool.