Las Vegas Having Huge Year, Even with Lower Room Rates Overall
Posted on: October 3, 2015, 02:00h.
Last updated on: October 2, 2015, 01:25h.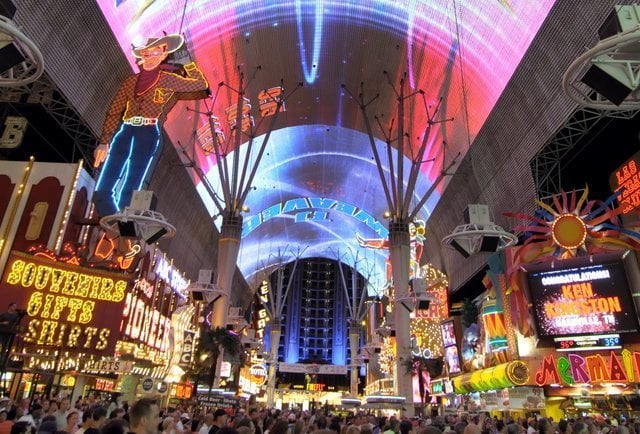 Figures released this week by the Las Vegas Convention and Visitors Authority (LVCVA) report that around 3.6 million people visited the city in August, up 1.6 percent over the previous year.
August numbers were boosted by a healthy convention attendance, with 532,891 people attending 1,308 conventions across Sin City during the month, which the LVCVA attributed to favorable show rotations.
Consumer goods trade expo ASD Las Vegas attracted 53,000 attendees alone, up from 35,200 in 2014, the authority said.
All other indicators were positive, including passenger traffic at McCarran Airport (up 7.2 percent to 4 million), while traffic on the city's highways was up 5.7 percent to 116,696. Meanwhile, gaming revenue throughout Clark County increased 0.3 percent increase to $776.8 million.
On a Roll
Despite a recently reported decline in revenue at the VIP baccarat tables, which many have attributed to the slowdown of the Chinese economy, general gaming revenue is healthy, bolstered by a 29.7 percent increase on the Boulder Strip, as well as the recent the revival of downtown's fortunes.
As would be expected, hotel room occupancy was up too, with 90.9 percent of Vegas' hotel rooms filled, on average, throughout the month.
And yet, perhaps surprisingly, room rates dropped for the first time this year.
While business is brisk and the city appears to have made a nearly full recovery from those lean years following the global economic downturn, a fall in room rates seems like a statistical anomaly. But fall they did. The average daily cost of a room dropped 5.8 percent to $105.39 in August, while revenue per available room was down 5 percent to $93.16.
Downtown Rebirth
Room rates fell sharply during the recession. The Strip properties slashed their prices as a loss leader, eager to attract the hordes back to the gaming tables at any cost. Then, buoyed by financial recovery, they slowly began to raise them again as they have been, very gradually, ever since. So with the robust numbers reported in August, why the sudden dip?
It seems what we are seeing is not a lowering of prices on the Strip, per se, but the reemergence of downtown as a popular budget tourist destination.
Downtown suffered significantly when the Strip dropped its prices, because it could no longer market itself as the only affordable Las Vegas experience. Now, in good times with higher Strip prices, downtown is once again reasserting itself as the cheaper alternative.
The figures bear this out. While room occupancy was up just 0.1 percent on the Strip in August, it rose by a healthy 5.3 percentage points downtown. Gaming revenue, meanwhile, was up a whopping 15 percent there as well.
More people are coming to Vegas than ever before, and many of them, it seems, are heading downtown.