Las Vegas Mayor Road Rages Against I-15 New Year's Traffic
Posted on: January 3, 2023, 04:01h.
Last updated on: January 5, 2023, 01:42h.
After some Las Vegas tourists reported a 10-hour drive back to Southern California on Monday, Las Vegas Mayor Carolyn Goodman called on the Golden State to live up to its promises and finish widening its portion of Interstate 15.
In a tweet posted Tuesday morning, Goodman wrote that "once again," travelers spent "hours and hours" on the Interstate 15 as they tried to return home, a situation she called "intolerable."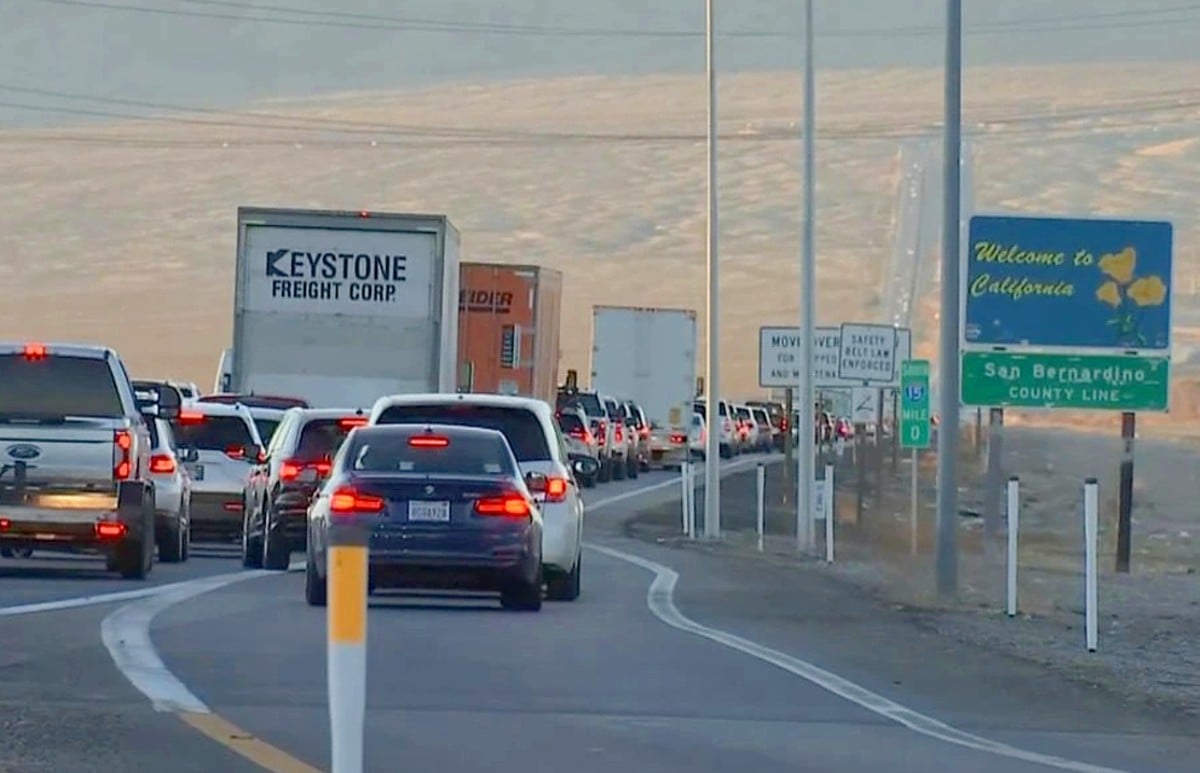 Goodman blamed California, saying the state "must step up and complete widening of I-15 between Stateline and Barstow."
California completed the first phase of its widening in November, when it converted a one-mile stretch of the I-15's south shoulder into a makeshift third lane south of the state line. That lane now opens on Sundays and Mondays and during high-volume holiday weekends.
It was hoped that this measure might improve traffic over New Year's weekend. Previously, when Nevada's three lanes went into California's two, this created a reliable bottleneck at the border.
Clearly, It Didn't Work
According to the Regional Transportation Commission of Southern Nevada, an 18-mile, bumper-to-bumper snarl greeted Southern Californians attempting to return home on Monday afternoon, nearly tripling the usual 3.5-hour drive for some.
In Primm, cars who exited for a break from the traffic at Whiskey Pete's told FOX5 Vegas they waited nearly a half hour just to exit the casino's parking lot.
Indeed, California Gov. Gavin Newsom promised in December 2021 to widen five miles of the I-15, not just one.
When questioned by FOX5, a spokesperson for the California Department of Transportation (CalTrans) said there were no details to share regarding when the remainder of the project would be completed.
California Angering 30% of Nevada's Tourists
Of the 32 million visitors to Las Vegas in 2021, about 30% came from Southern California — the majority of whom drove on the I-15, according to the Las Vegas Convention and Visitors Authority.
Even on a nothing-special weekend, what should be a 3.5 hour drive from Las Vegas to Los Angeles can take up to 7 because of congestion along the 113 miles of I-15 between Primm and Barstow. This gridlock is compounded by big rigs using the I-15 to return empty to Southern California's ports after delivering food and other goods to Las Vegas and beyond.
Of course, mayors don't have the authority to decide whether to add traffic lanes to major freeways. And that's why Goodman tagged Caltrans, US Secretary of Transportation Pete Buttigieg, and White House senior advisor and infrastructure implementation coordinator Mitch Landreiu in her tweet.