Fontainebleau Las Vegas to (Finally) Cover Up Exposed Eyesore on Strip
Posted on: May 2, 2017, 06:13h.
Last updated on: May 2, 2017, 10:13h.
The mystery of the Fontainebleau is about to get shrouded in more intrigue. Owner Carl Icahn plans to install a "wrap" around the bottom three floors of the abandoned construction project that serves as an unpleasant reminder of the Great Recession of 2009.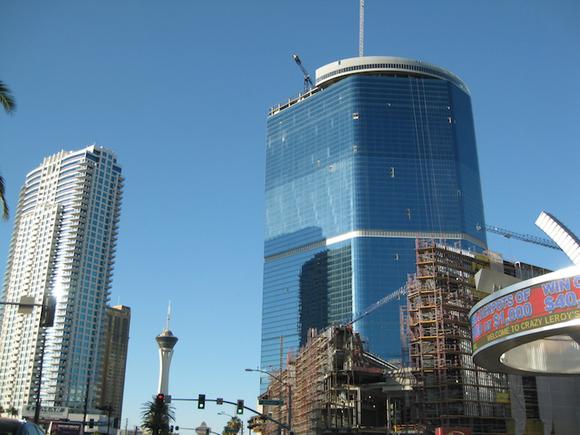 Icahn applied for a permit allowing him to cover the abandoned construction project, which Clark County granted on Monday, with the stipulation that work must begin within 180 days.
Resort in Ruins
The second-tallest building in Las Vegas has been a vacant shell since the original developer went bankrupt in 2009, after two years and $2 billion of construction on a $3 billion project. The monstrous 3,889-room resort was about 70 percent complete when they ran out of money and had to stop work.
The resort is located in on the east side of the Strip, just north of the Wynn and Encore, and south of SLS Las Vegas. The property was originally the site of the historic El Rancho hotel, which closed in 1992 and was demolished in 2000.
Icahn's wrapping effort will be the first substantial labor on the site in eight years. A blue and white covering will shade the first three floors of exposed rafters currently buttressing Las Vegas Boulevard. Estimated cost: $500,000.
Billionaire's Gamble Yet to Pay Off
Icahn bought Fontainebleau for $150 million in 2010 and put it on the market shortly after for $650 million. Whoever buys it would still have about $1.5 billion in costs to finish the 3,889-room hotel. Icahn said when he bought it he wasn't in the casino business and had no desire to complete construction.
The Mohegan Tribal Gaming Authority, which owns casinos in Pennsylvania, Connecticut, and Washington State, reportedly made an offer to buy the property last year, but Icahn rejected the offer.
Known as a corporate raider, in the 1980s Icahn spearheaded hostile takeovers of companies such as Trans World Airlines (TWA) and US Steel. Over the years, he amassed a fortune that Forbes Magazine estimated at $16.6 billion, making him the 26th wealthiest person in the world. President Donald Trump considers the 81-year-old a friend and in December appointed him to serve as a special advisor on regulatory reform.
A part-time Las Vegas resident, Icahn also invested in casino properties in Nevada. In 2008, he sold his interests in the Stratosphere, Arizona Charlie's, and Laughlin's Aquarius Casino for $1.3 billion. (He had paid only $300 million for the shares.)
Icahn had previously bailed out Atlantic City's Trump Taj Mahal from bankruptcy. He sold that property in March for $375 million to Hard Rock International and two New Jersey investors, claiming an undisclosed loss. He still has holdings in two other Atlantic City gambling destinations, the Tropicana and Trump Plaza.
Similar Guides On This Topic