Las Vegas CityCenter Shops at Crystals Snapped Up by Simon Property Group for $1.1 Billion
Posted on: March 22, 2016, 11:44h.
Last updated on: March 22, 2016, 11:48h.
The CityCenter Las Vegas Shops at Crystals will soon be under the auspices of The Simon Group, along with Invesco Real Estate of Atlanta, following a $1.1 billion buyout deal with the city's largest casino owners. The joint venture will give the two buyers the luxury mall inside the CityCenter complex in the heart of the Las Vegas Strip.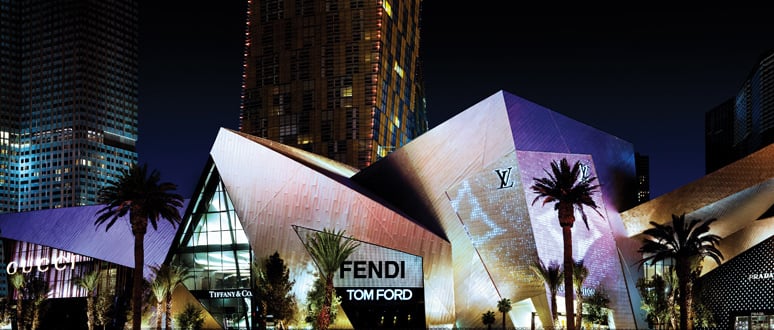 The deal between the two major investors and MGM Resorts International, which is part-owner of the chichi mall, is a reflection of the tremendous growth of non-gaming draws in Sin City.
"This transaction demonstrates the strength in Las Vegas as a premier destination for visitors around the world," said MGM Resorts International Chairman and Chief Executive Officer Jim Murren in a press statement.
MGM Cashes In To Focus On Gaming and Entertainment
The Shops at Crystals opened in 2009 at the entrance to CityCenter. Inside the swank complex are the 669-condominium Veer Towers, ARIA Resort & Casino, and the casino-less Mandarin Oriental, which boasts over 220 condominiums. The high-class mall features branches of Louis Vuitton, Audemars Piguet, and Christian Louboutin, among many other familiar aspirational brands.
Despite Crystals' current high-end target audience, the sell-off appears to allow MGM to focus more on what the company does best. The gambling conglomerate will be putting its energies squarely back on its 13 Strip properties and its soon-to-open $375 million T Mobile Arena being built as a joint venture with Anschutz Entertainment Group.
Shop and Party Till You Drop
The focus on retail is just one of the ways Las Vegas has reinvented itself in the past decade or so. According to recent figures, only 63 percent of Generation Y visitors (those millennials who came of age around the year 2000) came to Vegas to gamble. Nightclubs, partying, and shopping were all mentioned as alternatives to gaming for the new generation of the city's tourists.
"Visitors now spend more than half their travel budget on non-gaming expenditures," said JLL director Michael Zietsman, who handled the deal on behalf of CityCenter. "A sale like this has never made more sense."
Despite CityCenter opening in the middle of the deepest US recession in decades, the Shops at Crystals bounced back to record impressive results of late. For the last financial year, Crystals notched almost $70 million in net revenues. That was up from $66.5 million for the previous 12 months.
The Shops at Crystals: A Brief Overview
Opened in Las Vegas in late 2009
Situated in CityCenter, a joint operation headed by MGM Resorts International and Infinity World Development Corp., a subsidiary of Dubai World
Takes up over 324,000 square feet of shopping space
Flagship high-end retail outlets include Dolce & Cabbana, Prada, Louis Vuitton, and Tiffany & Co.
Reported 2015 net revenue of $69.1 million