Las Vegas Casinos Get Creative With Resort Fees, CNF Charges Remain on Drinks
Posted on: October 4, 2019, 09:48h.
Last updated on: October 4, 2019, 10:55h.
Las Vegas casinos keep nickel-and-diming customers in any manner possible, the latest being "concession and franchise" fees placed on cocktails – commonly listed on tabs as "CNF."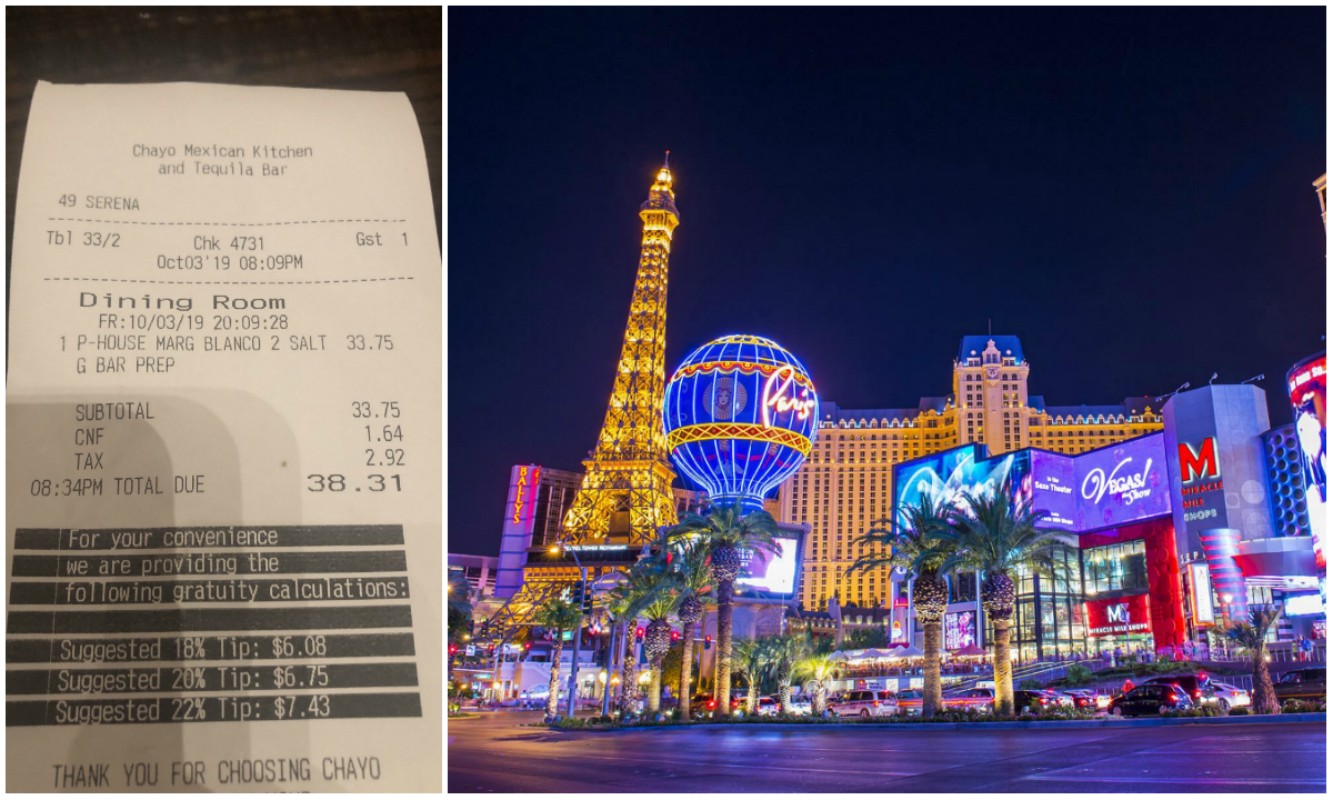 Call them what you wish: resort fees, venue fees, facilities fees, destination fees, amenities fees – the add-on charges on everything from an overnight stay to a margarita are infuriating many in Sin City.
A tweet to our friend Scott Roeben at Vital Vegas this week revealed while resort fees and even venue fees on casino cocktails have become the ire of Las Vegas guests, properties continue to charge CNF duties.
"Not sure if you had this on your list, but Chayo on the Linq Promenade has the CNF fee. Waitress tried saying it was a resort mandated tax," Twitter user Christian Krahenbuhl told Roeben.
Krahenbuhl paid $33.75 for a margarita – highway robbery everywhere in the US, not Las Vegas – then $1.64 CNF and $2.92 tax to bring his total due to $38.31.
The tab concluded by saying, "For your convenience we are providing the following gratuity calculations:
Suggested 18 percent tip: $6:08
Suggested 20 percent tip: $6.75
Suggested 22 percent tip: $7.43
If Krehenbuhl gave the highest suggested tip, his margarita with salt came to $45.74.
Customer Outrage
One might not be surprised to learn that $45 for a margarita at a Las Vegas casino is leaving guests with a sour taste. Krahenbuhl explained to Roeben that his Chayo waitress told him the CNF cost was a "resort-mandated hospitality" fee.
How can these businesses possibly not think about how this CNF impacts people's willingness to tip the waitstaff?!" one Twitter use asked. "Terrible money grab. Also, look how high the 'suggested tip' chart starts at! Wow!"
Krehenbuhl said his Chayo waitress was great, "working hard, and was very nice." But he added, "The fee is dumb. We are already overpaying for the drinks, why add a fee on top of that?"
Resort fee and other add-on critics say the charges are pure money grabs. After all, when you go to a McDonalds, you pay for the food – not the upkeep of the restaurant.
Pay for Nothing
Anthony Curtis of Las Vegas Advisor says "everyone hates resort fees." Other than perhaps casino shareholders, he's most likely right. But when it comes to CNF and other fees, it's even worse.
"With resort fees, you ostensibly receive something in return, no matter how dubious. With CNFs, you don't get anything. Nothing. Nada. Zip. Zero. Zilch," Anthony said.
"Another difference is that in this day and age, you're mostly adequately warned about resort fees, while restaurants that tack CNFs onto your tab usually mention them in the fine print, right under the warning about eating undercooked food," he added.
CNF fees have been around as long as resort fees. In 2017, a Las Vegas bar receipt went viral for showing a $3 concession charge. Roeben said at the time, "I don't know at what point something will transpire that will make people say, 'You know what, I'm going to go to another city.'"
Similar Guides On This Topic