James Packer Involved in Fracas with Crown Security Guard
Posted on: January 12, 2016, 01:30h.
Last updated on: January 12, 2016, 01:30h.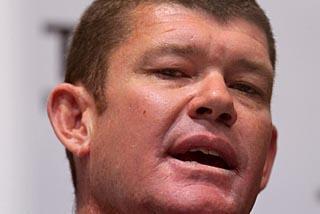 James Packer's New Year's Day "altercation" with one of own security guards was played down by Crown Resorts this week.
Dr Iskandar Chaban, 60, a security guard at the Crown Casino, Melbourne, says that he was threatened, verbally abused and pushed after failing to recognize the casino mogul and a Crown senior exec, and denied them entry to an exclusive area of the casino.
The fracas occurred the day after Packer's girlfriend, Mariah Carey, had performed a live show at the Crown as part of the casino's New Year's Eve celebrations.
Chaban, who was taken to hospital following the incident suffering pain and shock, is currently seeking legal advice.
He claims the two executives demanded he be sacked on the spot, and he was suspended from his position following the incident.
Street Brawl
A spokeswoman for Crown Resorts reported today, however, that Chaban had been reinstated and "will receive training and coaching in relation to the incident."
"A contract security officer working inside the resort was radioed that one of Crown's most important VIPs was approaching his position, but failed to recognize Mr Packer, moving in front of him to attempt to physically block him from entering the casino and causing a collision," she said. "It's understood that a verbal altercation ensued and Mr Packer continued into the facility."
"Crown security followed normal procedures and protocols suspending the officer, pending a review," she added.
It's not the first time that a public altercation involving Packer has come to the attention of the media. In 2014 Australian police fined the billionaire A$500 ($470) for his involvement in a street brawl with his friend, the television executive David Gyngell, in Sydney's world-famous beachside suburb of Bondi.
The two men were issued with notices for "offensive behavior" although no criminal convictions were recorded.
Takeover Speculation
Packer, whose TV and film production company, RatPac Entertainment, was celebrating picking up three Golden Globes for The Revenant on Sunday, last month stepped down as director of Crown Resorts, just four months after he surprised many by resigning as company chairman.
The move has fueled speculation that he may be about to take the company private and is limbering up for a takeover of Crown by his family business, Consolidated Press Holdings.  His resignation from the board would remove any conflict of interest in this event.
The speculation has improved Crown Resorts' share price, which has taken a battering over the past year due to the declining fortunes of Macau's casino industry. Crown recently opened a $4.5 billion integrated casino resort on Macau's Cotai Strip, Studio City.