Iranian Hackers Retaliated Against Sheldon Adelson for $40M Hit
Posted on: December 11, 2014, 03:41h.
Last updated on: December 11, 2014, 03:43h.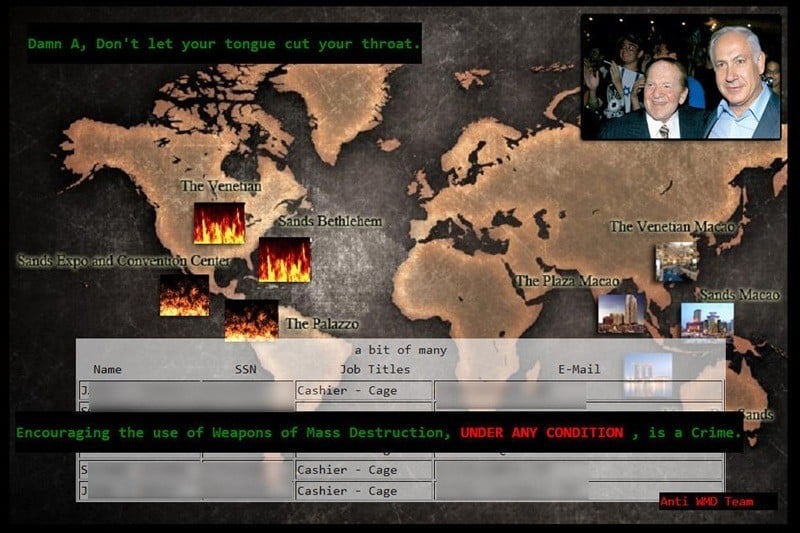 Iranian hackers claim words dropped in 2013 about their country by casino mogul Sheldon Adelson are behind a cyber-attack on his Las Vegas Sands Corporation computers systems.
Sheldon Adelson is a man who enjoys speaking his mind, but comments he made late last year about dropping an atom bomb on Iran may have been the  impetus behind an alleged $40 million hit to his business.
According to an article published by Bloomberg Businessweek, the cyber-attack that crippled the Las Vegas Sands Corp. (LVS) systems in February was a direct and personal retaliation by Iranian hackers against Adelson's rhetoric.
The attack was widely reported at the time, but it's only now that its scale and the country in which it is believed to have originated, has been made public.
The supposed inspiration for the attacks appears to date back to October 2013, when, responding to news of the reopening of talks with Iran about its nuclear program, Adelson took the opportunity to vent his spleen.
"What are we going to negotiate about?" he asked. "What I would say is, 'Listen. You see that desert out there? I want to show you something.'
"You pick up your cell phone and you call somewhere in Nebraska and you say, 'OK let it go.' And so there's an atomic weapon, goes over ballistic missiles, the middle of the desert, that doesn't hurt a soul. Maybe a couple of rattlesnakes, and scorpions, or whatever. Then you say, 'See! The next one is in the middle of Tehran. So, we mean business. You want to be wiped out? Go ahead and take a tough position and continue with your nuclear development."
LVS in Chaos
The suggestion, not surprisingly, was not well-received by the powers-that-be in Iran.
Two weeks later, Supreme Leader Ayatollah Khamenei suggested that America should "slap these prating people in the mouth and crush their mouths." Then on, February 10, LVS was plunged into chaos as computers began flatlining, servers shut down, and hard drives were wiped clean, as malware ripped through the company's networks.
As they tried desperately to grapple with the situation, LVS computer security officers realized that the hackers were compressing and downloading batches of sensitive files, comprised of everything from high-roller credit checks to details of global computer systems. They also strongly suspected that the attacks were originating from inside Iran.
That was the moment that Sands President Michael Leven took the decision to sever the multi-billion dollar operation completely from the Internet.
Personal Message
The following day the hackers attacked LVS' websites, which, run by a third party, had survived the onslaught of the previous day.
There they posted personal information about Sands Bethlehem employees, stolen the previous day, which included email addresses and social security numbers. They also left personal messages for Adelson: "Encouraging the use of Weapons of Mass Destruction, UNDER ANY CONDITION, is a Crime, signed, the Anti WMD Team," said one. "Damn A, Don't let your tongue cut your throat," warned another.
An image of a map of Sand's US casinos, on which flames had been superimposed, was also posted, along with a photograph of Adelson meeting Netanyahu. About three-quarters of LVS servers were wiped out in the attack, which Leven estimates will cost $40 million or more to rebuild.