Idaho Bar-Based Lottery Machines In Danger After Anti-Gambling Group Crusade
Posted on: February 4, 2017, 10:00h.
Last updated on: February 3, 2017, 12:43h.
Idaho Lottery gambling machines commonly found in bars and taverns spread across the northwestern US state could soon disappear from the watering holes after an anti-gaming group successfully persuaded some state lawmakers to rethink their locations.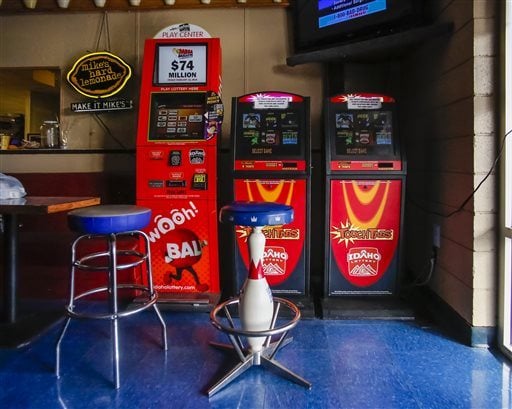 The Gem State, known for its abundance of natural resources, is also known to have touchscreen gaming machines near the counters of local pubs and drinking establishments. Though Idaho has tribal gaming, commercial casinos remain outlawed.
The state legislature in 2011 granted the Idaho Lottery with the right to place lottery machines inside businesses that serve those over the age of 21. Today, "tap scratches" allow patrons to play simple games of chance while downing their favorite cocktail.
But Stop Predatory Gambling, a lobbying organization based in Washington, DC, has successfully convinced the Idaho House State Affairs Committee to push a bill to the floor to overturn the six-year-old law.
Authored collectively by the committee, House Bill 28 explains, "TouchTabs Lottery machines operate without a paper lottery entry ticket just like a slot machine, which is prohibited by the Idaho Constitution."
The Affairs Committee passed HB 28 by a vote of 10-5. It now makes its way to the Idaho House floor for continued consideration.
Typical Rhetoric
Stop Predatory Gambling is one of the leading anti-gaming groups in the country. In 2015, its national director, Les Bernal, testified before a US House committee on the dangers of online casinos.
Interactive gambling companies denounce claims from their detractors that casino websites cannot be secured, as well as adequately protected from minors and problems gamblers trying to access the games. And critics like Bernal get creative when making their case.
John Kindt, a professor at the University of Illinois School of Law and a longtime opponent of online gambling, came up with the nifty taglines, "Click your phone, lose your home," and "Click your mouse, lose your house."
This week in Idaho, Boise State Professor Jonathan Krutz, who serves on the Step Predatory Gambling Board of Directors, came up with his own clever way to describe the lottery's touch scratch machines.
In a headline-making description, the anti-gaming activist said, "The difference between these machines and paper pull tab machines is the difference between caffeine and cocaine."
On his Boise State University webpage, Krutz lists "gambling studies" as one of his main research interests.
Gambling Cost
Should HB 28 make its way through Idaho's legislature and find its way into law, the financial impact of stripping the touch gaming machines from bars will mostly impact the state's education system.
Tax revenue generated from the tavern gaming devices goes to public schools, as well as the state's permanent building fund. However, Krutz argues the financial fallout will be minimal. According to the Spokesman-Review, a daily newspaper covering eastern Washington and parts of Idaho, the state's take from the electronic machines was only about $3 million last year.
Though the machines are capable of playing 1,200 bets per hour, the typical machine collected on average about $7 per 60 minutes over the past 12 months.
Similar Guides On This Topic