Horseshoe Southern Indiana Riverboat Casino Shut Down Due to Road Flooding, State Losing $255,000 a Day in Taxes
Posted on: February 27, 2018, 11:28h.
Last updated on: February 27, 2018, 11:31h.
The Horseshoe Southern Indiana riverboat casino, known locally as "The Boat," has been closed since last Thursday, due to dangerously high water levels on the Ohio River. And it's hitting state coffers hard, as the Hoosier State makes 35 percent in tax intake off the gaming venue's profits.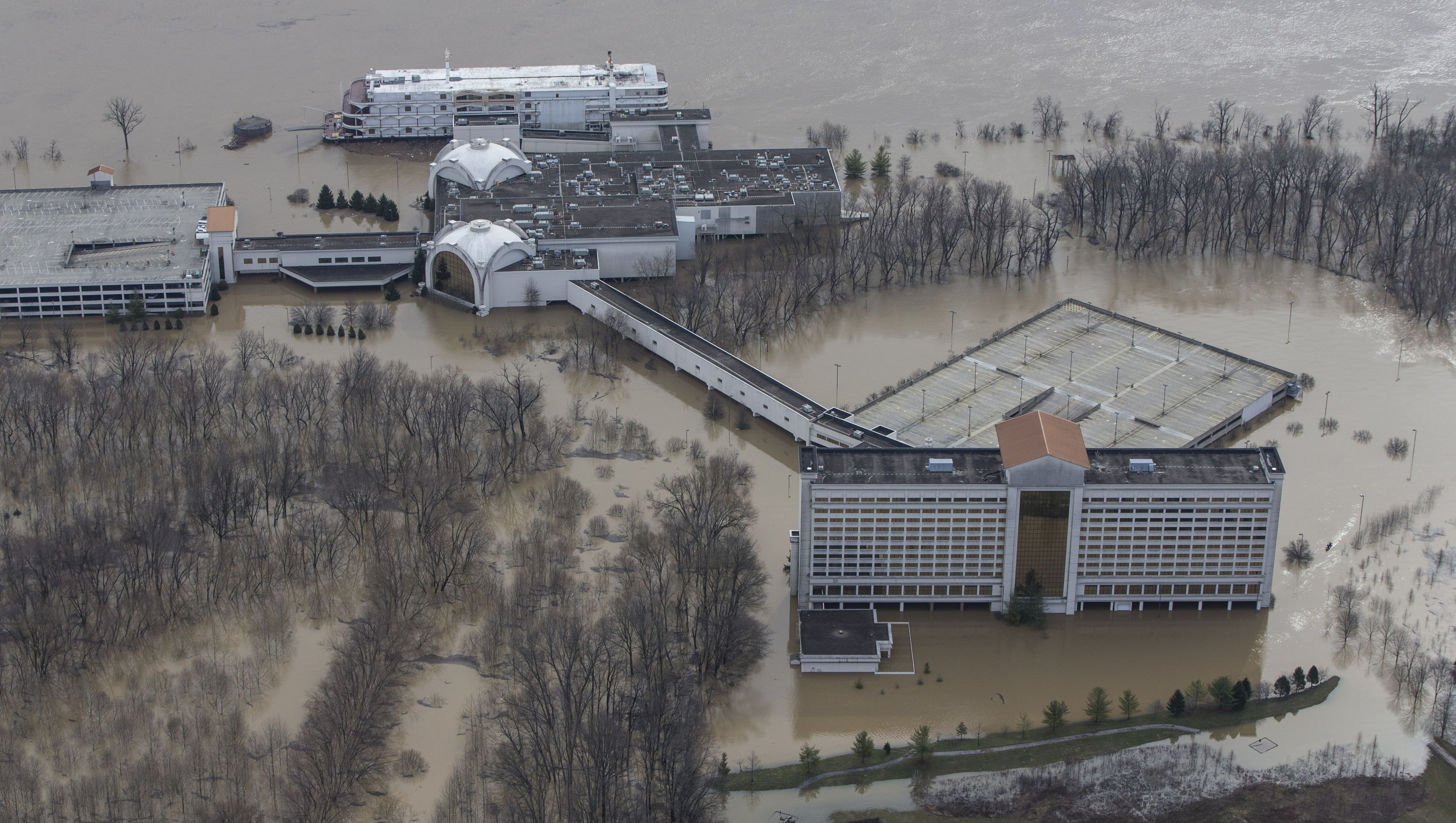 The casino is losing $731,113 per day, according to calculations by the Louisville Courier Journal, based on its average February earnings. Of this, $255,049 would normally be going to state coffers.
On its website, the Horseshoe posted the following message on its home page:
Due to rising Ohio River conditions, Horseshoe Southern Indiana, including hotel, is temporarily closed effective immediately. At this time, all scheduled promotions, events, and entertainment at Horseshoe Southern Indiana have been cancelled until further notice.

For the well-being of our team members and guests, Horseshoe Southern Indiana will reopen once water levels have receded to a safe level. Our dedicated marine operations staff are closely monitoring the river forecast and a future announcement regarding reopening will be sent as soon as possible.
While the complex's 5,000-person floating casino is not actually submerged by the rising waters, regulations require it to close for business when road access is blocked by flooding.
On Monday, after five days of continual rain, the river reached its highest crest in 21 years. Although it has now begun to recede, more rain is expected on Tuesday night and the casino is likely to remain shuttered for several more days.
Upriver from the casino, in the city of Louisville, officials have said hundreds of homes were deluged after 40 billion gallons of water fell on the city, which is roughly the same amount that the Louisville Water Company produces in a decade.
Workers Still Getting Paid
Lizzet Verdi, the casino's marketing and entertainment manager, noted that off-work employees won't be hit in the paycheck, at least.
"It's never an ideal situation when we have to close any part of the property for any length of time, but the safety of our guests and team members comes first," she told, the Courier Journal by email. "During this unexpected occurrence, we were able to provide our team members peace of mind by continuing to pay them their normal wages during the closure," she added.
The casino boat has shut down on at least five occasions because of flooding, the last time in 2011. back then, guests were evacuated from their beds as waters began to rise around the floating gaming venue. Closures since 2000, not including the one this week, have cost the casino an estimated $14.7 million.
No Bridge Over Troubled Waters
All this begs the question, why build a casino in an area that is notoriously prone to flooding in the first place?
According to the Courier Journal, a Caesars World executive admitted in 1998 that the company made a miscalculation shortly after the Horseshoe opened, but said they had little choice but to persevere with the venture by that time. Caesars World has long since been absorbed into the Caesars Entertainment brand.
In 2015, the Indiana General Assembly passed a law permitting the state's casino facilities to move onto dry land, provided they remain on their existing sites, although this is unlikely to be much consolation to the Horseshoe.
Similar Guides On This Topic