Hooters Sports Betting Partnership with Rush Street Gives Perks to BetRivers Customers
Posted on: February 9, 2020, 09:05h.
Last updated on: February 10, 2020, 09:52h.
Hooters of America has announced a partnership with KonekTV and Rush Street Interactive that's designed to attract sports bettors to their restaurants in Indiana, New Jersey, and Pennsylvania.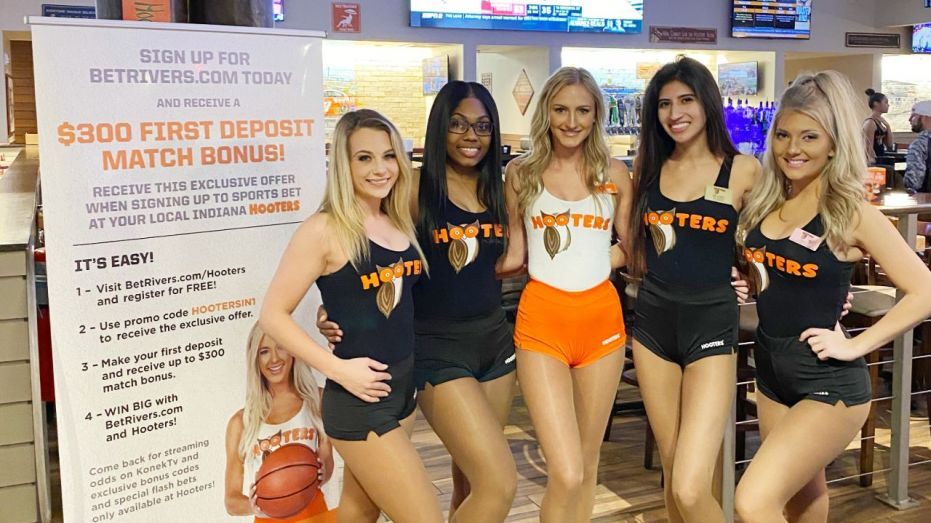 The deal will allow the restaurants, best known for its wings and waitresses dressed in hot pants and skin-tight tank tops, to display game statistics, analytics, and up-to-date odds on the TV screens. The odds will come from BetRivers, the online sports betting application from Rush Street.
We love enhancing the guest experience in any way we can, from best-in-class food and service to top-notch entertainment. Partnering with KonekTV allows us to bring a whole new world of opportunities to our guests and creates another reason as to why Hooters is the ultimate hangout spot," said Terry Marks, the CEO of Hooters of America.
As part of the promotion, BetRivers is offering Hooters guests a special match bonus of up to $300 on deposits. Special betting opportunities will also be available to Hooters patrons.
"BetRivers is excited to partner with KonekTV to promote our brand, odds, and betting experience to sports fans visiting Hooters locations across the three states where our mobile sports betting service is legal," said Matt Stetz, Rush Street Interactive's COO. "We have a range of innovation planned for how to drive activations and engagement at retail locations such as Hooters."
Similar Partnership Announced Previously
The partnership between Hooters and BetRivers is not the first time that a national sports bar chain has connected with a sportsbook.
Last September, Buffalo Wild Wings announced an agreement with RoarDigital. At the time, the agreement was to create free-to-play games nationwide, with the intention of establishing a sports betting pilot program within New Jersey, where RoarDigital's BetMGM mobile application is available. The pilot would offer Buffalo Wild Wings patrons in New Jersey enhanced odds and free bets for using the app in the restaurants.
Since the time the partnership was announced, BetMGM has launched in West Virginia and has received approval to operate in Indiana, although there's no set time for the company to start there.
Hooters Deal Could Be Vital in Hoosier State
Indiana is where the BetRivers-Hooters deal may have its biggest impact.
BetRivers started its Indiana mobile operations in early October, the same time as DraftKings and a month before FanDuel. However, in December, DraftKings' mobile handle was $66.7 million and FanDuel's was $36 million. BetRivers, meanwhile, had a handle of $7.9 million for the month.
In Indiana, BetRivers is affiliated with the French Lick Casino Resort. The southern Indiana venue is one of the smaller casinos in the state.
In addition to the competition with FanDuel and DraftKings, as well as the pending competition from BetMGM, the Indiana mobile sports betting market is about to grow rapidly. Already, BetAmerica has launched its online sportsbook, and in recent weeks, the Indiana Gaming Commission has also approved mobile licenses for both PointsBet and BetIndiana.
This is where Hooters comes into play. The restaurant chain has 11 locations in the state, and all are in metropolitan areas. Three are in Indianapolis, three are near Chicago, and two are across from Louisville, Ky. The other locations are in Evansville, Lafayette, and near South Bend. Having a partner in those locations certainly will help BetRivers as it tries to grow in what will soon become a crowded sports betting market.