Harry Reid Airport Flights Delayed By Wildfire, Smoky Conditions in Nevada
Posted on: August 1, 2023, 08:37h.
Last updated on: August 1, 2023, 10:34h.
The York Fire that spread from California into Nevada starting on Sunday has led to worsening air quality and delayed flights in the Las Vegas Valley.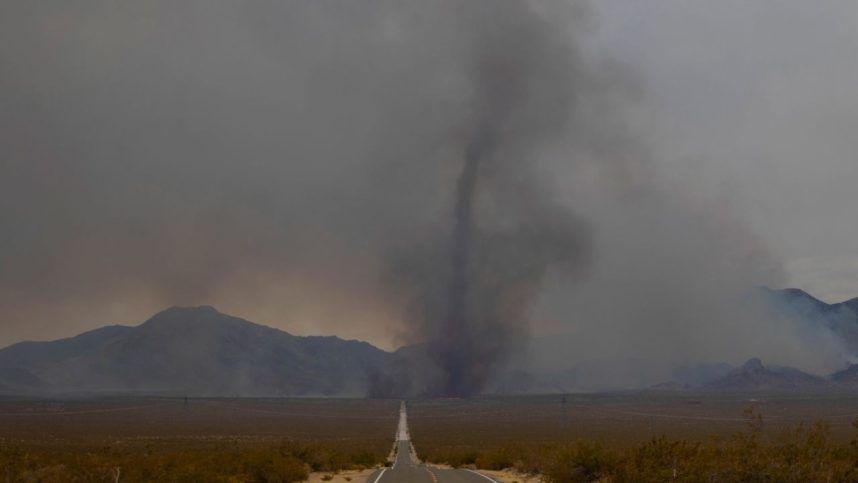 Lower visibility associated with smoke and haze from the massive wildfire led travelers at Harry Reid International Airport to experience delays of about two hours. That was for arriving flights on Monday morning, the Las Vegas Review-Journal reported, citing federal data. Departing flights were delayed about a half hour.
Various areas in Clark County also saw impacted air quality on Monday from the wildfire. These included such communities as Sunrise Manor, neighborhoods near Interstate 515, Spring Valley, Green Valley, and Boulder City.
Air quality conditions were described as being "unhealthy" and "hazardous," the Review-Journal reported.
Right now, our monitoring stations in Boulder City, Henderson and east Las Vegas are showing elevated readings for particulate matter due to the smoke and dust generated by distant thunderstorms blowing directly toward them," a statement from Clark County revealed. "Other portions of the valley are also likely to be impacted."
The fire started in California's Mojave National Preserve at about noon on Friday. By Saturday, it involved some 30,000 acres, and by Sunday, it involved some 70,000 acres. It spread into Nevada on Sunday afternoon.
By Monday night, the wildfire was 0% contained. Visibility in the area of the blaze was at times a mile or less on Monday, the Review-Journal reported. Wind gusts and dry conditions also led to expansion of the fire.
Wind gusts on Tuesday are supposed to lessen, which may reduce the amount of smoke appearing in Las Vegas Valley. There was also some rain in the area which could limit the spread of the fire.
On Monday, firefighters in Nevada and California were attempting to contain and suppress the fire. As of midday Monday, the fire's progression toward such border towns as Nipton and Searchlight had slowed. Neither town was forced to evacuate its residents.
When measurements are taken on Tuesday, the fire's containment may improve from Monday's numbers, officials predicted.
As of Monday, 389 firefighters were battling the wildfire. Heat from the blaze made it more challenging for the firefighters.
Fire Whirls Explained
Fire whirls, also known as fire tornadoes, were seen in California's Mojave National Preserve fire. They pose a danger to firefighters, CNN reported.
Fire whirls are explained as "a vortex of flames and smoke that forms when intense heat and turbulent winds combine, creating a spinning column of fire," the Mojave National Preserve said in a statement quoted by CNN.
"These fire whirls are similar to dust devils, but are specifically associated with the heat and energy released by a wildfire," the preserve statement added. "They can range in size from a few feet to several hundred feet in height, and their rotational speed can vary widely."
Eyewitness Account
Archie Fegert of Cal-Nev-Ari, Nev. went to Searchlight for lunch at the Denny's inside the Terrible's Searchlight Casino on Monday. He told the Review-Journal that conditions looked "a little better today" than they did on Sunday.
State Road 164 was also reopened on Monday. Nevada State Police had blocked traffic from driving on the road through Searchlight on Sunday because of the wildfire.