GOP Debate Gets Heated as Trump and Cruz Spar Over "Birther" Claims and NYC Values
Posted on: January 15, 2016, 01:52h.
Last updated on: January 15, 2016, 01:52h.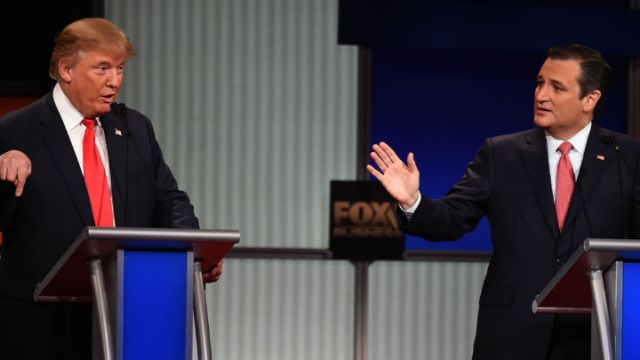 The sixth GOP debate welcomed seven Republican Party candidates to the main stage in Charleston, South Carolina on Thursday night, all sharing hopes and aspirations of taking on the likely Democratic nominee Hillary Clinton towards becoming the 45th president of the United States.
Seven candidates might have been on the stage, but all eyes were focused on the two frontrunners, billionaire Donald Trump and Texas Senator Ted Cruz.
The two had displayed a congenial relationship during their respective campaigns, but that ended Thursday night, in part, as Trump honestly confessed, because Cruz has been sneaking up in the polls of late.
Cruz attacked Trump for being a Manhattan liberal. Trump challenged Cruz's right to even run for president because he was born in Canada while his parents were in that country on business.
"I guess the 'bromance' is over," Trump said on CNN after the 2.5-hour debate.
Cruz Attacks New York
With Cruz closing in on Trump in Iowa (the first primary state that will officially begin the nomination process on Monday, February 1st), the Texan decided to go after the businessman for being born and bred in the largely politically liberal metropolis that is New York City.
But his choice of words came across as sneering and even a tad condescending.
"Not a lot of conservatives come out of Manhattan," Cruz opined as he cited Trump's more left-leaning views in previous decades. "Donald comes from New York and embodies New York values."
Trump was prepared for the attack, and called on the city's 9/11 disaster and subsequent rebuilding in his response.
"I saw something that no place on Earth could have handled more beautifully, more humanely than New York," Trump responded. "The people in New York fought and fought and fought.
"We rebuilt downtown Manhattan and everybody in the world watched and everybody in the world loved New York and loved New Yorkers," Trump said. "And I have to tell you, that was a very insulting statement that Ted made."
There was little doubt that Trump won the exchange.
The New York Daily News responded Friday morning with a cover titled "Drop Dead, Ted" and wrote, "New York values are the ironworkers who carried their tools in backpacks and gym bags and, by God, walked over the Brooklyn Bridge on the night of Sept. 11, 2001, or all the way downtown from all the way uptown."
The paper's cover page image to accompany the headline showed a pissed-off Lady Liberty making her feelings for Cruz clear by the use of a middle finger in the appropriate position, which the news site Tweeted out.
Can It on Canada
The other heated exchange came when Trump questioned whether Cruz is legally allowed to become the country's commander in chief.
"If you become the nominee, who the hell knows if you can even serve in the office?" Trump asked.
"Since September, the Constitution hasn't changed, but the poll numbers have," Cruz responded in defending his legal right to run.
One eligibility requirement to become president is that the candidate must be a natural born citizen. However, if a child is born internationally to American citizens, he or she is still considered to be a naturally born US citizen, according to the Constitution.
Stats Speak
According to news site Real Clear Politics, Trump spoke the most words during the debate, followed by Florida Senator Marco Rubio and then Cruz. Many political analysts believe it's a three-horse race at this point.
Former frontrunner Dr. Ben Carson spoke the least by far, with the former Johns Hopkins neurosurgeon taking less than eight percent of the total debate airtime.
Trump once again declared himself the debate winner, but voters will have the final say. Iowa Republicans cast their votes in just two weeks.