GeoComply Files Lawsuit Claiming XPoint Infringes on Geolocation Patent
Posted on: September 30, 2022, 11:23h.
Last updated on: February 12, 2023, 04:06h.
GeoComply Solutions filed a lawsuit earlier this week against XPoint Services in a Delaware federal court. It claimed its new competitor in the geolocation services field infringed on a patent the Canadian-based company owns.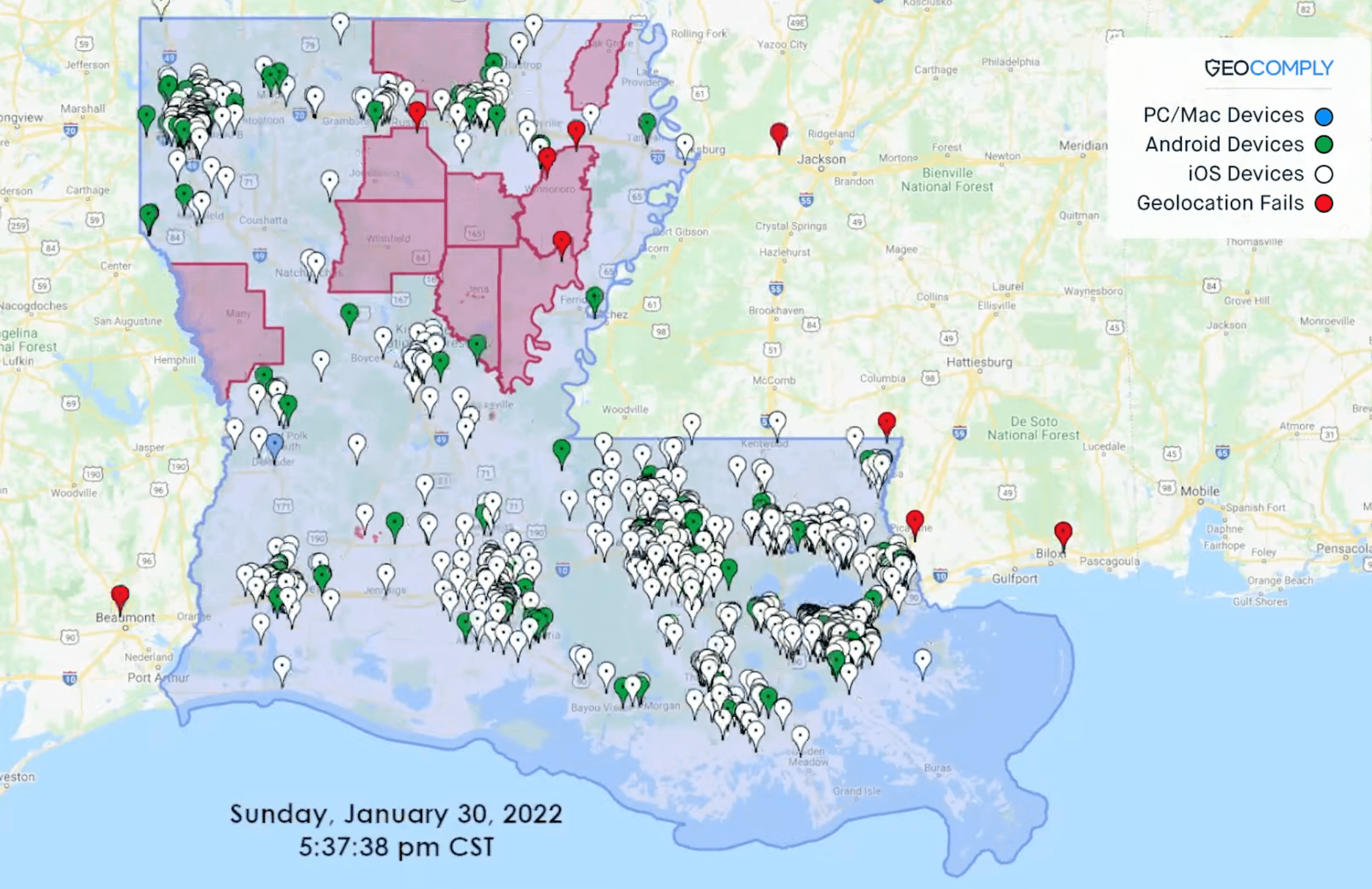 The suit focuses on a patent for collecting geolocation data from a device, identifying programs on that device, and using two servers – including one from a gaming operator – to confirm the device's physical location. According to US Patent Office records, that design was invented by Anna Sainsbury, co-founder and current CEO of GeoComply.
GeoComply has used that technology to become a primary vendor for sports betting operators that must adhere to the federal Wire Act in states where they are licensed. The service confirms a bettor is physically located in the state where sports betting is allowed and the operator holds a valid license. It then allows the wager to be placed.
The company has also used its geolocation technology to inform the media and public regarding the number of account holders in legal states and the betting traffic they produce.
Records show GeoComply filed for a patent in December 2012, and the USPTO granted one in August 2016. The patent, which gives GeoComply sole rights to the intellectual property, is set to expire in December 2033.
XPoint Active in New Jersey
The lawsuit comes a week after XPoint announced its geolocation service, XPoint Verify, was powering Sporttrade's sports betting exchange. That service was launched in New Jersey earlier this month. XPoint's technology also provides geolocation services for PlayStar's iGaming app, which went live in New Jersey in August.
GeoComply said in its complaint, which was filed on Tuesday that XPoint's method of confirming a bettor's location mirrors its process in that it shares data with two servers. That will cause it "irreparable harm," the company states.
GeoComply and XPoint are direct competitors in the market for geolocation and location verification services," the complaint said. "As such, XPoint should be enjoined from further infringement of the '805 Patent. GeoComply has spent valuable resources developing and refining—and patenting—its proprietary platform for reliably and accurately determining the true location of an end-user. Should XPoint continue to commercialize its geolocation technology, GeoComply will be forced to compete against its own patented invention."
GeoComply seeks a judgment that XPoint has infringed on its patent and a permanent injunction to prevent XPoint from using the patented technology. It also wants damages that include any profits XPoint generated from its geolocation service.
GeoComply Discovery Motion Denied
On Friday, US District Judge Colm Connolly denied GeoComply a request it made on Thursday for an expedited discovery and briefing schedule. It specifically sought that because company officials want the ability to identify "the precise lines in the source code" of XPoint's geolocation platform that infringe on its patent.
The request for a hastened briefing schedule and discovery period came a day after XPoint announced that it secured a multimillion-dollar investment. GeoComply said it was not on "a mere fishing expedition" but wanted to pursue "an efficient use of the parties' and Court's resources."
Connolly did not find a compelling reason to grant GeoComply its request.
GeoComply expects to file for a preliminary injunction that, if granted, would block XPoint from offering its geolocation technology platform. However, it's uncertain when that would be filed.