The Football Pools Sold for Nearly $130 Million to Sportingbet Founder
Posted on: September 14, 2016, 06:00h.
Last updated on: September 14, 2016, 02:32h.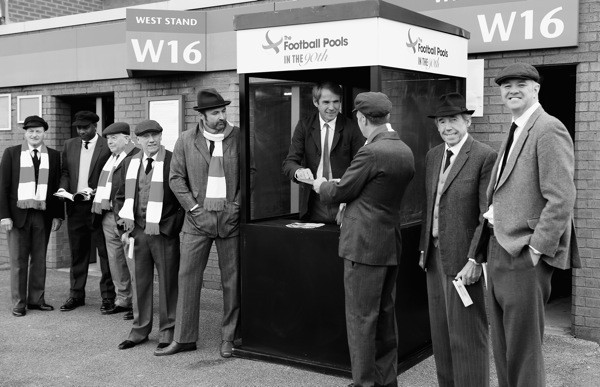 The Football Pools are being sold to private equity firm Burlywood Capital for £97.25 million ($129.4 million).
The self-proclaimed oldest soccer sportsbetting house in the world, The Football Pools were first launched 93 years ago in 1923. The operation once claimed to have 10 million customers, but today that number is around just 300,000.
On September 13, Sportech, the current owners of The Football Pools, announced it had entered into an exclusive agreement with Burlywood to sell the bookmaker. Sportech is currently in the process of refocusing its business interests and honing in on the US gambling market.
Burlywood Capital is the investment arm of Mark Blandford. In 1997, Blandford founded Sportingbet, a British online gambling company that was acquired by GVC Holdings and William Hill in 2013 for about $650 million.
Honoring Tradition
Since the National Lottery launched in 1994, The Football Pools has struggled to attract and retain a sustainable customer base.
In the pools' early days, paper slips were issued to bettors. Debts and winnings were collected and issued at stands across England and employees also went door to door. Brits used to huddle around their television sets to watch the outcome of soccer matches.
Today, of course, gaming is mobile and on the go. The operation is now entirely online.
The Football Pools has transitioned into other forms of gaming and entertainment as well. The site boasts over 300 games including digital slots, table games, and instant win formats.
But with a crowded market of internet gaming companies, revenues continue to slide.
Sportech had been looking for suitors to unload The Football Pools for some time.
The Football Pools generated $18.5 million in the first half of 2016. That's a 2.7 percent decrease compared to the same period in 2015.
While The Football Pools was up for sale, Sportech CEO Ian Penrose reportedly wanted to make sure the book went to someone with experience in soccer betting. He certainly gets that with Blandford.
Mergers and Acquisitions
According to the Chinese zodiac, 2016 is the year of the monkey. But for many UK sports gambling houses and online betting firms, it is the year of the merger.
In February of 2016, Paddy Power and Betfair completed their $6.5 billion merger to create one of the largest betting houses in the world. GVC Holdings completed its $1.7 billion purchase of bwin.party that same month.
In July, Ladbrokes and Gala Coral agreed to join forces in what was a $3 billion unification.
Gambling is big business in the UK, but it's even richer in the United States. Residents in the US lose more money on gambling than any other country, and it's not even close.
Thomson Reuters estimates that the US population dropped upwards of $150 billion on gambling losses in 2014. China is second with nearly $100 billion.
The UK is the fifth biggest gambling market in terms of losses. Reuters says about $25 billion is lost by residents in a given year.