Floyd Mayweather Is Betting Favorite In Long-Anticipated Fight vs. Manny Pacquiao
Posted on: February 23, 2015, 11:25h.
Last updated on: January 12, 2023, 11:17h.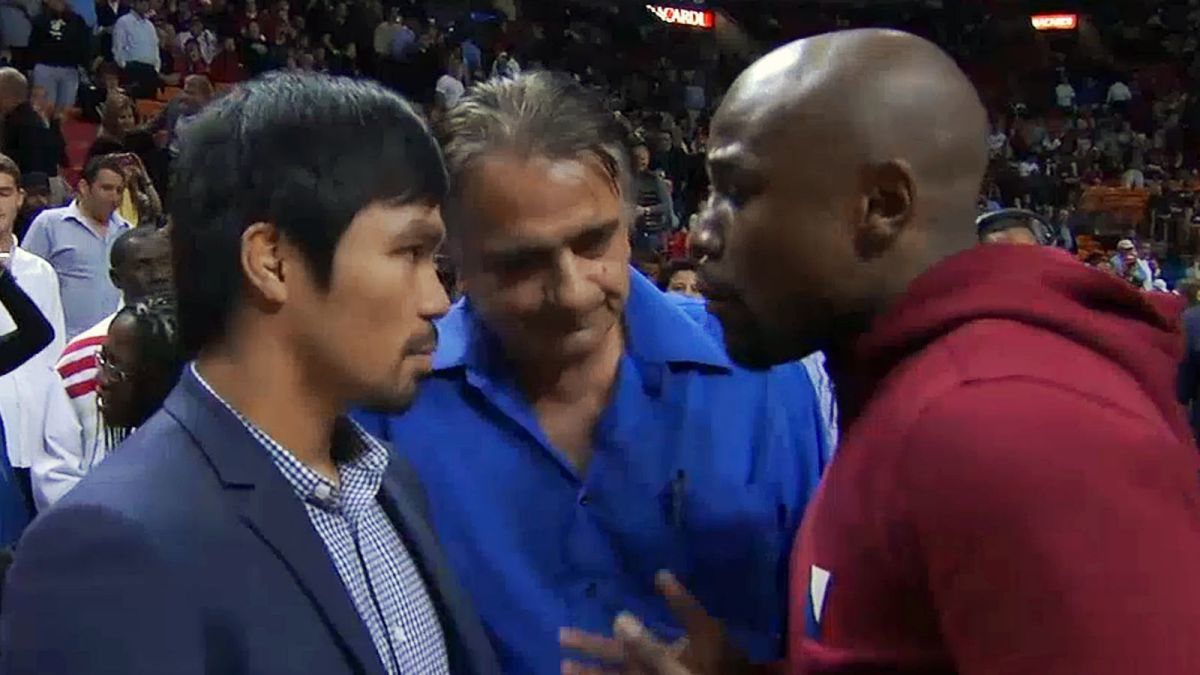 Floyd Mayweather Jr. and Manny Pacquiao will be stepping into the ring to settle the question of who is the best boxer of their generation on May 2 and the MGM Grand Garden Arena in Las Vegas.
That sentence may seem like something out of a dream to boxing fans, many of whom had long given up on the possibility that this fight could become a reality as the rival camps never seemed close to an agreement on a bout.
But now, this titanic fight is just months away, and promises to be one of the most anticipated sporting events of 2015.
"I am glad my decision to meet with Manny and discuss making this fight happen helped get the deal done," Mayweather said via Shots, a social media platform that he has invested in. "Giving the fans what they want to see is always my main focus. This will be the biggest event in the history of the sport."
Pacquiao expressed similar sentiments about the fight that the sports world has been clamoring for.
"I am very happy that Floyd Mayweather and I can give the fans the fight they have wanted for so many years," said Pacquiao. "They have waited long enough and they deserve it. It is an honor to be part of this historic event. I dedicate this fight to all the fans who willed this fight to happen and, as always, to bring glory to the Philippines and my fellow Filipinos around the world."
Heavy Betting on Pacquiao by Fans, But Mayweather Favored
A fight of this scale is certain to be an epic in any number of ways, not the least of which is betting on the match. In the first lines set on the fight, Mayweather has emerged as a significant but not overwhelming favorite.
The opening line at William Hill US put Mayweather at odds of -240, meaning that a bet of $240 on Mayweather would return winnings of $100 should he emerge victorious. Meanwhile, a $100 bet on Pacquiao would win $200 should he win the fight.
Most of the action is likely to come in on Pacquiao. Not only is he a beloved fan favorite, but he's also the underdog, and most of the casual betting money typically comes in on the longer paying side in competitive fights.
"Pacquiao draws huge money (for all his fights) and you can bet him at plus-money," said Nick Bogdanovich, director of trading for William Hill US. "Bettors love him. He always brings it. His fights are nonstop action and people love that."
Massive Amounts of Betting Expected for "Fight of the Century"
There will be plenty of money on Mayweather as well, especially if Pacquiao bettors drive down the odds in early betting. Overall, Bogdanovich says, this could be a sports betting extravaganza unlike anything Las Vegas has ever seen.
"This fight will be the biggest bet fight in the history of Nevada," Bogdanovich said. "You are talking a ridiculous amount of money."
The May 2 fight will unite the welterweight world titles held by the two fighters. Mayweather comes in undefeated as a professional, having won all 47 of his fights, 26 by knockout. Meanwhile, Pacquiao has a record of 57-5-2, with 38 wins by knockout.
While the fight will still feature two all-time greats who may well be the top two fighters in the world today, many have lamented the fact that the bout is happening perhaps four or five years past when the two men were both at the peaks of their respective careers.
Latest Casino Stocks:
Retrieving stocks data...
Retrieving stocks data...
Retrieving stocks data...
Retrieving stocks data...
Retrieving stocks data...