Ex Tasmanian Premier Paul Lennon Dethroned at Crown Casino
Posted on: August 8, 2014, 05:58h.
Last updated on: August 8, 2014, 06:09h.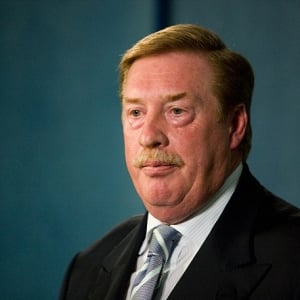 It was some embarrassment this week for Paul Lennon, retired Australian Labor Party politician and former Premier of Tasmania, who was 86'd from Melbourne's Crown Casino after reportedly acting up at the poker table. Australian media reported that casino security was called after Lennon caused a disturbance in a "$2 game" (although we think they probably mean a $1-$2 game, as he was playing Texas Hold'em), and witnesses described five or six security guards binding the 58-year-old politician's wrists with cable ties before escorting him from the premises.
One witness said that Lennon began behaving aggressively towards a woman he accused of touching his chips, and refused to simmer down when asked repeatedly to do so. The witness claimed that he then declined the opportunity to leave quietly, persistently asking security guards, "Do you know who I am?"
Giving the Finger
However, like all good politicians, Lennon has his own version of events, a narrative that deviated somewhat from those of surrounding witnesses. Lennon claims the incident was the result of a "ridiculous" misunderstanding, which was sparked by the dealers' insistence that he had infringed the rules by licking his index finger.
"At one instance I licked my index finger before touching my dealt cards, as you sometimes do. But apparently this is against the rules, something I was not aware of. For this I was removed. I questioned the reason why, but was not given an answer."
Loyalty to the Crown?
The politician, who served as the Premier of Tasmania from 2004 to 2008 before resigning in the wake of corruption allegations, said that he himself asked for the police to be called "so that everything was done properly." A Victoria Police spokesman confirmed the incident and said that Lennon had been issued with a penalty notice for failing to leave a licensed premise, which carries a fine of $739.
It seems Lennon is a big fan of the Crown Casino. In 2006, he faced allegations of impropriety when media sources uncovered information that he received an upgrade on A$200 (US$185) per night room at the Crown to a six-star suite which came complete with a private butler. The Crown Casino is owned by James Packer, who also happens to have a 50 percent stake in Betfair's Australian operations. Just days after Lennon's swanky upgrade, the government granted Betfair an A$700 million Internet gaming licence.
Notable Casino Ejections: You Don't Have to Be a Star, Baby, But It Helps
Ben Affleck has a history of being thrown out of casinos due to his love of card-counting at the blackjack tables, although according to casino security, he is "way too obvious about it," sometimes ramping it up to $20,000 a hand when the deck becomes hot. As well as being the star of many acclaimed Hollywood movies, Affleck has a starring role on the Vegas casinos' network database of "suspicious characters."
Paris Hilton was banned from the Wynn in 2010 for having upon her person a large bag of Columbian marching powder. This also got her a $2,000 fine and 200 hours of community service.
Squeaky-clean boy band One Direction was not so much thrown out of a casino, as denied entry. On a tour of the US, the young Brits decided to hit the Vegas casinos and party. Good idea, but what they didn't know was that, while the legal gambling age in the UK is 18, in the US it's 21, and so they were too young to be let in.
In the video game Fallout: New Vegas, you win a special trophy for getting thrown out of every single casino on the Las Vegas Strip.
In 2008, a 440-pound New York City poker player was thrown out of the Borgata for stinking the place to high heaven. "There's no question I stink. I'm not denying it. I do have an odor. I've been playing for 17 hours." said Michael Wax in his defense. "I would like an apology," he added, optimistically.
Most Read