Dwyane Wade to Join LeBron in Cleveland, Oddsmakers Shorten Title Odds
Posted on: September 27, 2017, 09:00h.
Last updated on: September 27, 2017, 07:57h.
Dwyane Wade is reportedly ready to join his longtime pal LeBron James in Cleveland in hopes of winning his fourth NBA title. In response, sportsbooks are shortening odds on the Cavaliers winning their second championship in three years.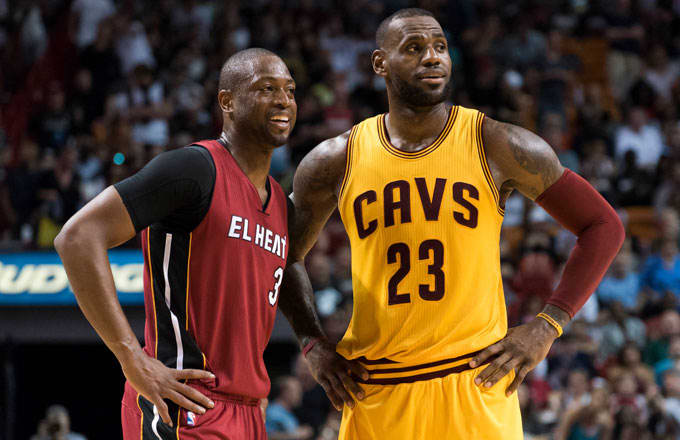 Online sportsbook Bovada now has the Cavs at +450 to win the Larry O'Brien Trophy. Less than 24 hours ago prior to Wade's rumored signing, the same book had Cleveland at +550.
For bettors, the reduction means a $100 winning bet returns $100 fewer dollars should James and company somehow find a way to dethrone the Golden State Warriors.
Kevin Durant and Steph Curry's squad continues to be the heavy favorite for the NBA title. The defending champs remain unchanged at -160 despite the Wade news. On those odds, a winning $100 wager on Golden State nets the bettor $62.50.
As for what Wade means to his team, James told reporters yesterday, "He brings another championship pedigree, championship DNA. He brings another playmaker to the team who can get guys involved, can make plays and also has a great basketball mind."
As for Wade's former team where he spent just one year, the Bulls' title hopes are now very long at +50,000.
No Brainer
Cleveland's front office presumably didn't waste much time deciding whether to sign Wade. After giving up $8 million in part of his $23.8 million 2017-18 salary buyout with the Chicago Bulls, the Cavs are signing Wade to a one-year veteran's minimum of $2.3 million.
To bring in Wade, the Cavs will only have to cut a nonguaranteed training camp invitee from its 20-man roster.
And with the loss of superstar point guard Kyrie Irving to the Boston Celtics, and his replacement Isaiah Thomas sidelined until at least January with a bad hip, adding a 12-time NBA All-Star guard seemingly makes perfect sense.
However, that's not to say it will be easy.
"Anytime you get new pieces and new players, it's always challenging, but I'm up for the challenge, and so are the players," coach Tyronn Lue said this week. "We will figure it out. It will be a good year for us."
A Few Good Teams
Wade's signing with Cleveland continues a trend of the so-called "superteam" in the NBA. Whether that's good or bad remains up for debate, but at sportsbooks, it creates very long lines for many teams.
At Bovada, 17 teams have championship odds of +15,000 or longer. A simple $100 wager would return $15,000 should the unlikely team come out on top.
The longest odds are on the Brooklyn Nets, Orlando Magic, and Sacramento Kings, which are all at +100,000. A successful $1 bet nets $1,000.
When Wade agreed to a buyout with the Bulls, few to no one thought he might consider joining one of the longshot teams in an effort to save their franchises. Instead, he is thought to have only looked at Oklahoma City, San Antonio, and Cleveland, all teams that truly believe they can win the NBA Playoffs in 2018.