Donald Trump, Vladimir Putin Summit Spurs Online Odds, Media Favors Russia Emerging as Victor
Posted on: June 30, 2018, 10:00h.
Last updated on: June 29, 2018, 04:35h.
Another month, another highly controversial summit for President Donald Trump.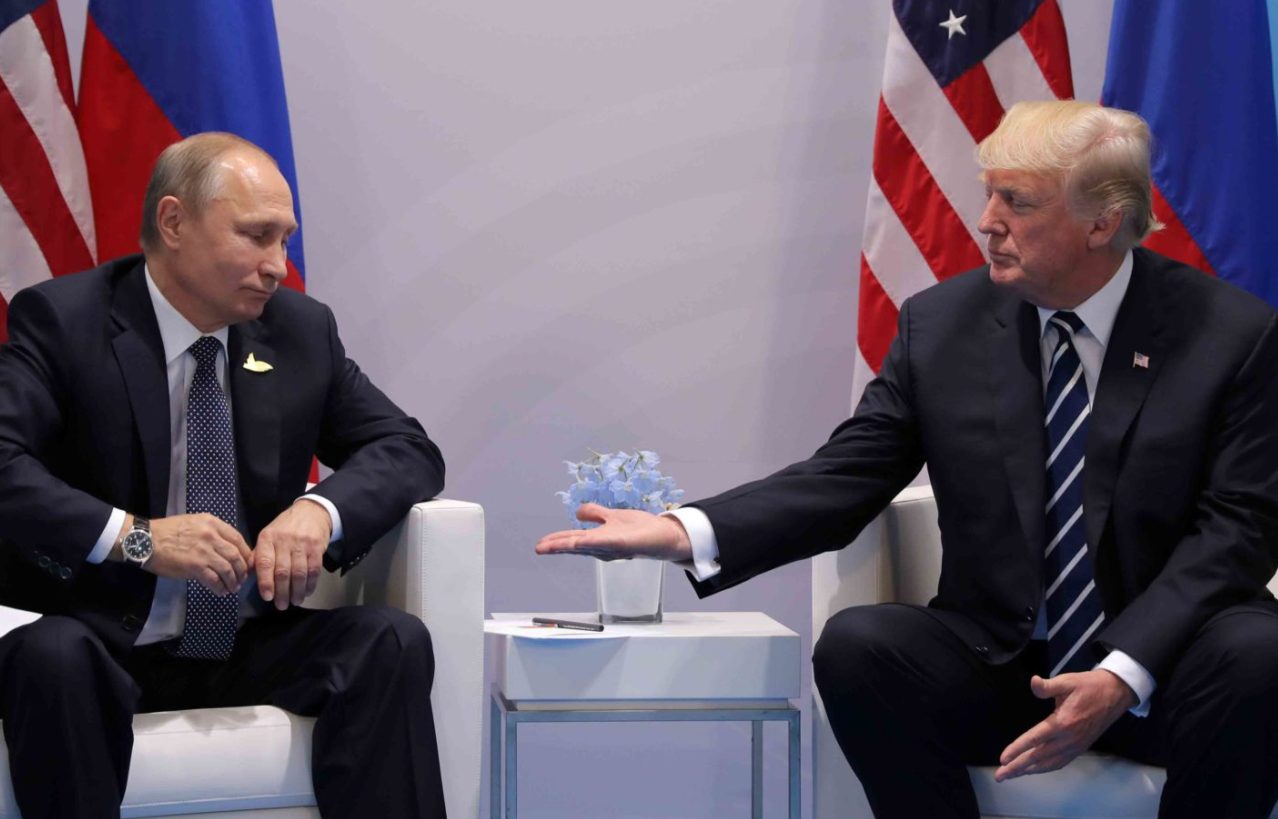 Just 35 days after Trump became the first sitting US president to meet the supreme leader of North Korea, the commander-in-chief is traveling to meet another contentious world leader in Russia's Vladimir Putin. Trump and Putin will converge Finland on July 16 following a NATO summit in Brussels.
I've said from day one, getting along with Russia and with China and with everybody is a very good thing. It's good for the world. It's good for us. It's good for everybody," the president stated.
"I think we'll be talking about Syria. I think we'll be talking about Ukraine. I think we'll be talking about many other subjects," Trump told reporters outside the White House.
The president followed up his comments with a tweet addressing what's on everyone's mind: did Putin and Russia meddle in the 2016 presidential election? "Russia continues to say they had nothing to do with Meddling in our Election!" Trump tweeted.
Online bettors aren't so sure. Special Counsel for the Department of Justice Robert Mueller is overseeing the ongoing investigation into whether there were direct links between Trump's 2016 campaign and Russia.
PredictIt, an online exchange that allows users to buy and sell shares of political outcomes, asks whether Trump will testify before the special counsel before the year's end. "Yes" shares are trading for 39 cents.
PredictIt also asks if Christopher Steele, the British Intelligence spy who produced the Trump-Russia dossier, will face charges by 12/31/18 (No, 90 cents).
Media Favors Putin
The July 16 Trump and Putin meeting is naturally generating a strong response from the mainstream media, many of whom believe Russia played some sort of role in Hilary Clinton's defeat.
As for the sit-down between the two controversial leaders, numerous media outlets predict Putin has the upper hand when it comes to negotiating tactics. Headlines include:
Newsweek: Vladimir Putin, Not Donald Trump, Knows the Real Art of the Deal
The New Yorker: Will Trump Get Played by Putin?
Politico: Trump-Putin Summit: Wing-It Meets Meticulous
PredictIt shares of a potential Putin removal from office are long. "Will Putin be Russian president at year-end?" has Yes shares at 96 cents.
Making Light of Serious Matters
While PredictIt sticks to the political issues at hand, Paddy Power never shies from offering up the seemingly absurd proposition. The Irish bookmaker asks if Trump and Putin will receive a joint Nobel Peace Prize (25/1), and if Russia will name an airport after the US president (66/1).
Paddy additionally asks if the two presidents will vacation together during Trump's first term (66/1). A $100 bet and Trump and Putin jetting off to the Caribbean or somewhere else for R&R would net the most fortunate gambler $6,600.
As for a controversial leader who might get Trump's ear next, Paddy Power thinks the KKK is a possibility at 33/1.  
Latest Casino Stocks:
Retrieving stocks data...
Retrieving stocks data...
Retrieving stocks data...
Retrieving stocks data...
Retrieving stocks data...