Ditch 'Swimsuit Sexism' at ICE Totally Gaming, Says UK Regulator
Posted on: February 5, 2018, 05:00h.
Last updated on: February 5, 2018, 05:14h.
The International Casino Exhibition (ICE Totally Gaming) kicks off tomorrow (Tuesday) as the world's gaming operators descend on London Docklands for the one B2B gaming event that truly unites the entire gaming industry –  both online and off. But this year, the UK Gambling Commission is hoping the promo girls keep their clothes on.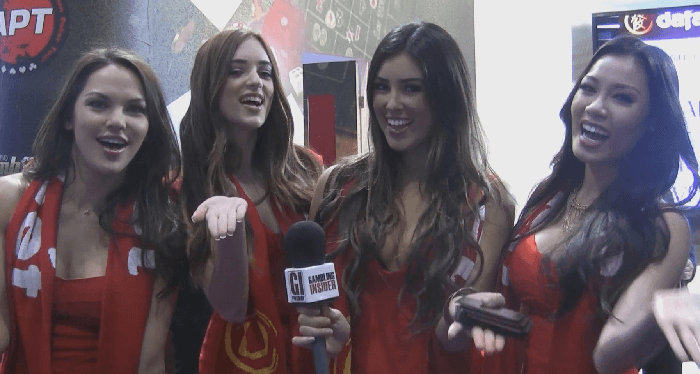 In fact, the regulator is threatening to boycott the entire event unless they do.
Scantily clad promo girls have long been the norm at casino exhibitions, as operators and suppliers desperately try to inject some Vegas glamor into giant, soulless convention spaces.
But UKGC chief Sarah Harrison believes enough is enough and that operators need to come up with something more creative – and less chauvinistic this year.
Sexism a 'Stain' on the Industry
Harrison's experiences at last year's exhibition led her to express concerns to industry leaders that sexism in the gambling industry had become a "significant stain" on the its reputation.
This is an industry where we have a number of talented, powerful and successful women," she told the International Casino Conference on the eve of ICE. "Yet from walking around the exhibition you wouldn't know this.
"Instead, you saw men representing their companies wearing expensive tailored suits whilst their female colleagues were expected to wear nothing more than swimsuits. I say bring this to an end now."
Her words are practical as well as ethical. They come shortly after a Financial Times exposé revealed that female staff at the exclusive men-only "President's Club" charity dinner, attended by high flying CEOs from many sectors, were routinely groped and harassed.
It caused a media storm in the UK and Harrison senses that journalist are on the lookout for similar scoops. She is adamant that the gambling industry – which has recently been fair game for media attacks – must tone down its brash, sexist marketing or face a potential barrage of negative press when the hangover kicks in.
Journalists Setting Sights on ICE Totally Gaming?
One previous ICE delegate told the Guardian that, while the exhibition was "not all skin," there was "quite a lot on show, typically.
"Girls in body paint and not much else," he added.
"You had paunchy slot machine buyers going up to get their pictures taken with them. It was a bit pathetic, but I've never seen any predatory behaviour like the Presidents Club," he said.
Perhaps also mindful that the media is prowling for ammo that can use against the gambling industry, ICE organisers Clarion Gaming and the European Casino Association sent an open letter to exhibitors this year, urging a for more modest marketing sensibilities at the convention.
"In the spirit of the 21st century, when both women and men play strategic and decision-making roles in businesses, we encourage all exhibitors to mindfully represent support staff promoting their products at the show in a non-offensive and non-stereotyping way," they wrote.
"For both organisations, it is clear that presenting a modern and diverse gaming industry should be at the heart of the show. For this to be successful and ensure that all participants feel equally welcome, the respectful representation of genders is crucial."