Delaware Online Gambling Soft Launch Open to Select Few Only
Posted on: November 2, 2013, 05:30h.
Last updated on: November 1, 2013, 08:00h.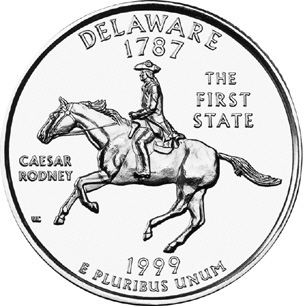 As promised, Delaware launched their online gambling sites on October 31, becoming the first state with both regulated poker and casino games available on the Internet – if you were one of the lucky few who were allowed to play. Although the launch went smoothly for the state, only a handful of people were allowed to experience the new games – and it will stay that way for a little more than a week before the rest of the state's residents get to take a look at the new sites.
Small Sampling for Soft Launch
According to reports, only 25 to 75 players will have access to the new sites in the first week of operation. The online gambling sites are run by Delaware's three casinos (each attached to a racetrack), with the online poker option actually being linked between the three casino sites in order to provide the largest player base possible in the small state.
While soft launches for Internet gaming are common, October 31 had been described only as an actual full launch date, until Halloween arrived, at which point it became clear that only a group of selected "preferred" players would be invited to test the site out. Of course, this may be a smart move in the long run, as the small amount of traffic will allow the state to ensure that things are running smoothly without any major consequences if they run into a snag.
(Obama: take note, this is how it's done).
Soon to Open up to Delaware at Large
Assuming the one-week trial period goes well, all Delaware residents will be invited to play starting on Friday, November 8.
"This is another chapter in Delaware's history of staying competitive in the gaming industry," said Thomas Cook, Delaware's finance secretary. "It is something that has to grow, but we're in a fiercely competitive environment here. This is just one more opportunity for entertainment."
According to early reports, the initial launch of the Delaware online gambling sites was only going to include poker, slot machine games, and some video poker games. Table games like blackjack, roulette and baccarat are expected to be offered in the near future, but what's uncertain is whether those games will be available when the sites go public on November 8. State officials promised a "full suite" of games on that date, though whether that means all casino games, or simply all of the games that are available now, is unclear.
Online gambling isn't expected to be a major windfall for Delaware, at least not at first. The state estimates that they will take in just $5 million in the first fiscal year, a relative drop in the bucket compared to the $176 million that the land-based casinos are estimated to bring in. However, they expect this money to come primarily from younger gamblers who don't normally visit brick-and-mortar establishments, meaning it shouldn't interfere too much with current casino revenues.
However, Cook acknowledged that they won't know that for sure until online gambling has been up and running for a while. He said that if revenues at the state's three casinos drop because of Internet play, then the program will be reevaluated.
But regardless of the impact, most casino officials in the state are happy that Delaware is getting on board early.
"It was gonna happen no matter what," said Dover Downs Hotel and Casino CEO Ed Sutor. "You are either going to get on the train or be left behind. We are going to get on the train."