Dallas Police SWATDown: Four Officers Face Charges Including Gambling, Bribery, and Money Laundering
Posted on: June 29, 2018, 03:00h.
Last updated on: June 29, 2018, 03:30h.
Three Dallas Special Weapons and Tactics (SWAT) police officers have turned themselves in and are facing a bevy of gambling-related charges, along with money laundering and engaging in organized criminal activity: charges for which they would normally be on the other end of the law.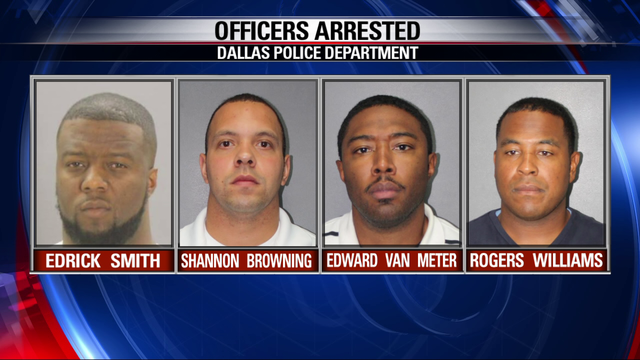 It's further fallout from the earlier arrest of officer Edrick Smith in December of 2017. The Senior Corporal was initially accused of taking bribes and has now also been hit with charges of gambling promotion, bribery, and misuse of official information, following the arrests of three of his SWAT team colleagues.
His arrest helped rip the lid off of even more alleged illegal activity taking place within the force. Edward Van Meter Jr., Rogers Williams, and Shannon Browning turned themselves into Dallas PD on Thursday afternoon. All of the men have been with the force from nine to 11 years, and have now been placed on administrative leave.
Code Word: 'Go Cowboys'
Local Dallas TV News station Fox 4 reports that the officers themselves were gambling.
According to that outlet's sources, the three officers arrested this week would bet on sporting events. They would allegedly tell Senior Cpl. Smith who they wanted to bet on, and Smith would then place the wager through a bookie at an illicit gambling operation.
As indicated in the December arrest warrant for Smith, he attempted to keep his alleged actions under wraps by bribing a sergeant in the force. Dallas News reports that Smith requested that the sergeant send him a "Go Cowboys" text message if police were planning to raid the gambling center he was at.
Those conversations were being recorded, and the sergeant then reported Smith to police. However, she was also later arrested and charged with gambling promotion herself. Court documents show that despite reporting Smith's illegal activity, Sgt. Latasha Moore was later spotted by undercover officers frequenting the gambling hub at a local convenience store.
Their arrests revealed even more details around the operation, which led to the additional arrests of the three officers this week. Browning is accused of being Smith's accomplice and is facing the same charges, while Williams and Van Meter are charged with gambling promotion.
Meanwhile, Smith is now facing two additional charges of money laundering and engaging in organized criminal activity.
Bad Boys, Bad Boys (and Girls)
The lure of big money is apparently too much to keep some officers on the right side of the law, and it's a global problem.
Last year, dozens of police officers were arrested in Belgium, accused of swiping the identities of hundreds of local citizens, which they used to open gambling accounts with online operators. 
Earlier this year, the former head of Vietnam's anti-corruption police unit was arrested and charged with running an international gambling ring. He was supposed to be stamping out such activities, but was allegedly using his power to promote them instead. 
Meanwhile, Vietnamese street gangs were the target of a police raids in Northern California in 2016. An addition to charging 23 gang members, a San Jose Police officer was also arrested. 
And right in Dallas, 29-year-old police officer Natalia Garcia received a DWI on Friday. As we went to press, Garcia remained in Dallas County lockup on a $500 bond.
Similar Guides On This Topic