Daily Fantasy Sports Declared Illegal by New York Attorney General
Posted on: November 11, 2015, 04:04h.
Last updated on: November 11, 2015, 04:04h.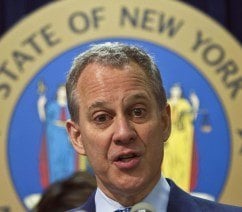 Daily fantasy sports (DFS) is no longer legal in New York following an investigation by the state's lead legal attorney, market leaders DraftKings and FanDuel both receiving cease-and-desist letters on Tuesday.
"Our investigation has found that, unlike traditional fantasy sports, daily fantasy sports companies are engaged in illegal gambling," New York Attorney General Eric Schneiderman said in a press release.
"Daily fantasy sports is neither victimless nor harmless, and it is clear that DraftKings and FanDuel are the leaders of a massive, multi-billion-dollar scheme intended to evade the law and fleece sports fans across the country."
Schneiderman revealed his office found DFS operators engaging in "deceptive advertising to lure consumers into an unregulated online gambling operation," but said that practice wouldn't continue on his watch.
Sides Square Off
The confrontation between Schneiderman and the two leading daily fantasy operators has quickly taken an ugly and combative turn.
The attorney general of course initiated the quarrel, writing in his cease-and-desist letter that "customers are clearly placing bets on events outside of their control or influence," citing that the top one percent of DFS users are claiming the vast majority of the winnings.
FanDuel wasted no time in firing back at the attorney general.
"This is a politician telling hundreds of thousands of New Yorkers they are not allowed to play a game they love and share with friends, family, coworkers and players across the country," the company said in a statement. "After the attorney general realized he could now get himself some press coverage, he decided a game that has been around for a long, long time is suddenly now not legal."
DraftKings echoed those sentiments, albeit in a bit more diplomatic manner. "We are very disappointed … Schneiderman took such hasty action today, particularly since he did not take any time to understand our business or why daily fantasy sports are clearly a game of skill."
GOP All Business
Tuesday's news out of Albany didn't make its way to Wisconsin for the fifth Republican debate, the eight contenders focusing on the economy, immigration, and national security and opting to steer clear of less dire issues like daily fantasy sports.
While there was no bombshell back-and-forth on DFS between former Florida Governor Jeb Bush and New Jersey Gov. Chris Christie, the latter not qualifying for the main debate, Schneiderman's ruling will certainly have national consequences.
Christie, who said in October at Bush, "Enough on fantasy football. Let people play, who cares," announced this week his state wouldn't weigh-in on DFS until New Jersey's lawsuit regarding its wishes to legalize sports betting reaches a verdict sometime in 2016.
New York is the second state to openly ban DFS in 2015, and several others are currently deliberating the issue.
The Empire State moving to outlaw DraftKings and FanDuel could prompt others to join in on prohibiting the controversial market. It could also force major sports leagues with direct ties to the leading DFS platforms to reconsider their positions.
Writing in the comments section on ESPN, Austin Weber perhaps said it best: "They should make the commercials illegal too."