Chances for Legalized Gambling in Georgia Slim, But Casinos Still Eyeing Atlanta
Posted on: January 4, 2018, 04:00h.
Last updated on: January 4, 2018, 04:29h.
The odds of finally legalizing gambling in Georgia in 2018 seem to be a longshot at best, but that's not stopping hospitality and gaming interests from maintaining a presence in the Peach State.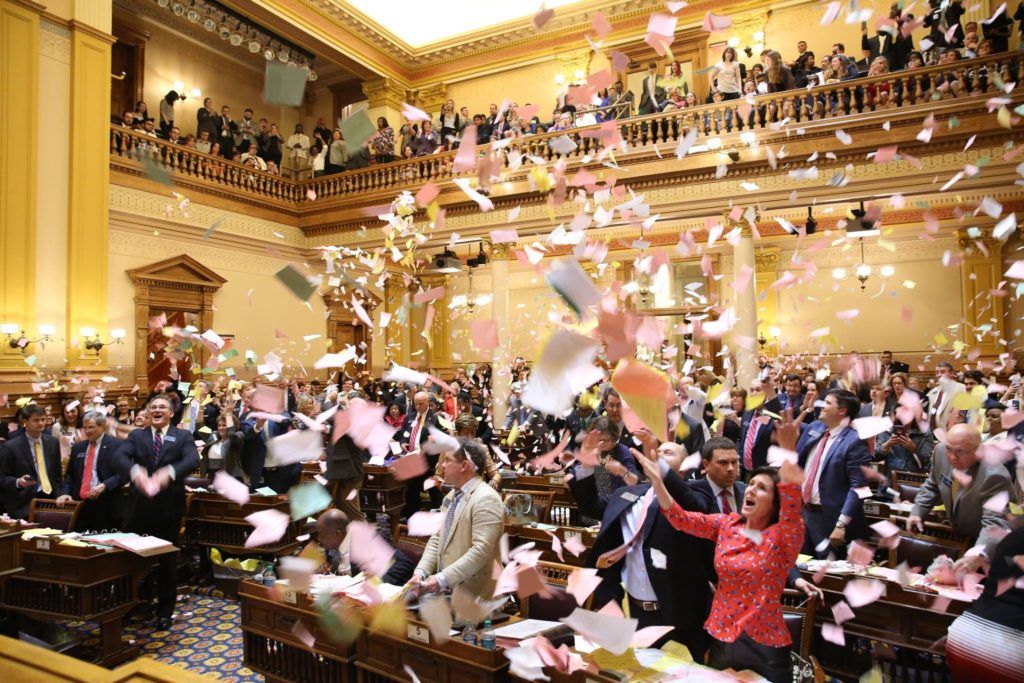 Speaking this week with The Atlanta Journal-Constitution, MGM Resorts Executive VP Alan Feldman said casino developers have Atlanta on their radar. And regardless of whether the Georgia General Assembly fails again to act on gaming legislation, Atlanta will remain on a shortlist of US cities ripe for casino investment.
"Georgians are already gambling at casinos in North Carolina and Alabama, and the tax revenue from that activity is not supporting much-needed programs in Georgia but instead flowing from local communities to neighboring states," Feldman said.
Feldman's comments might come as a bit of a surprise after MGM CEO Jim Murren recent told investors that the company's development cycle is winding down. In November, Murren said that other than Japan, the company was done seeking to build new casinos, and instead was ready to focus on improving current operations.
The Georgia General Assembly is already a dozen days into its 40-day legislative session. Last year, several gambling measures failed to reach a vote.
Georgia on Someone's Mind
The eighth most populous state in the US, Georgia remains one of only nine states without commercial or tribal casinos. It does, however, have a state lottery, which sold more than $4.5 billion worth of tickets in 2016, the sixth most in America.
Atlanta, the state capital, is also home to the busiest airport in the world. With Hartsfield-Jackson's more than 100 million aviation passengers each year, and 5.7 million residents in the Atlanta metro area, it's easy to see why casino operators envision a resort there.
Along with MGM, Wynn Resorts, Las Vegas Sands, Penn National Gaming, Boyd Gaming, and Golden Nugget all have lobbyists working in the state capital to push for casinos.
Lawmakers Inaction
To legalize casino gambling in Georgia, the state constitution requires a ballot referendum. But Georgia's Republican-controlled assembly, along with Gov. Nathan Deal (R) and the state's Republican lieutenant governor, have for years opposed any legislation before it gets to the stage of seeing a vote.
New Atlanta Mayor Keisha Lance Bottoms (D), inaugurated on Tuesday, says she would be hesitant about having a casino in Atlanta.  She told media after her inauguration that she was open to debate about legalized casino gambling, but was wary about the prospects. "I'd prefer that my mother have to drive to casinos," she said.
All research and polling indicates widespread popular support for expanded gambling options in Georgia. A poll conducted by The Atlanta Journal-Constitution last year found that 56 percent of likely voters would support land-based casinos.
House Economic Development and Tourism Chairman Ron Stephens (R-Savannah) says he's willing to buck party leaders on the issue. "I'll try every way in the world to try and get it done," he told reporters this week, but admitted anything controversial "is going to be a tough sell."
Similar Guides On This Topic