Cambodia Demolishes Buildings at Site of Recent Deadly Casino Fire
Posted on: January 2, 2023, 07:58h.
Last updated on: January 2, 2023, 04:59h.
Investigators are still trying to figure out what caused the fire at the Grand Diamond City Hotel & Casino in Poipet, Cambodia. The authorities have completed the search-and-rescue mission, and the investigation can now only continue by demolishing some parts of the complex.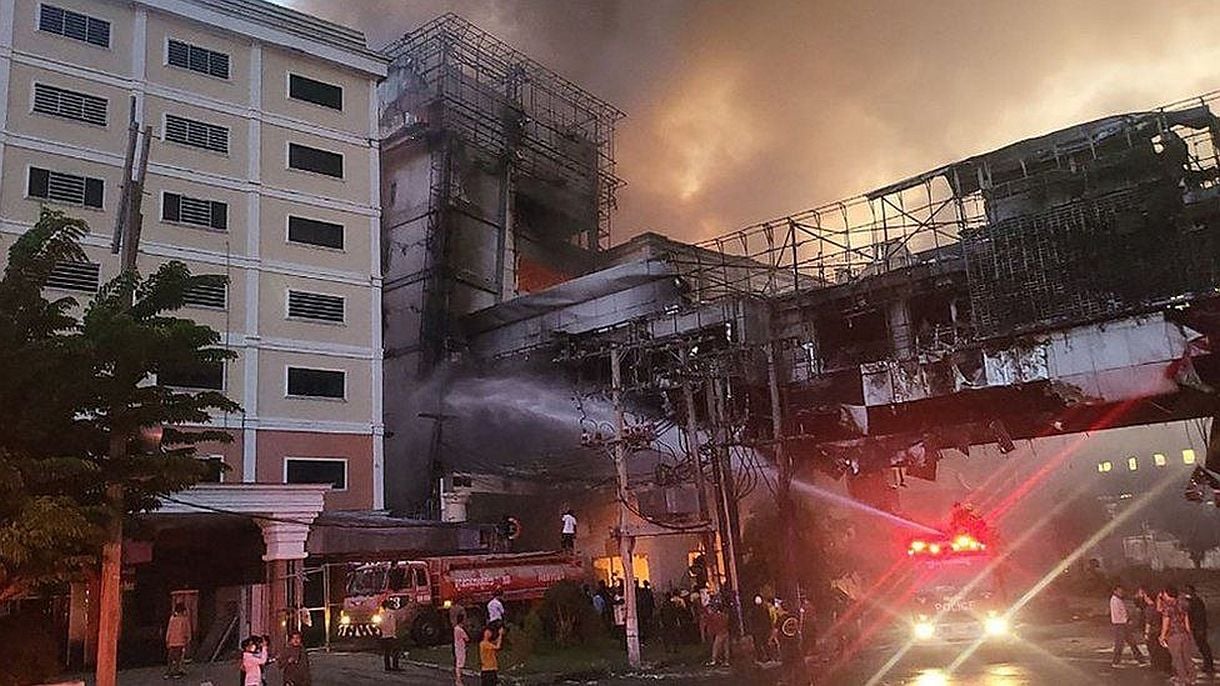 The tragedy began on December 28, although there is still a lot that has to be determined. Rescue personnel have gone as far as they could, and as of January 1, after 39 hours sifting through the rubble, there were 26 fatalities. However, Khieu Sopheak, a spokesman for the Cambodian Interior Ministry, told the online newspaper AJ Cambodia that at least 30 people had died.
The number of injured is still not clear, as some media outlets report only around 55 injuries, while others put the number well above 100. At the time of the blaze, there were reportedly more than 1,500 people, including guests and employees.
Cause Still Unknown
The extent of the damage and the precariousness of the remaining structures has led to the need to tear down some of the buildings. That process has begun, but will continue throughout the week.
There have been different theories about what may have started the blaze that quickly grew into an inferno. One suggestion was that a gas cylinder, possibly used in the kitchen, exploded.
Another, and one investigators are now focusing more on, according to the Phnom Penh Post, is overloaded electrical circuits. They believe, without having completed an inspection, that the gaming and hospitality complex was consuming too much electricity, which overwhelmed its electrical system.
That led cables to overheat and melt, with apparently no mechanisms in place to shut off damaged circuits. With the demolition work occurring, uncovering the source of the fire will be more difficult.
It took firefighters from Cambodia and Thailand to put out the blaze. Over 58 ambulances and fire trucks were on the scene, as rescue personnel scrambled to save everyone they could.
Curiously, according to Poipet Governor Keat Hul, not a single Cambodian employee of the resort died in the blaze. He told the media outlet that, of the 500 employees working that night, 17 victims were Thai, and there was one each from China, Thailand, and Malaysia.
However, the figures will change. There are at least six victims who will only be identified through DNA tests.
Three of the property's four structures, each of which was five-stories tall, are completely destroyed and will have to be torn down. More construction equipment and engineers are arriving to lead the demolition so that investigators can safely explore the site.
Changes Coming To Poipet
Unfortunately, it took a tragedy for Cambodia to realize it needed to make some safety changes. However, the victims will not have died in vain. Prime Minister Hun Sen is arranging for new firefighting equipment to serve the city to prevent similar tragedies in the future.
Among that will be fire trucks that are capable of fighting fires in high-rises. This includes outfitting them with high-power hoses and better water pressure.
It also possibly means a review of safety codes in commercial buildings in Cambodia. Some media outlets reported that some people used fire extinguishers to combat the blaze. This could mean there was either a lack of on-site equipment, a lack of training, or both.
Most Read